I spent an enormous pile of time getting proof of election theft videos posted here because they'll certainly all vanish. THESE ARE ALL THE UNIQUE ONES I NEVER SAW BEFORE. These were not from alt media, they are all random posts by whistleblowers. The goal of this is to post SO MUCH fraud no one can deny it, to foment the rage people are going to need to turn back a genocide. Yes folks it is THAT BAD. This video proves there WILL BE A GENOCIDE, it is BY FAR the most important one of all.
PLEASE DOWNLOAD THESE VIDEOS AND WATCH THEM FROM YOUR COMPUTER, without the computer I need to do the compression these will kill the server, and nothing else I have can handle the software for that and obviously, when you download these, POST THEM ELSEWHERE. We have GOT TO stop a genocide that is indeed coming if Trump is ousted, just like the Deagel web site has stated for years.
Right click the links and choose save video, or simply right click the video on your desktop to save it before you close it.
Here is a VERY important video that proves Arizona intentionally forced Trump voters to use sharpies, which nullified their votes, and they were not permitted to use anything else. When they tried to use pens, poll workers grabbed the pens out of their hands. This video is total proof of election fraud, WHEN PEOPLE STARTED HANDING OUT PENS, THE POLLING STATION TOOK IT OVER THE TOP AND CALLED THE SHERIFF TO GET THEM OUT OF THERE SO THEY COULD CONTINUE FRAUDING THE VOTE. Yes, it was so bad they called the cops to ENFORCE the fraud!!!
Here is a capture from the woman in the green camo shirt who accepted the sharpie, knew it was wrong, checked her vote, and below is a capture that proves it was indeed canceled.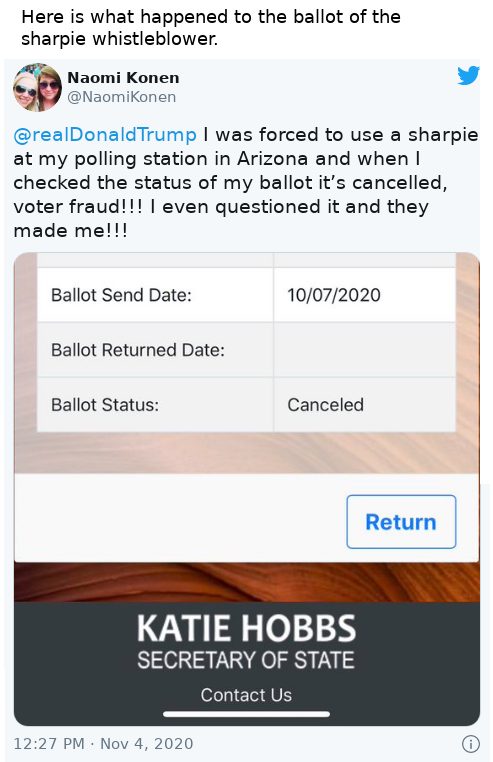 The above two items are so damning there's no getting over it.
Here is a video of Republicans getting expelled from a vote counting location
HERE IS WHY THEY WANT ELECTION NIGHT COVEREAGE DELETED: Because in THIS VIDEO there are poll workers opening ballots, looking at who the vote was for, and throwing them straight in the trash. Trump did not win by 3 percent, from the sheer volume of what they are throwing away, it proves he took this election by 80+ percent. 3 percent is what the vote rigging software kept it within, until they finalized the steal and took even that away.
Here is a video I did not see before this morning, where Where poll watchers were kicked out and the windows blocked off.
I have a large numbers of additional videos I cannot post because they will eat the server, when I replace the computer that compresses the videos well they'll be posted.
FOX, CNN, AND ALL OTHER MSM OUTLETS HAVE DELETED THEIR ELECTION NIGHT COVERAGE.
YES, THEY BLOOPERED IT AND WERE LIVE DISPLAYING THE OUTPUT OF THE ELECTION STEALING SOFTWARE IN REAL TIME, AND WHEN IT STOLE VOTES, IT SHOWED UP RIGHT IN THEIR BROADCASTS. So what do you do? You delete your election night coverage, that's what!!!
from J  I'm. ST one