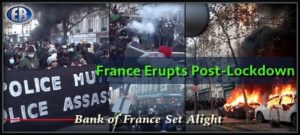 Pam Barker | Director of TLB Europe Reloaded Project
A draft bill put forward by Macron's government which, among other things, criminalizes the filming of police, has received a justifiably hostile reception from the French public with ongoing protests over the past few weeks. (It has so far got considerable support by lawmakers and will go before the Senate in January.) Not surprising given the hideous violence meted out by the police to Gilets Jaunes/Yellow Vest protestors over many months, much of which was captured on social media. A major protest against this bill took place yesterday, Nov. 28, which is the subject of the report below. But one intervening event recently took place, justifying public outrage at the bill. We can classify this as 'you couldn't make it up.'
On Saturday of last weekend, a black music producer, Michel Zecler, was spotted on a Paris street by four police officers without a mask. So he dipped into his own studio to avoid them, who then forced their way into his premises. Upon entering, they beat Zecler with batons and allegedly made at least one racial slur. He was then dragged back out onto the street and subjected to further violence, all over a 15-20 minute period. He was then put in police custody for 48 hours, an extended period that had to have magistrate's approval.  Videos of that can be found below in 2 tweets – knowledge of French isn't necessary to appreciate the action.
Translation: This happened Saturday in Paris. 15 minutes of blows and racist insults. The crazy scene of police violence that we're revealing is quite simply amazing and edifying. You need to watch to the end to be able to see the scope of the problem.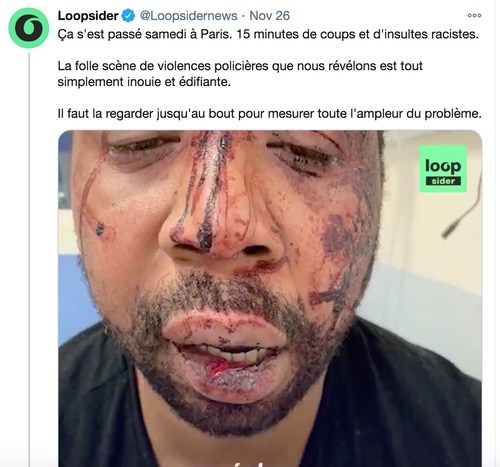 Translation: Police violence in the 17th district (Paris): we're broadcasting a new video taken by Michel's neighbour. It shows a policeman repeatedly hitting the victim in front of all of his colleagues while he's immobilized on the ground.

From a police-connected website we learn that the officers involved have since been discovered to have lied about the event both during follow-up questioning and in their written report of the events, used unnecessary violence, used a teargas grenade inside Zecler's premises against policy, and made racial slurs. The interior minister has called for their dismissal. All of which testifies clearly against the absurdity of NOT RECORDING police activity:
If the video had not been shot and broadcast, Michel Zecler would surely have been tried in an immediate court appearance for assault on police officers.
Such rioting by French is likely a culmination of many things, not just the proposed law to hide police violence: two years of Gilets Jaunes' economic despair, whose ranks are now being swelled by more impoverished French as a result of two unnecessary lockdowns; the effect of lockdown itself on the public psyche – the second lockdown finished on Friday, but only to be replaced with a new set of restrictions (3 hours per day of mobility within a 20-km radius) with Macron priming everyone for a THIRD lockdown next year. The idea of the virus being fake, or the handling of it, doesn't seem to have permeated public consciousness as much as it has in anglo-saxon countries, but a recent documentary called Hold Up has questioned the entire virus narrative using an impressive array of French and international experts, with an estimated 6 million views or 10% of the country. To add to all that, Macron is thoroughly hated.
So it is frankly good to see the population come back to life on the streets in the spirit of outrage and protest. Passing a law to hide police violence in view of this is truly an own goal politically speaking. Lawmakers have had to have been pressured from on high to support such a tone-deaf bill.
For video footage of authoritarian police activity in the UK this weekend, we recommend this Twitter thread by Rachel Mother of Krakens.
********
Paris protesters torch cars, set BANK on fire amid clashes over bill slammed as 'ban on filming police brutality' (VIDEOS)
RT
Violent clashes and arson have erupted in Paris amid mass protests against police brutality and a draft law that would ban filming officers "in certain circumstances," after a video emerged of cops beating a black music producer.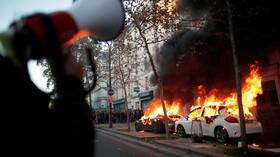 Thousands of people rallied against the controversial bill in more than 70 French cities on Saturday, with the organizers claiming over half a million participants and authorities estimating the number at around 150,000. The daytime rallies went off peacefully, but by early evening clashes erupted in multiple cities, including Rennes, Lille, Bordeaux and Lyon.
Paris descended into chaos, forcing police to deploy tear gas, flashbangs and water cannons after black-clad masked protesters launched fireworks and pelted cops with stones.
Multiple videos also showed rioters smashing vehicles and shop windows, and torching cars and a motorcycle.
At one point, protesters set the entrance to France's central bank on fire, while firefighters struggled to reach the scene through the streets blocked by police fencing, makeshift barricades and burning trash.
Sporadic clashes with smaller groups continued into the night, long after the bulk of the demonstrators had left the Place de la Bastille, with hundreds of officers in full riot gear seen chasing protesters down side streets, struggling to contain the unrest.
While it was not clear how many protesters were injured in clashes, local media reported at least 37 officers received injuries across France, while making at least 46 arrests.
The demonstrators are voicing their anger over a draft law on public security, which was approved by the lower chamber of parliament this week. The controversial Article 24 of the bill seeks to protect police officers from doxing and harassment, and bans filming of cops on duty and sharing their images online with the "intent to harm."
READ MORE: Thousands of protesters march in France against security law that bans filming police (PHOTOS, VIDEOS)
Critics say the bill infringes on journalistic freedom and would be used to intimidate those who want to expose police brutality and other misconduct. One such incident went viral this week after footage emerged showing French police beat and racially abuse a black man, apparently for not wearing a face mask.
French protesters torch cars, set BANK on fire amid clashes over bill slammed as 'ban on filming police brutality' (VIDEOS)