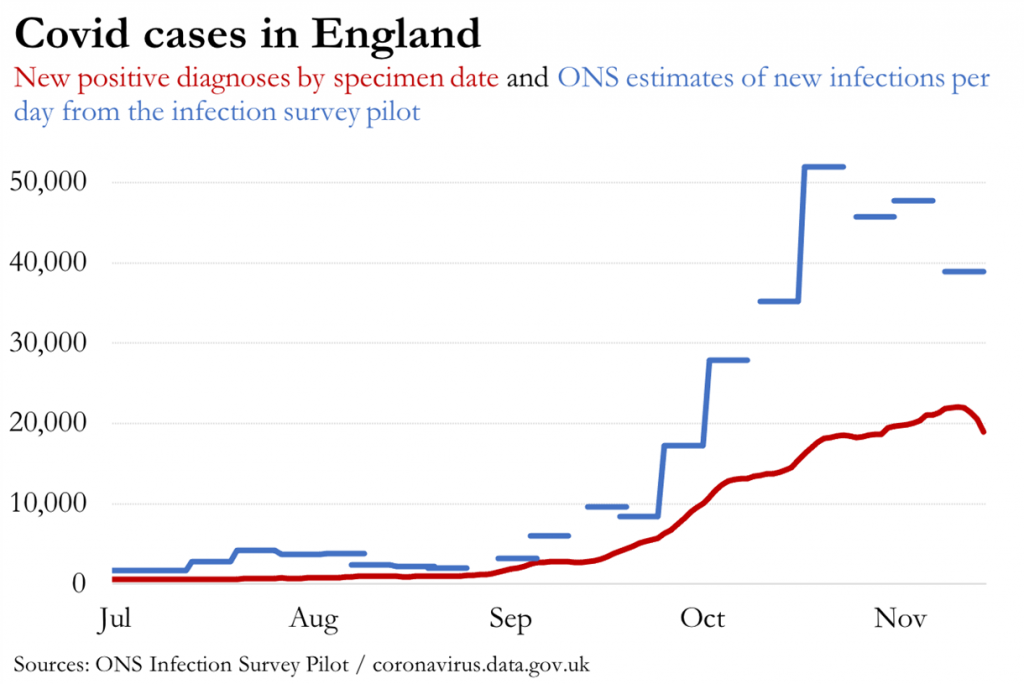 The latest ONS infection survey published yesterday shows new infections in England continuing to fall. Matt Hancock predictably tried to claim it was the lockdown wot dunnit, despite the ONS concurring with ICL's REACT study and KCL's ZOE App that infections were falling before lockdown began on November 5th.
Professor Neil Ferguson was at large again yesterday warning that we now must keep lockdowns in place to avoid a third wave.
We now have clear evidence that Tier 3 measures were working to bring down infection rates in some areas. Tier 2 was also having an impact, but a smaller one. The decision is a political one, but if we don't want to see infection levels rebound from December 3rd my assessment is that measures between Tier 2 and Tier 3 will be necessary in the great majority of locations.
Clear evidence Tier 3 works? Right, let's have a look shall we. Here's a non-exhaustive list of places where positive "cases" peaked and began to fall before Tier 3 (or in some cases Tier 2) was imposed:
It's that pernicious myth again, put about by Ferguson and the SAGE modellers, that COVID-19 epidemics only peak and decline once restrictions they've recommended are introduced. Yet in Sweden infections declined in April without any new restrictions, and in Switzerland infections are currently declining despite no new restrictions being imposed.
WHO Europe director Hans Kluge has warned that Europe faces a "tough six months" waiting for a vaccine, noting that Switzerland in particular has intensive care units operating at 95% capacity. However, the "Swiss Doctor" Covid fact site has pointed out that this doesn't take into account all Swiss intensive care beds, and that the high occupancy level is not unusual for winter.
Recently, a lot has been reported internationally about the utilization of Swiss intensive care units. The fact is: the certified intensive care beds are used to almost 100%, the currently available intensive care beds to 79% , and the maximum available intensive care beds to approx. 56%.

Occupancy rates between 85-100% are the norm in winter, and overloads in Swiss intensive care units, including postponing operations and moving patients, are also common during strong flu waves. In 2015, the price watchdog criticized the fact that Swiss hospitals were underutilised with an average of 80% occupancy.
Switzerland's spring wave never produced above average mortality so the strength of this autumn surge is likely to be in part a delay of the first wave. And in any case, the epidemic appears already to be on the decline with no lockdown necessary.
In England we see from ONS data that regions have tended to go into decline before they reach 2.5% infection rate, sometimes well before. This appears to be independent of the varied restrictions imposed on them, and in many local areas (Liverpool, Manchester, Sheffield, etc.) occurred prior to new restrictions coming in.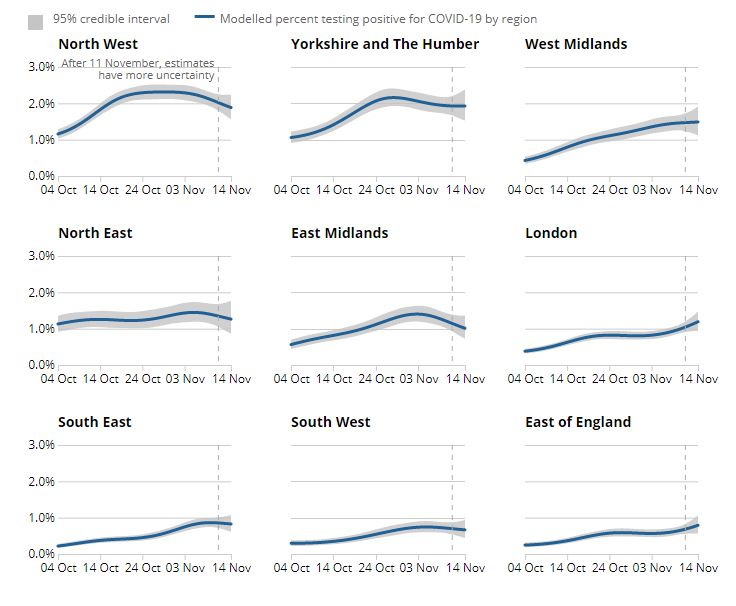 These are not the patterns of a viral epidemic being kept under control primarily by lockdowns but rather by natural limitations such as the availability of susceptible hosts. The evidence is clear that local restrictions are no more necessary to cause a COVID-19 epidemic to peak and decline than national restrictions are, whatever Hancock and Ferguson may say.
Stop Press: Camilla Tominey has put together a great short video in the Telegraph rubbishing the government's data for Lockdown II and showing all the ways it was wrong. Unfortunately, she then argues the tier system was working, but don't let that put you off because the skewering of Witless and Unbalanced's dodgy dossier is beautiful.
By Will Jones 
https://lockdownsceptics.org/