All-Cause Mortality numbers in Canada 'prove' COVID19 measures are not demonstrably justified.
We need thousands+ people to continually remind local, provincial, federal elected representatives, media, businesses, family, friends, etc. there is no substantive change in the # of deaths in Canada for the past 4 yrs.
Ontario All-Cause mortality is still less in 2020 than 2019 for 7 months Feb-Aug (inclusive).
StatCan All-Cause Mortalities by Week, Canada
https://www150.statcan.gc.ca/n1/pub/71-607-x/71-607-x2020017-eng.htm
Deaths from Jan (wk 1) to Sept (wk 38)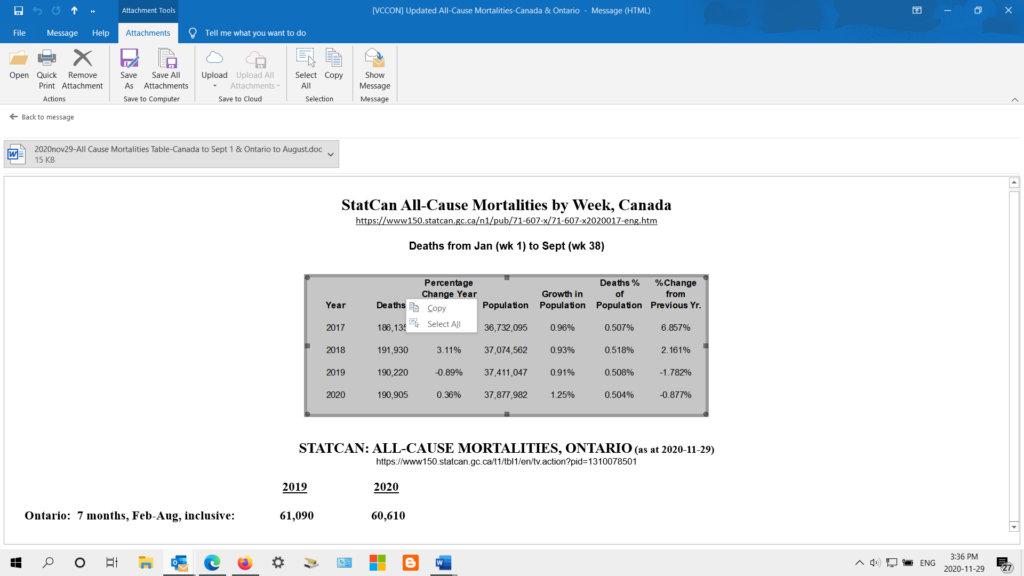 The following numbers are in the above chart in small print. I retyped the numbers in columns however when published the numbers are skewed. I tried to remedy to no avail.
Year Deaths % Change Yr/Yr Population Pop growth Death % Pop % Chg Prior Yr
2017 187,135 7.88% 36,732,095 0.96% 0.507% 6.851%
2018 191,930 3.11% 37,074,562 0.93% 0.518% 2.161%
2019 190,220 -0.89% 37, 411,047 0.91% 0.508% -1.782%
2020 190,905 0.36% 37, 877,982 1.25% 0.504% -0.877%
STATCAN: ALL-CAUSE MORTALITIES, ONTARIO (as at 2020-11-29)
https://www150.statcan.gc.ca/t1/tbl1/en/tv.action?pid=1310078501
2019                          2020
Ontario:  7 months, Feb-Aug, inclusive:                     61,090                      60,610
(September not yet available)
CTV tells the truth about COVID deaths then silently edits it out
Thanks to Judy.
The CTV show that aired on Nov 15 stated: As of Nov 15, Canada had 10,947 deaths of which 10,781 were in long-term care facilities. This means 166 people died outside LTC. How many with co-morbidities is unknown.
Thankfully, Laura Lynn astutely downloaded the whole segment before it was edited. Screen shots as follows;
Thanks to Laura Lynn for this video.
I had to disable the link or the Blog will not post. Please watch and share.

DISCLOSURE: COVID19 Has No Effect On Deaths In U.S.
This John Hopkins University study concludes total U.S. deaths are unchanged from previous years. This same conclusion had been reported by the Centers for Disease Control and Prevention (CDC) in October of 2020 (see links).
The CDC has quietly disclosed on its website:
"For 6% of the deaths, COVID-19 was the only cause mentioned.…"

Despite contrary reports in the mainstream media, the CDC reported  that COVID death counts declined by August 30th, 2020. https://www.naturalblaze.com/2020/11/disclosure-covid19-has-no-effect-on-deaths-in-u-s.html?utm_source=Natural+Blaze+Subscribers&utm_medium=email&utm_campaign=e0a4732f53-RSS_EMAIL_CAMPAIGN&utm_term=0_b73c66b129-e0a4732f53-388229733
Negative COVID test as bail
Ontario court to set negative Covid test as bail condition for Adam Skelly [Adamson barbecue] or ANYONE. https://mobile.twitter.com/dockaurG/status/13331323551171788
What is behind the PCR test and why the push for it?
Tony Fauci admitted if you perform the PCR test for COVID19 at a cycle threshold of 35 or more, the chances of it being accurate are miniscule. https://blog.nomorefakenews.com/2020/11/06/smoking-gun-fauci-states-covid-test-has-fatal-flaw/
Public Health agent admits PCR tests are amplified to 40 cycles in Ontario https://youtu.be/7znL-MgBrbo
COVID testing to begin in schools in Toronto, Peel, York, Ottawa
Thanks to Sandra.
Expanded testing will be provided in schools in Toronto, Peel and York regions, and Ottawa. https://www.todocanada.ca/covid-19-testing-for-asymptomatic-students-staff-to-begin-at-hot-spot-schools/
Canadian government caught red-handed manipulating data to exaggerate "the curve" of active cases
Thanks to Judy.
https://reinventingwildfir.wixsite.com/wildfire/post/canadian-government-caught-red-handed-manipulating-data-to-exaggerate-the-curve-of-active-cases
Unprecedented explosion of truth
Debris is being pushed to the surface for us to clean up because the truth sets us free and makes way for a new era of coherence.
Please share fact based evidence to dispel fear, and encourage people to take a stand for the truth and our freedom. Thank you.
Without Prejudice and Without Recourse
Doreen A Agostino
https://ourgreaterdestiny.org/