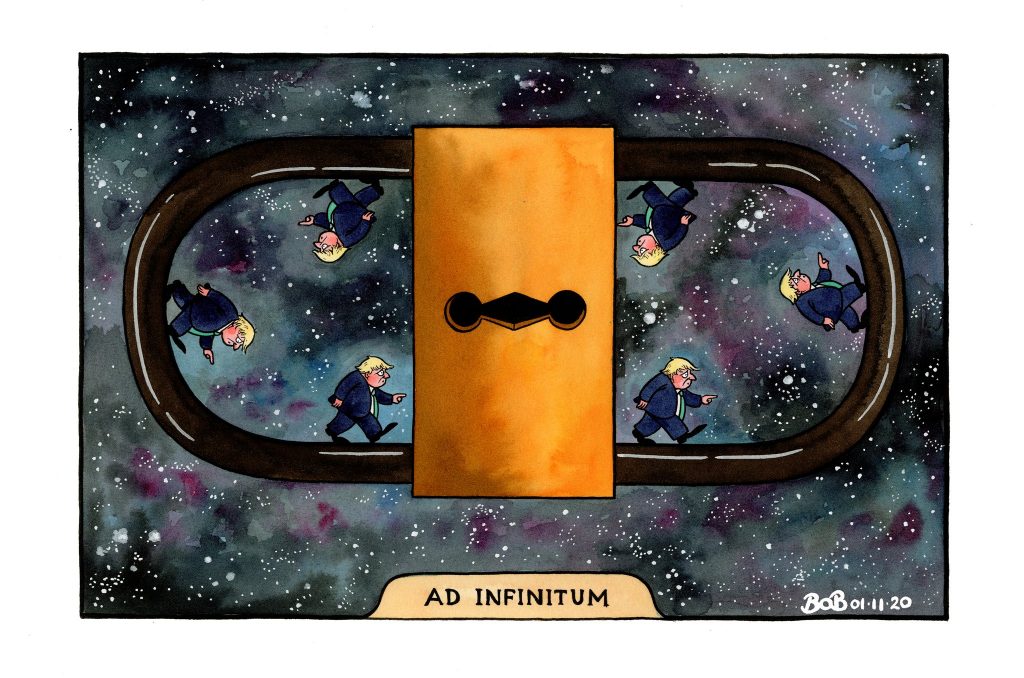 Talk about a cock-up! Downing Street originally briefed that the Prime Minister would be holding a press conference on Monday to set out plans for a second national lockdown. Then someone leaked the details to the press, meaning Conservative MPs had to read about the plans in yesterday's papers rather than being told about them by Boris. In an effort to minimise the damage, Downing Street brought forward the announcement to 4.30pm yesterday. Then moved that to 6.30pm. And, in the event, the Wizard of Oz didn't appear from behind his curtain until about 6.45pm, even though Downing Street had been warned by the BBC that it had to start at 6.30pm because they weren't going to move Strictly.
As one Conservative minister told the Times's Matt Chorley: "The incompetence is another level. Is this a deliberate destruction of the Tory Party? People only vote for us because they think we don't care, but are competent. Lose the competence and we're fucked. We've lost the competence. And we are f***ed."
And let's not forget the PM scoffed at Keir Starmer's call for a two-week 'circuit breaker' three weeks ago and described a second national lockdown as the "nuclear option". Pitch rolling, Boris-style.
The key points of yesterday's announcement were as follows (courtesy of the Mail):
Restrictions will start at midnight on Thursday morning and last until December 2nd.
People can only leave their homes for specific reasons, such as to do essential shopping, for outdoor exercise, and for work if they are unable to work from home. International travel will only be allowed for business purposes and returning travellers will have to quarantine. (This is a devastating blow to the already beleaguered aviation industry.)
Non-essential shops will be told to shut, although supermarkets do not need to stop selling non-essential goods, as happened in Wales.
Restaurants and pubs will have to close to the public, though they can still operate a takeaway service.
Leisure centres, gyms, sporting venues, hairdressers and beauty parlours will have to close, although professional sport, including the Premier League, will continue.
Key businesses that cannot operate remotely – such as construction – will carry on as before with safety precautions.
Schools, colleges and universities will remain open.
Places of worship can stay open for private prayer.
Funerals are limited to close family only.
The furlough scheme will be extended during the period of the lockdown, rather than ending tomorrow as originally planned.
Exercise is permitted with no limits on frequency, but organised sports – including outdoor activities such as golf – will not be permitted.
When the lockdown lapses the Tiers system will be reinstated, although Boris didn't say what metric will be used to decide whether areas can have restrictions eased.
Rather implausibly, after Witless and Unbalanced had unveiled graph after graph of doom, Boris claimed to be optimistic about the medium and long term and tried to get the dour-faced Patrick Vallance to second that, which he reluctantly did. The reason for this optimism? Vaccines, obviously, but also a rapid testing programme that's due to be rolled out in the next few days. Boris promised whole towns – nay, whole cities – could be tested at a stroke, with the help of the British Army. The Times has more on this plan, which is stage one of the Prime Ministered fabled "Moonshot".
Not sure many people will be convinced that upscaling the NHS Test and Trace programme, which has proved completely ineffective to date, is a silver bullet.
He also said, rather ominously, that the Army would "help" people to self-isolate. Does that mean purpose-built quarantine facilities, like the kind they have in New Zealand? Let's hope the buffoon just misspoke.
Towards the end of this rambling stream-of-consciousness, Boris said we'd need to observe the old mantra that was rolled out in March: "Stay home. Protect the NHS. Save lives." Bit of a shock, that, given how many people who needed urgent care avoided hospitals last time round, with catastrophic consequences. Did Boris just pull that out of his hat at the last minute?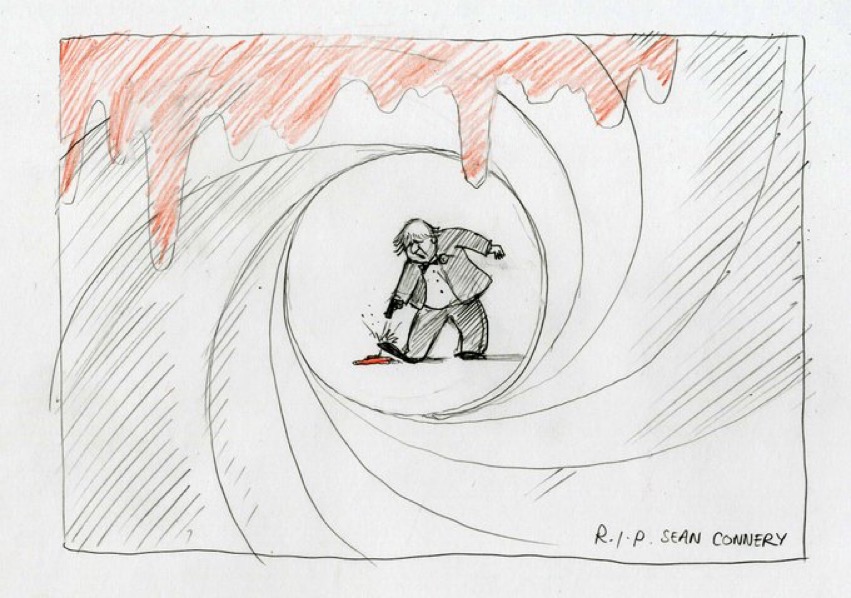 According to a Twitter thread by Matt Chorley, the fact that the "stay home" mantra was being revived came as news to the Cabinet, as did the extension of the furlough scheme. Is that why the press conference was delayed for more than two hours? Was Boris negotiating that with Rishi? The furlough news went down like a cup of cold sick with Northern leaders, who'd been told less than two weeks ago it would not be possible to cover workers' pay above two thirds as part of the Tier 3 support scheme. Why all the brinkmanship if the Treasury was going to fork out four fifths two weeks later? Feels to Andy Burnham and others as if the PM thought he could get away with short-changing Northerners, but now Southerners are going to be locked down as well he's decided to be more generous.
There is also a lot of suspicion among Tory MPs that the new restrictions aren't being imposed because of the gloomy data; rather, the gloomy data is being conjured up to justify the new restrictions. Many grumbled to Chorley that case numbers were falling in their constituencies. For instance, cases are falling in all of Liverpool's local authorities.
One Conservative MP told the Sunday Times: "The sentiment some of us are trying to convey to the Prime Minister is that goodwill is at an all-time low and his long-term future in Downing Street could be at risk. It just looks like a shit-show."
How much comfort should we take from Boris's assurance that the second lockdown would only remain in place until December 4th, at which point the country will return to the three-Tier system? Absolutely none, obviously. Chorley put together the following timeline of other assurances made by the Prime Minister:
Mar 19th: Turn tide in 12 weeks

May 17th: "Near normality" by end of July

July 17th : "Significant normality" by Christmas

Sep 9th: "back to normal by Christmas"

Oct 23rd: "some aspects of our lives… back to normal" by Christmas

Oct 31st: very different and better by spring
The word "omnishambles" doesn't quite fit the bill here. Nor does "shit-show" or "cluster-f***".
The word to describe this level of incompetence has yet to be coined.
Stop Press: Ross Clark in the Spectator assesses the claim that new daily cases are escalating so rapidly it won't be long before the NHS is overwhelmed. He says the Government's blind panic is largely based on last week's REACT survey, which showed cases doubling every nine days. However, the most recent King's College London survey has cases doubling every 28 days, while the latest ONS infection survey has cases doubling every two-and-a-half weeks. If you take the seven-day average of confirmed test results, as reported on the Government's coronavirus dashboard it shows daily new cases have risen from 20,249 to 22,678 over the past week, which yields a doubling time of about six weeks. Clark's conclusion: "Last week's REACT survey does look something of an outlier." Shame the Government decided to base a second lockdown on it.
By Toby Young
https://lockdownsceptics.org/