Private Criminal Prosecution Moves To Final Pre-Court Stage
My experience of the past few days, in relation to the Private Criminal Prosecution against Matt Hancock for pandemic fraud, reminds me of Muhammad Ali's journey through the Rumble in the Jungle
After being bludgeoned with George Foreman's sledgehammer fists for seven rounds, Ali knocked him out in the eighth round, when Foreman had exhausted himself and could hardly lift his arms, let alone defend himself.
So following my seven rounds of absorbing all the punches and low blows from numerous opponents, here lies a redacted copy of the email we received last Friday, confirming that I wasn't talking "nonsense", "coo-coo" or "fantasy" and that the warrant application was due to be processed yesterday.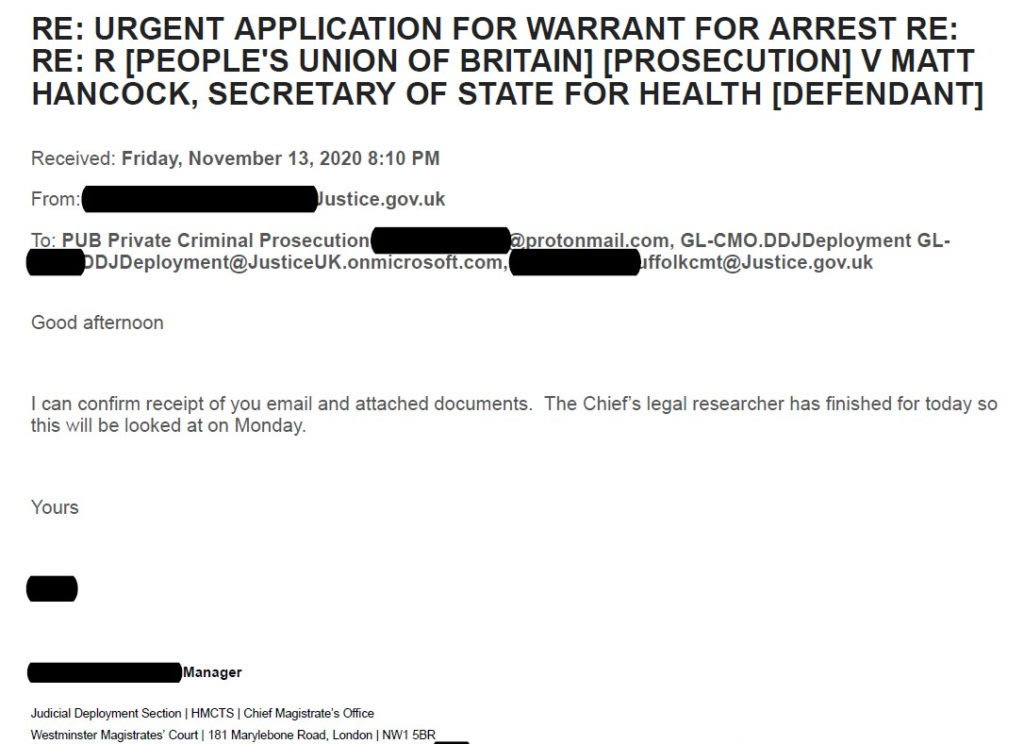 COVID-1984 NEWSFLASH
Since beginning to write this post, we have received the following email from the Chief Magistrates office, regarding the private prosecution:
"I can confirm that the application was sent to the Senior District Judge last Friday and she nominated a District Judge based at Westminster Magistrates Court to deal with your application.

As we are an administrative office only, we cannot process your application and it must be dealt with by a court. This is now with the legal team at Westminster Magistrates Court and once the Judge has made his ruling you will be hearing from them direct."
Judge Nominated By Chief Magistrate
The ruling the nominated judge will have to make is as follows:
1. Whether the criminal procedure and practice directions have been adhered to, in which case the arrest warrant must be issued.
2. Whether the accused should be arrested, or ordered to give himself up at the local police station by a certain time, to be charged and brought before the crown court to plead.
3. Whether the case is of such public importance that it must be taken over by the Director of Public Prosecutions.
In summary, the warrant application has now been approved by the legal advisers at the magistrates court in Suffolk where we laid the papers, as well as the Chief Magistrate and her legal advisers.
Final Hurdle
Now all we need to happen for the warrant to be issued, one way or another, is to clear the final hurdle – obtaining the approval of the legal team at Westminster Magistrates Court, before it goes before the judge.
News on that front will follow as soon as it comes in, whilst my detractors wince at the denouement of the truth revealing itself for all to see.
To the vast majority who kept the faith, no matter what anybody falsely claimed over the past few days, thank you. Your loyalty will never be forgotten.
https://www.thebernician.net/private-criminal-prosecution-moves-to-final-pre-court-stage/