ANOTHER VIDEO THAT PROVES WHY THEY ARE DELETING ELECTION NIGHT COVERAGE SURFACED:
This one shows a 19,958 vote flip from Trump to Biden live on TV. Trump's dropped by 19.958 while Biden's increased 19,958 which proves software was managing election theft.
The software keeps total votes consistent so they match, while they switch votes from one to the other. This is exactly why they want all the election night coverage buried. This cinches it. GAME OVER.
The previous post about Kushner "encouraging Trump to concede" may have been an error, that part of it anyway, the rest still stands.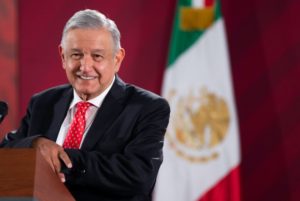 Mexican President Lopez Obrador refuses to acknowledge Biden as President.
I told you he was good!!!
Evening October 8: Is Trump a master of political Pokemon??? He says HE CAUGHT THEM ALL
A MESSAGE TO THE MORMONS: YOUR OWN PROPHET STATED CLEARLY THAT IT WOULD BE THE BRETHEREN OF THE CHURCH THAT SAVED THE CONSTITUTION WHILE IT WAS "HANGING BY A THREAD". TRUMP DID THE DIRTY WORK, YOU JUST NEED TO CLOSE IT UP. An EXTREMELY disproportionate number of Mormons work in intelligence, including the CIA and FBI – AND OTHER agencies that can make a difference, it might have to be YOU that saves the constitution. NOT DOING YOUR JOB AT THIS TIME, WHEN TRUMP NEEDS YOU TO SAVE THIS CONSTITUTION WHEN IT IS HANGING BY A THREAD WILL DEFINITELY BE YOUR HELL SENTENCE, DO YOUR JOB. BE THE HERO YOUR PROPHET SAID YOU'D BE:
DO YOUR GOD GIVEN JOB, EVEN IF IT MEANS VIOLATING YOUR CHAIN OF COMMAND AND TAKING OUT THE TRAITORS FROM WITHIN, GOD PUT YOU THERE FOR A REASON. THE FUTURE OF THIS COUNTRY IS VERY LIKELY UP TO YOU.
HEY MITT, I THINK YOU ARE SH*T. ESPECIALLY AFTER YOU WERE THE FIRST TO CONGRATULATE BIDEN AND TOLD THE WHOLE COUNTRY TO SUPPORT THAT FRAUD. WANNA GO TO HELL? YOU ARE ON YOUR WAY DOWN BUDDY, THE CHURCH SHOULD KICK THE DUST OFF IT'S SHOES AND SEND YOU PACKING. You cut that thread a little bit thinner.YOU HAD BETTER THINK TWICE.
We are indeed at a crossroads where the GOOD Mormons just might make the difference. I firmly believe that's why the totally corrupted hell spawn that became Mitt was the very first to congratulate Biden and told Americans to stand behind HELL FRAUD BIDEN, – to have influence on the GOOD Mormons who are strategically and disproportionately placed to save this. Don't fall for piece of shit Mitt. DO NOT FALL FOR MITT.
BLOATED TOAD: SPREAD THIS MESSAGE.
Best social media post of the day was by Donald Trump Junior:
We went from 4 years of Russia rigged the election, to elections can't be rigged really fast didn't we???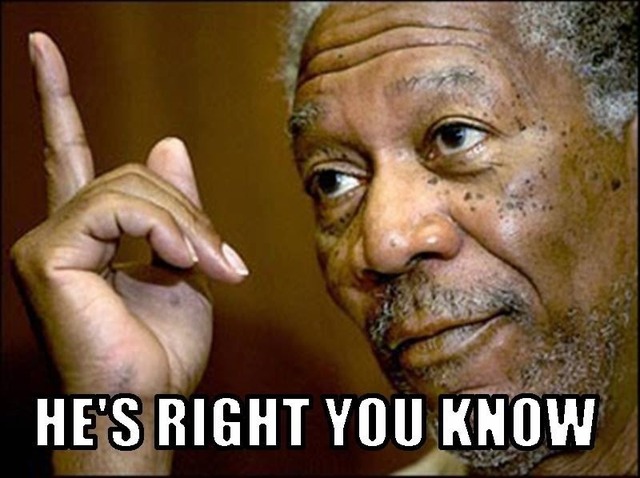 RUMOR:
After Trump made it PERFECTLY CLEAR he "caught them all" Georgia suddenly found 132,000 disqualified ballots that may hand Trump Georgia. And low and behold, Wisconsin suddenly started talking about "improper procedures" that may hand Trump Wisconsin too! And at about that time, Pennsylvania found another "software irregularity" that was very favorable for Trump.
FACT: The actual vote totals were probably somewhere around 25/75 in favor of Trump, and despite the rigging to hide that he was WAY AHEAD when they suddenly shut down the polls and it just is not going to go away. Consider who stole this: Total lowlifes that were often illiterate. LET COMMON CORE BE A VICTORY, it may well be that the common core curricula spawned such incompetence that it WRECKED THE STEAL.
You don't need 75 percent to prove a steal, this alone ought to do it: The numbers below were when they pulled the plug on the theft sofware which was overwhelmed and they then had to shut it all down to manually steal the election. It is highly probable the theft software had failsafes in place that stopped it from committing obvious fraud (because it was written for stealing foreign elections and it could not be completely obvious) and the common core crowd said TO HELL WITH THAT and manually stole it.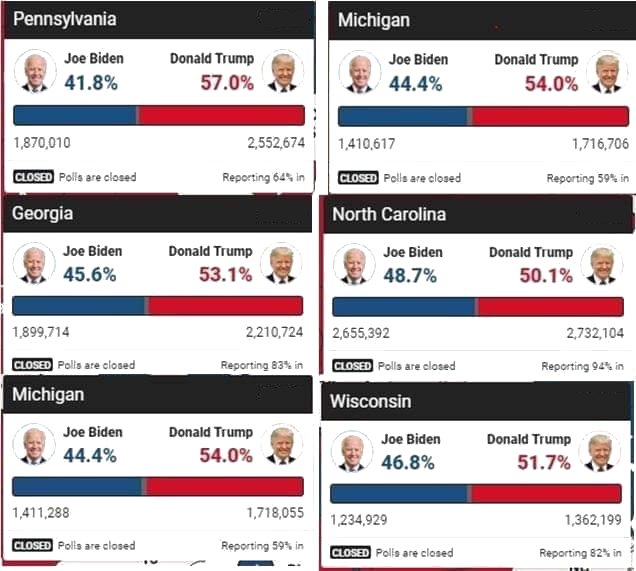 Now, there are rumors that there was a SCIF not far from the white house and that Trump was there watching the software do the steal. This would be possible if the software, which was obviously encrypted, had a secret back door it always reported to, and as President, Trump knew about it and watched all this happen while the Dems thought they were pulling a fast one. That's how he would "catch them all" in ONE WHACK.
If that be the case, you'll never hear about it, because that software is supposed to be "classified", and even if it is only "classified" when in reality it's total public knowledge, they won't utter a peep about it.
UPDATE: THEY ALREADY PATCHED THIS, BUT THE DAMAGE IS DONE, THERE IS TONS OF PROOF THEY HAD IT THAT WAY.
You have to say "The President" and not "The President of the United States", if "Of the United States" is included, it will say Trump. But there's one big problem here, it never mentions Biden. So obviously they are going to FLUSH Biden ASAP, he's not even in play. Consider who owns SIRI. They know, and already programmed SIRI to say that.
Here are more videos of this:
https://www.youtube.com/watch?v=UfLd2NMymOA&feature=emb_logo
https://www.youtube.com/watch?v=qaaIYSL337M&feature=emb_logo
https://www.youtube.com/watch?v=O_OAxvTQs_E&feature=emb_logo
https://www.youtube.com/watch?v=qBvvjhPIpXg&feature=emb_logo
https://www.youtube.com/watch?v=bLAiBF0Rrt0&feature=emb_logo
SO THERE YOU HAVE IT, COLD HARD PROOF THEY NEVER INTENDED TO PUT BIDEN IN. I downloaded ALL OF THESE.