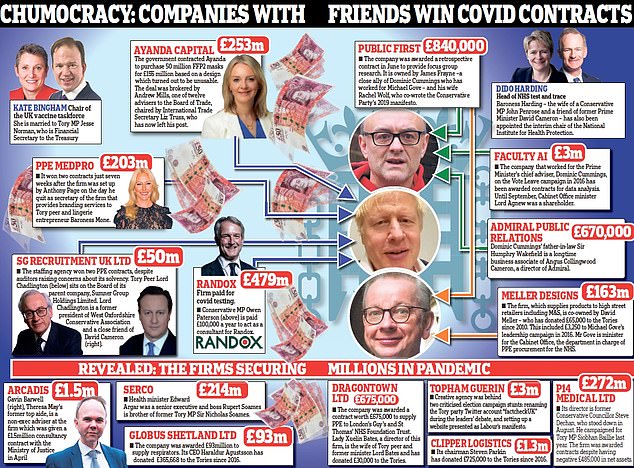 Today's front pages are dominated by what looks to be a growing scandal: the slipshod manner in which £18 billion worth of PPE contracts were awarded by the Government at the beginning of the coronavirus crisis. The hook for the story is a National Audit Office report on the affair, published today. The Daily Mail has more.
Michael Gove and Dominic Cummings were both drawn into the debacle after the spending watchdog said officials failed to consider potential conflicts of interests involving companies linked to them.

The National Audit Office revealed that officials had signed contracts for hundreds of thousands of facemasks which turned out to be unusable – wasting hundreds of millions of pounds.

The bombshell report found:

* Two of the companies named in the report have links to the Prime Minister's former chief adviser;

* More than 1,300 contracts worth £10.5 billion were awarded by the Government with no competition whatsoever – increasing the chance of money being wasted;

* Ministers set up a separate VIP procurement route which allowed some companies to be fast-tracked for a decision – as long as they had the right connections;

* One in 10 suppliers processed through this high-priority lane (47 out of 493) obtained contracts compared with less than one in 100 suppliers that came through the ordinary lane (104 out of 14,892).

Rachel Reeves, Labour's Cabinet Office spokesman, said: "The country deserves to have confidence their money is being spent effectively by the Government – and to know without doubt that friends and donors to the Conservative Party aren't profiting from this pandemic."

These were worth £18 billion, of which £17.3 billion were new contracts rather than contract extensions. Most of the money, £12.3 billion, went on PPE, with the remainder going on other equipment and virus testing.

Ministers, MPs and civil servants could refer businesses to a 'high-priority' lane and firms which were granted this VIP access were more than 10 times as likely to be awarded a contract as those in the ordinary lane.

Leads came into a dedicated mailbox, but officials only recorded the sources in half of cases, although many were from ministerial offices following tip-offs from MPs about firms in their constituencies.
This will be grist to the mill of the conspiracy theorists, but it looks more a cock-up to me. Nevertheless, this does appear to be an example of "convergent opportunism" (© Mike Yeadon).
Worth reading in full.
Stop Press: The Mail's David Rose has described this scandal as "cynical and brazen cronyism".
Stop Press 2: A Spanish "go between" who brokered a deal between the Government and an American jewellery designer to supply PPE has pocketed £21 million of taxpayers' money, according to the BBC.
By Toby Young 
https://lockdownsceptics.org/