Tyranny Tips the Scales at Recent London Anti-Lockdown Protest
By TLB Contributing Partner: Christina England, BA, Hons 
On September, 26, 2020, just days after Prime Minister Boris Johnson introduced yet further COVID-19 restrictions in a bid to curb the behavior of the citizens of the UK, an even larger, third demonstration for freedom was held in Trafalgar Square, London.
The event, attended by approximately 100,000 people, was hosted by Save Our Rights UK, who had lined up an excellent panel of speakers from around the world to speak to the audience about their thoughts and views on the current ever-increasing restrictions being brought in by our world leaders. [1]
However, despite the fact that the protest was peaceful at all times, and the fact the organizers had, at all times, worked fully with the metropolitan police in a bid to stay within the COVID-19 guidelines, the day was completely destroyed when, shortly after David Icke's excellent speech, and completely without warning, police armed with batons pushed their way into the crowd and began hitting and attacking anyone in their path. [2]
Protesters Left Bloodied and Injured in an Unprovoked Attack
According to onlookers, the attack by the police was a totally unprovoked and unlawful attack on innocent people, several of whom were badly injured and many were left visibly shocked.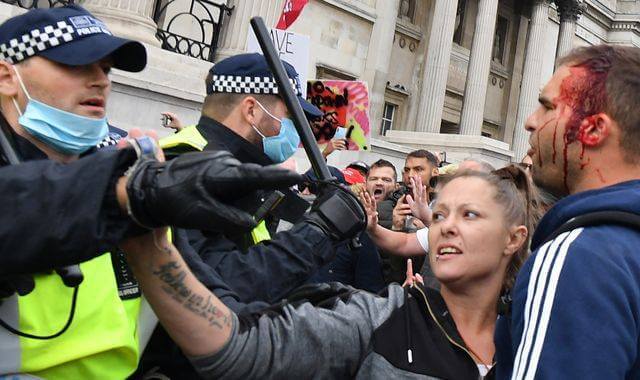 ••••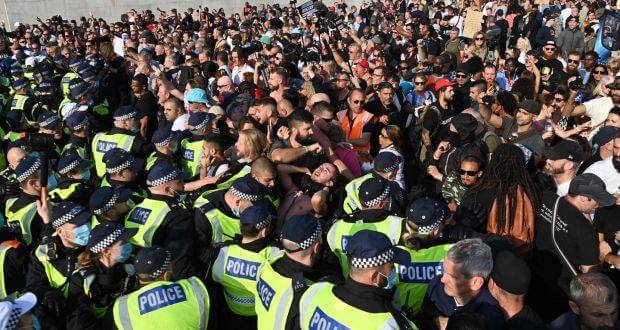 One of the protesters who attended the event and who saw everything that happened reported that:
"There was a lady next to me whose child was pushed over in a push chair and we were all on the floor and the child was screaming."
Seija Beth Kingston, who also attended the protest, described the incident on social media.
Using footage of the incident, she stated:
"Disgusting behaviour from the police again at today's protest in London at Trafalgar Square. This was a peaceful protest, the police were in communication throughout. There was no warning given to the speakers before riot police began storming into the crowd with batons and attacking everyone in their path.

You couldn't move out of the way, it was horrific. You can see for yourself, they were stamping on people who were sat down! We sat as advised to ensure safety of those remaining peaceful. It was nobody's intention to antagonise the police, we showed love and unity. Children, parents and grandparents were peacefully protesting. I am so disheartened to witness such fascist behaviour on our streets."

Is this any way for the police to behave? After all, these vile tactics by the police were not used at the Black Lives Matter protest just a few months earlier.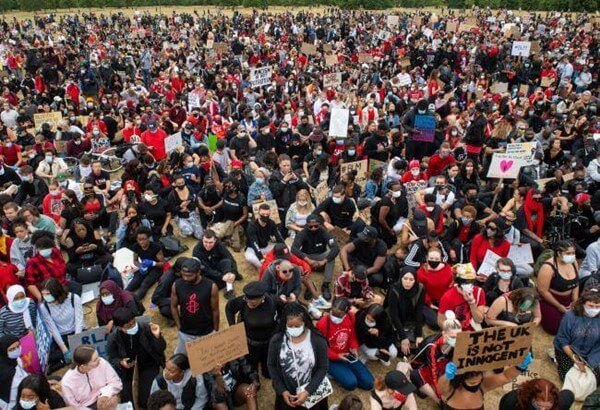 Nor were they used at the recent Extinction Rebellion climate change protests. This being said, arrests were made at this protest. However, unlike Saturday's demonstration, to date, there have been no published images of police attacking the crowds with batons at this event.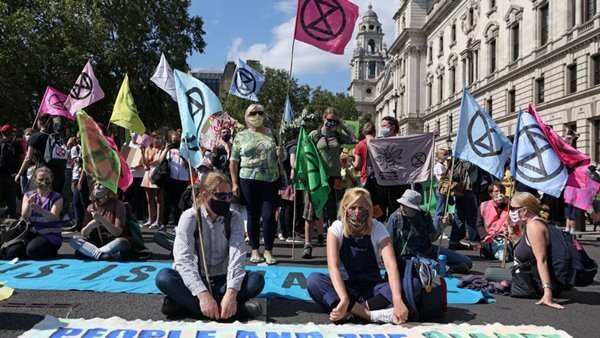 In fact, according to reports, the only reason that the police broke up the We Do Not Consent demonstration was because of the lack of social distancing, something that would have proved impossible in such a large crowd.
A German Doctor Shamed and Arrested
One of sixteen people arrested on Saturday was Dr. Heiko Shöning, who had made the trip from Germany to present his evidence to the crowds.
Interestingly, it was the very moment that this doctor got on the stage to begin his talk that the police descended onto the crowd. This poor man was literally pulled off the stage by the police and ushered away.
However, undeterred, the crowds and Dr. Shöning then proceeded to make their way to Hyde Park, where this courageous doctor began to speak at Speakers Corner, which, for those of you who are unaware, had been set aside for public speaking in 1872. In fact, according to a website on the famous landmark, it is law that:
"Anyone can turn up unannounced to speak on any subject, as long as the police consider their speeches lawful." [3]
Obviously, the UK police must have deemed his speech unlawful, because he was promptly arrested and taken away in handcuffs. Fortunately, he was released 22 hours later, but only after the police had stolen his phone, his laptop and a book on COVID-19.
Speaking out about his arrest, Save Our Rights UK, who negotiated with the police for his release, stated:
"Very pleased to report Dr Heiko Shöning has thankfully been released after being held for 22hrs and is on his way home to Berlin. This generous and powerful man flew all the way here to attend the event yesterday and was silenced at Trafalgar Sq as the police marched in and pulled the power. He stood there stoic as a rock as chaos emerged around him.

He then marched to Hyde Park and was finally able to speak out in Speakers Corner, however, half way through he was arrested and bundled off to Wandsworth. This is a complete infringement of his human rights.


We were glad a member of our team was able to support and communicate with lawyers, family and so on.

We are so inspired by the movement in Germany and we had had plans to sit down to share ideas, experience, knowledge and he was keen to share. Instead we will have to have that conversation on a different platform but ultimately we are so grateful and honoured that Heiko felt our cause worthwhile the trip but very saddened that he had to suffer under these tyrannical laws."
Here is the moment that he was released from the police station and what he had to say about his experience.
The way this wonderful man has been treated is truly shocking. Dr. Shöning had come all the way from Germany to share his evidence with the British public and instead of being treated with the dignity that he deserved, he was arrested and thrown into a cell like a common criminal. If this humiliation were not enough, he had to also endure his private possessions being stolen from him by the police.
Others who have been arrested recently in the UK for daring to speak out about the truth include journalist and activist David Icke, brother of the former Labour leader; Piers Corbyn; and recently suspended nurse Kate Shemirani.
Kate Shemirani spoke of her ordeal in a recent interview. She also gave a graphic account of the police brutality that took place at a previous We Do Not Consent rally, which took place on September 19, 2020.
References:
Save Our Rights UK by Save Our Rights UK
https://www.thelibertybeacon.com/tyranny-tips-the-scales-at-recent-london-anti-lockdown-protest/