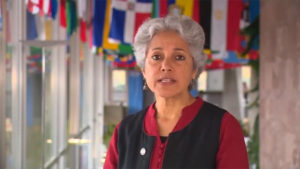 Since its inception in 1948, the World Health Organization (WHO) never stood a chance to remain independent from Big Pharma's influence. As part of the United Nations, this global government agency quickly became a playground for globalists to test out their ideologies, agendas, products and experiments on populations around the world, especially in third world countries like Africa.
In 2020, WHO has never been more tangled up in Big Pharma's web of influence, and has never been so corrupted by convicted felons, eugenicists, communists and the predatory vaccine industry. In 2009, the WHO's expert working group (EWG) turned their back on the public, shutting out industry critics, whistle blowers, industry watchdog groups and other independent health groups, while deciding to meet directly with the pharmaceutical industry lobbyists to advance their global agendas. In 2019, red flags were raised when the WHO threatened informed consent and individual choice by declaring "vaccine hesitancy" to be a global health threat.
By 2020, the WHO and their inner circle had so much to gain, politically and financially from a pandemic, they covered up the spread of SARS-CoV-2 and hid its Chinese bio-weapon origins, while withholding research on therapeutics like hydroxychloroquine and zinc and staying mum on immune system solutions that could have saved countless lives. In early 2020, U.S. President Donald Trump cut funding to the corrupt behemoth for "severely mismanaging and covering up the spread of the coronavirus." The behemoth is now primarily funded by the Bill and Melinda Gates Foundation, who are, admittedly, on a mission to vaccinate the world's population.
Wikileaks reveals WHO's Big Pharma ties
Wikileaks released a trove of confidential documents that show how Big Pharma controls the policy-making decisions of the WHO. The WHO expert group is beholden to Big Pharma for funding initiatives and is quick to respond to industry lobbying. The EWG works directly with Big Pharma's International Federation of Pharmaceutical Manufactures and Associations (IFPMA) for research, development and financing of upcoming public health initiatives and goals. (Related: Gilead, Big Pharma and the WHO: An unholy trifecta of corruption and bioterrorism.)
In one instance, the EWG were presented with a plan to advance pharmaceutical products in exchange for a tax on pharmaceutical profits. The proposal would make the WHO a drug pimp for the pharmaceutical industry and the drug makers would have to raise their prices to pay their pimp.
In the EWG draft final report, the financing mechanism included a new indirect tax on the consumer, taxation of repatriated pharmaceutical profits, and new donor funds for health research and development. In order to advance the WHO's agendas, the final report gave five funding options from Big Pharma: funding via product development partnerships, direct grants to small companies and grants for DC trials, milestone prizes, end prizes, and purchase or procurement agreements.
Now controlled by the pharmaceutical industry, the WHO has been dictating all health information throughout social media and the news networks. Facebook, Twitter, Vimeo and other social media platforms will not allow any health information that is not approved by the Big Pharma-controlled WHO. The pharmaceutical industry is keeping the WHO funded, and is benefiting by using it as the ultimate authority on health, to dictate information on vaccines and drugs and to cover up industry crimes.
An agency that was intended to safeguard public health has been weaponized into a totalitarian dictatorship that not only promotes Big Pharma, but also seeks to eliminate any information or health solutions not patented and profited on by Big Pharma. The WHO has been weaponized and is involved in crimes against humanity. Member countries must work diligently to unravel the WHO's Big Pharma conflicts of interest and to hold the agency accountable to ultimately restore the integrity of the organization and improve its operations.
https://corruption.news/2020-10-09-who-tangled-up-in-big-pharmas-web-of-influence.html