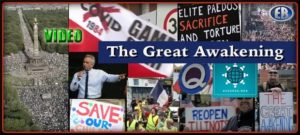 ER Editor: This video represents current protest movements around the world, including the following: tyrannical anti-COVID policies; elite paedophilia; economic oppression (e.g. Yellow Vests); Q Anon; populism (e.g. pro-Trump).
********
The Great Worldwide Awakening 2020
PROFESSION GENDARME
This video was sent to me by one of our readers whom we will call by his nickname "El Lobo" and whom we thank. He will recognize himself.
A very nice 13-minute video montage that you absolutely must see.
6.69 k subscribed
Québec, Windsor, Toronto, Ottawa, Poland, Belorussia, Germany, Netherland, Hong Kong, Paris, Bangkok, Montréal, Mont-Tremblant, Dublin, London, Manchester, Chicago, Portland, Auckland New Zealand, Oxford, Birmingham, Warsaw, Dijon, Madrid, Australia, Tel Aviv, Lebanon, Pakistan, Argentina, Philladelphia, etc…
************
Published to The Liberty Beacon from EuropeReloaded.com