Come January 2021, Professor Schwab's Great Reset campaign will begin in earnest. Should his ideological opponent, US President Donald Trump, not be re-elected, a major obstacle to achieving his societal and economic revamp will be gone. Schwab is determined that a return to a post-Covid business-as-usual world 'will not happen'.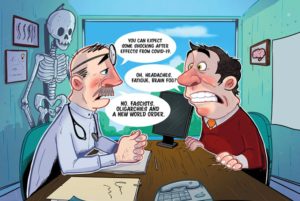 Indeed, the World Economic Forum, the United Nations and its various agencies will use the current depressed economic environment, masked as it is by endless government support, together with renewed forecasts of apocalyptic climate change, to push for a 'more inclusive social contract', a decarbonised economy and a 'control without ownership' business sector, where companies 'serve all stakeholders not just shareholders'.
Intense pressure will be applied to parliaments everywhere to pass enabling laws and to abdicate more responsibilities to unelected bureaucrats in global institutions. Crony capitalism is anathema to genuine market economies and, giving more leverage to those who encourage it is simply fascistic. No surprise that some of the organisations behind the 'stakeholder capitalism' push are accused of corruption, sexual harassment, cover ups and a general abuse of power. Still, the WEF's oligarchy derives much of its extraordinary influence and wealth from these same institutions and no one should doubt their Big Brother intentions.
Indeed, anyone who fears big government and values free speech, freedom to choose and property rights, should be terrified. Yet, so far, political, business and church leaders, along with the mainstream media, seem oblivious to the threat and turn blind eyes to the dictatorial abuses already perpetrated in the name of the pandemic. There is even bi-partisan support for policies which, two decades ago, would have been considered politically and economically unthinkable.
Stripped of the propaganda, the Great Reset is not new. It's another fascist experiment being pushed by controlling elitists. Economic growth and social mobility must be subordinate to the collective. Connections will be institutionalised and privilege perpetuated. History demonstrates the children of the elites will receive preferential access to higher education and elite positions. 'Inclusion' and 'fairness'? Forget it. Think inequality, serfdom and misery.