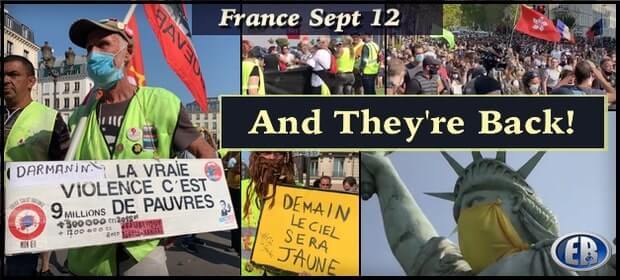 Pam Barker | Director of TLB Europe Reloaded Project
We're doing an RT France report/Sputnik video compilation – the few outlets who manage to report on France's Gilets Jaunes. First, some intro.
Some smart political commentators, such as Tom Luongo, were quick to note way back how the virus problem was a type of establishment antidote to the burgeoning Gilets Jaunes movement in France, Brexit in the UK, and populist discontent in Italy.
What have we witnessed of late?
Shutting down parliaments in these and many other countries, while passing emergency 'regulations' against the free movement of a supposedly free people, including gatherings in both public and private (wrongly taken for 'law' and applied harshly by police);
Enacting a massive fear campaign in the press as if covid, with an exceptionally low death rate, was the equivalent of the bubonic plague, with the government calling the shots on media coverage;
Now ramped-up mask mandates and new arbitrary rules against public gatherings and hints of further lockdown while fake 'cases' rise with no, or very few, actually sick people.
And the destructive economic shutdown that was completely unnecessary, with more than 800,000 jobs being lost in France (probably a conservative estimate). In other words, the REASON for the Gilets Jaunes' very existence just ramped up considerably. No, they're not going away, despite the continual baiting and badgering of the MSM, which likes to judge their success solely by the numbers present at their protests, numbers that are notoriously manipulated downward. The RT France report we're using below even slips into this kind of snide, simplistic judgement.
We recommend this tweet by Lorentz mathias, who may have summed it all up best:
(Translation) A little message to all those who are talking of failure for the 12 September, honestly with all that's been said about COVID in recent days and the new doctrine of the FDO (FDO – all agents of law enforcement), it's a great success for the first event since the lockdown!!
His brief video clip of protestors in Paris shows pretty dense crowd formation: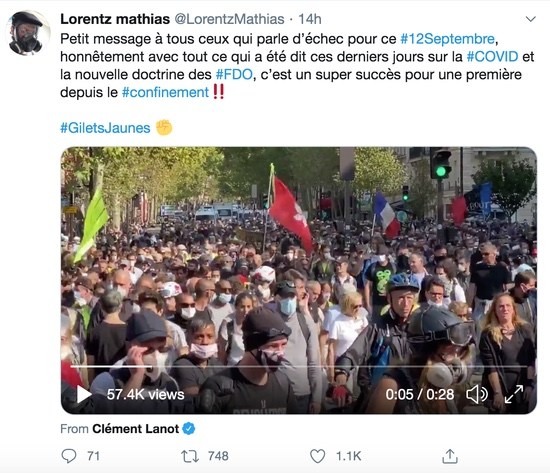 Two long videos put out by Sputnik News can be found below.
The cities mentioned in the RT report below indicate that almost all regions of France have seen a Yellow Vest protest of some sort.
********
A look back at the back-to-school day for the yellow jackets on September 12.
RT FRANCE
For their back-to-school event (ER: couldn't RT have done better than this?), the yellow jackets are far from the numbers reached before lockdown. (ER: voila!) In Paris, the prefecture had taken measures to limit the number of gatherings. The mobilization of protestors also took place in other French cities.
8,500 demonstrators gathered on September 12 in France, including 2,500 in Paris, according to Interior Minister Gérald Darmanin, who was visiting the Paris police headquarters. "These demonstrations were able to take place in a calm that allows the republican order to be maintained," he said. Several processions of yellow vests marched. In the northwestern part of the capital, near Place Wagram, clashes broke out in the afternoon between demonstrators and police. (ER: All official numbers are likely to be suspect from the government or MSM, quoted throughout this report. Since day one – November 17, 2018 – official protest numbers have been reduced by orders of magnitude.)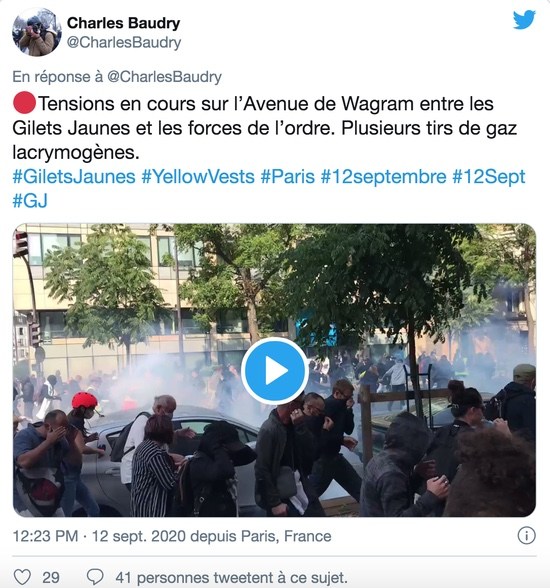 Garbage garbage cans were set on fire, other objects in the street were overturned and two cars were burned. The police fired tear gas to disperse demonstrators who had left the route authorized by the prefecture. By 8 p.m., 287 people had been arrested (including 275 in the capital) and according to the Paris public prosecutor's office, 147 people were in police custody.
"To be able to fill your fridge with dignity", "Tomorrow the sky will be yellow", the signs of the second procession proclaimed. The demonstrators – a few hundred in number – left calmly from the Place de la Bourse (Paris stock exchange) and reached the Champerret gate (western entry to Paris). It was this procession that the humorist Jean-Marie Bigard tried to rally around 10 a.m., before having to flee under the booing of the demonstrators. This week, the media support of the Yellow Vests disassociated itself from one of the figures of the movement, Jérôme Rodrigues, who had likened the police to "a gang of Nazis".
Heckled and insulted on his arrival, the comedian took refuge for a moment in a restaurant on the square. After being greeted coldly, Jean-Marie Bigard said that he remained "in solidarity with the yellow jackets" but that he dissociated himself from the words of Jérôme Rodrigues. "We owe a good part of this s**t to Jérôme Rodrigues", he added, assuring that he was "the greatest defender of the yellow jackets".
(ER: This is an unfortunate turn of events. Jean-Marie Bigard (pictured below with Rodrigues) is an outspoken comedian who seems to actually be on the side of ordinary French, a rare bird in this country, and is willing to show them public support. He has been thinking of running for president and, because of his down-to-earth, non-globalist, non-trendy views, has been shunted off mainstream French TV, much like other aging French presenter-celebrities by the young, diversity-minded, pro-Macron hires at the TV networks. Jerome Rodgrigues, a high-profile Gilets Jaunes, famously lost an eye because of wreckless police action involving a rubber-bullet weapon. Many citizen protestors have been genuine victims of police violence, so it isn't surprising that Rodrigues would turn to over-the-top Nazi rhetoric. However, Bigard has to be much more circumspect in his remarks. Sadly, a public fracture has ensued.)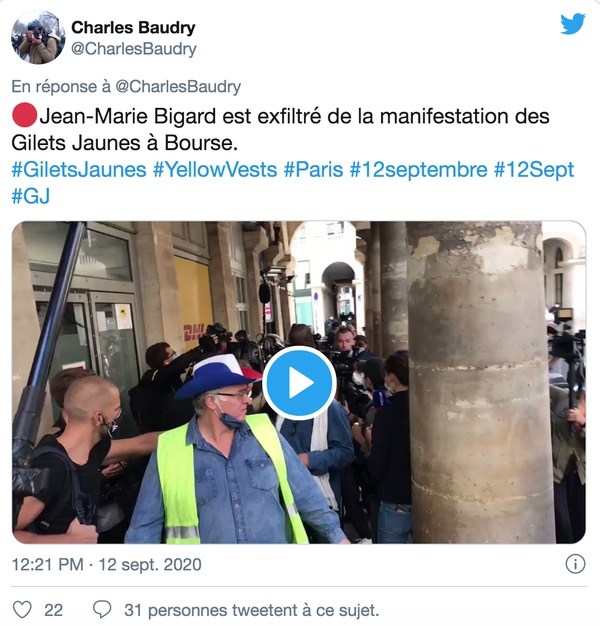 In the morning, about thirty yellow vests also briefly entered the parking lot and lobby of BFM TV's headquarters in Paris (ER: the CNN equivalent in France, not trusted), taking journalists to task and shoving security guards. The channel's management filed a complaint.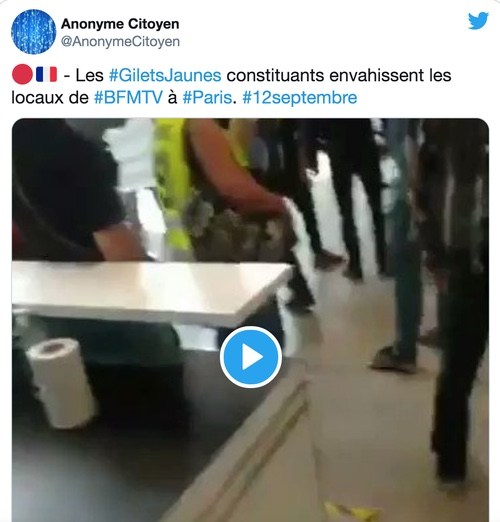 The Prefecture of Police had taken steps to restrict mobilization by issuing an order aimed at banning, on nearly a hundred Parisian streets, any procession claiming to be part of the Yellow Vests movement.
Numerous rallies in the regions of France
In the center of Toulouse, several hundred yellow jackets were on display despite the ban on demonstrations for health reasons. The police used tear gas, as in Lyon where the demonstration was also banned, according to AFP reports. In Colmar, between 100 and 150 yellow vests put a large yellow mask on the face of the Statue of Liberty, a replica installed on a traffic circle at the entrance to the city, with the help of a ladder.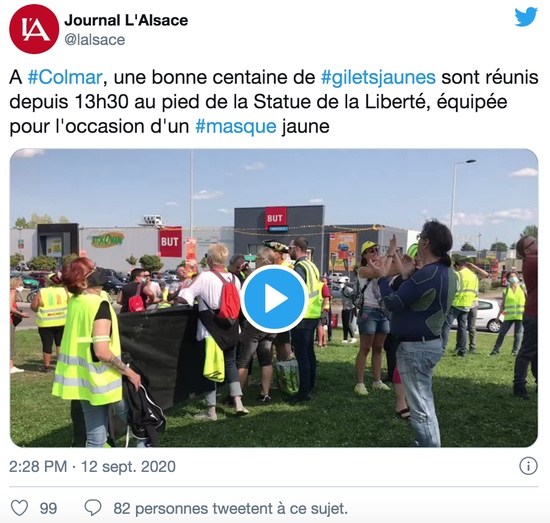 In Bordeaux, according to AFP, the demonstration gathered 500 people in a calm atmosphere: "As long as social anger is there, as long as people's lives are more and more precarious, social anger will not die out," said, mask on his nose, Antoine Boudinet, a local figure of the movement after having had his hand torn off by a tear gas grenade on the edge of a demonstration.
In Nancy, a declared demonstration took place, with the prefecture of Meurthe-et-Moselle estimating the number of participants at 350, "without any major incident to report", with one person arrested "for insulting a law enforcement officer".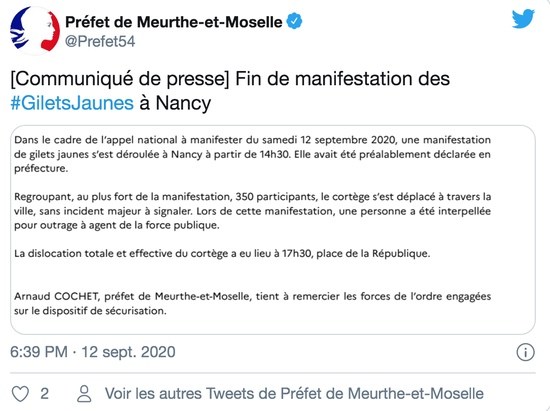 In Montpellier, France bleu Hérault and Midi Libre noted some clashes between demonstrators and police forces at the Place de la Comédie, with "bottle and tear gas jets". The regional daily newspaper counted 200 yellow jackets.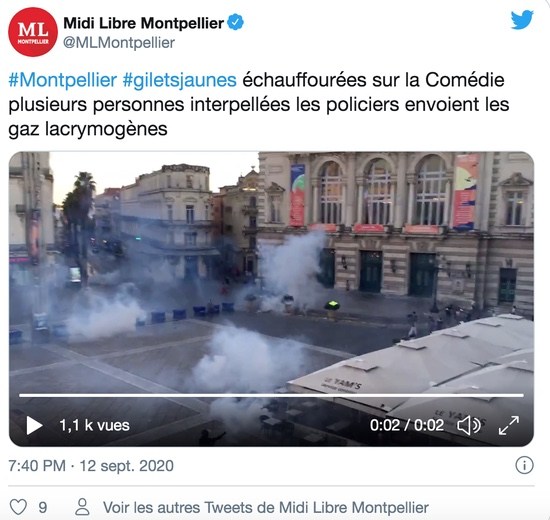 According to France bleu, several rallies were organized in the Dordogne, several dozen in Périgueux, and a "handful" on a traffic circle in Brantôme.
Born almost two years ago, on November 17, 2018, the Yellow Vests citizen movement, which is fighting for more fiscal and social justice, was seeking its second wind. It had managed the first year to shake France, between traffic circle occupations and demonstrations every Saturday, sometimes with clashes.
"Most people don't come anymore because they are afraid."
Close to La France insoumise (ER: far left political party), LCI (TV) editorialist Gérard Miller notes that "the yellow jackets have against them the power, the police, the money powers and almost all the press". "But two years later, they are still there and capable of bringing together infinitely more people than the 'Republic on the march' (ER: Macron's party). Not bad, is it?" he continues on Twitter.
The yellow vest François Boulo (ER: he's a lawyer) considered that "this day of September 12 [was] one more proof that the freedom to demonstrate [was] dead in our country". "Most people don't come anymore because they are afraid. The most courageous, even peaceful, are indeed subjected to brutal repression. Worrying," he argued on social networks (tweet).
On the other hand, Rachida Dati, of the elected Les Republicans (ER: centre-right establishment party, no friend of the ordinary French) of the 7th arrondissement of Paris, believes that "where a cry of revolt resounded, there is nothing but delinquency and gratuitous violence," accusing the State or the City of Paris of being "absent subscribers [and] incapable of protecting, gathering, giving hope.
Jean-René Cazeneuve, Member of Parliament for 'La République en marche' (ER: Macron's party) of Gers, was satisfied to see "almost no yellow jackets today in the Gers" and thanked the people of Gers "who tell us that the priority is to get out of the crisis, to make a collective effort, to implement a recovery plan".
************
************
Published to The Liberty Beacon from EuropeReloaded.com
https://www.thelibertybeacon.com/yellow-vests-make-a-post-lockdown-comeback-nationwide-video/