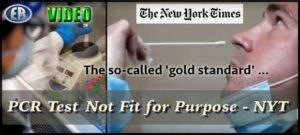 ER Editor: Surprise surprise, the New York Times is FINALLY doubting the usefulness and validity of the PCR test, the official lab test to determine if we've got the virus. This piece could, of course, have been written months ago, before the epidemic of testing got going.
The key problem is the number of lab 'cycles' needed to amplify genetic material in order to determine the presence of the virus.
Fewer cycles required means the patient is carrying a larger viral load – thus the patient may be sick and contagious (to be sick, a large amount of the virus needs to be present). In other words, the lab test doesn't have to do too much to find the virus.
More required cycles (above 30-35) means the patient is carrying very little of the virus for the test to be meaningless and the patient neither sick nor contagious. In other words, you have to work hard to find any viral presence.
This article has found its way into various publications over the last 24 hours. We're republishing relevant paragraphs below (in an article which otherwise seems to endorse MORE testing, contrary to the doctors we've published), with live commentary by 21Wire's Patrick Henningsen on yesterday's edition of UK Column, who breaks the issue down very well.
As he points out, faulty testing, finding too many so-called positives, is what is allowing us to ramp up the number of 'cases' when they're not really cases of sickness at all (the segment runs from 13:22 mins to approximately 20:00 mins):
********
Is your coronavirus test positive? Maybe it shouldn't be.
The usual diagnostic tests may simply be too sensitive and too slow to contain the spread of the virus.
APOORVA MANDAVILLI
Some of the nation's leading public health experts are raising a new concern in the endless debate over coronavirus testing in the United States: The standard tests are diagnosing huge numbers of people who may be carrying relatively insignificant amounts of the virus.
Most of these people are not likely to be contagious, and identifying them may contribute to bottlenecks that prevent those who are contagious from being found in time. But researchers say the solution is not to test less, or to skip testing people without symptoms, as recently suggested by the Centers for Disease Control and Prevention.
…
The most widely used diagnostic test for the new coronavirus, called a PCR test, provides a simple yes-no answer to the question of whether a patient is infected.
But similar PCR tests for other viruses do offer some sense of how contagious an infected patient may be: The results may include a rough estimate of the amount of virus in the patient's body.
"We've been using one type of data for everything, and that is just plus or minus — that's all," Dr. Mina said. "We're using that for clinical diagnostics, for public health, for policy decision-making."
But yes-no isn't good enough, he added. It's the amount of virus that should dictate the infected patient's next steps. "It's really irresponsible, I think, to forgo the recognition that this is a quantitative issue," Dr. Mina said.
The PCR test amplifies genetic matter from the virus in cycles; the fewer cycles required, the greater the amount of virus, or viral load, in the sample. The greater the viral load, the more likely the patient is to be contagious.
This number of amplification cycles needed to find the virus, called the cycle threshold, is never included in the results sent to doctors and coronavirus patients, although it could tell them how infectious the patients are.
In three sets of testing data that include cycle thresholds, compiled by officials in Massachusetts, New York and Nevada, up to 90 percent of people testing positive carried barely any virus, a review by The Times found.
On Thursday, the United States recorded 45,604 new coronavirus cases, according to a database maintained by The Times. If the rates of contagiousness in Massachusetts and New York were to apply nationwide, then perhaps only 4,500 of those people may actually need to isolate and submit to contact tracing.
One solution would be to adjust the cycle threshold used now to decide that a patient is infected. Most tests set the limit at 40, a few at 37. This means that you are positive for the coronavirus if the test process required up to 40 cycles, or 37, to detect the virus.
Tests with thresholds so high may detect not just live virus but also genetic fragments, leftovers from infection that pose no particular risk — akin to finding a hair in a room long after a person has left, Dr. Mina said.
Any test with a cycle threshold above 35 is too sensitive, agreed Juliet Morrison, a virologist at the University of California, Riverside. "I'm shocked that people would think that 40 could represent a positive," she said.
A more reasonable cutoff would be 30 to 35, she added. Dr. Mina said he would set the figure at 30, or even less. Those changes would mean the amount of genetic material in a patient's sample would have to be 100-fold to 1,000-fold that of the current standard for the test to return a positive result — at least, one worth acting on.
…
In Massachusetts, from 85 to 90 percent of people who tested positive in July with a cycle threshold of 40 would have been deemed negative if the threshold were 30 cycles, Dr. Mina said. "I would say that none of those people should be contact-traced, not one," he said.
Other experts informed of these numbers were stunned.
"I'm really shocked that it could be that high — the proportion of people with high C.T. value results," said Dr. Ashish Jha, director of the Harvard Global Health Institute. "Boy, does it really change the way we need to be thinking about testing."
Apoorva Mandavilli is a reporter for The Times, focusing on science and global health. She is the 2019 winner of the Victor Cohn Prize for Excellence in Medical Science Reporting. @apoorva_nyc
NYT Piece Finds PCR Test Not Fit for Purpose – Stunning Admission [VIDEO]