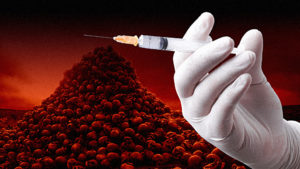 (Natural News) Australia has decreed new mandatory vaccination provisions in response to the Wuhan coronavirus (COVID-19) plandemic, and Know Your Rights Australia (KYRA) wants Aussies to know that they have the power to fight back against this tyranny.
In an interview with Tasha David, President of the Australia Vaccination-skeptics Network (AVN) – you can listen to the interview at this link – KYRA reveals in-depth the incredible lengths to which the Australian government, Big Pharma, and the mainstream media are willing to go to prevent the public from learning the ugly truth about modern-day vaccines.
While the independent media has been working hard to warn parents about the deadly chemicals and toxins used in vaccine production, authorities are pretending as though all vaccines are safe and effective. Consequently, they are using this as justification to force future Wuhan coronavirus (COVID-19) vaccines on everyone.
"There are so many reports around that detail issues with modern vaccinations or vaccine schedules and what they are really putting in them but many mainstream doctors, of course, all claim that they are completely safe," KYRA reports.
"Well, if that is truly the case then they should have no problem signing a document to that effect, should they?"
This document, known as a Vaccination Warranty Form, is a way for Australian parents to potentially "opt-out" their children from mandatory vaccines. By presenting this document, as well as Appendix 6 of the Australian Immunisation Handbook, to doctors and asking them to sign it, parents can quickly learn what medical professionals really think about vaccines when their own culpability becomes a factor in the equation.
Australia to spend $5.5 million on campaign to counter "anti-vaxxers"
The pro-health freedom movement is becoming so large and influential in Australia that the government there has already promised to spend some $5.5 million on a campaign to "debunk" the "misinformation" put forth by "anti-vaxxers."
The Australian government is also working to censor films like The Truth About Vaccines and Vaxxed, both of which present the other side of the story about vaccine safety and effectiveness.
KYRA recently held a webinar – you can watch it at this link – offering insights into how Aussies can better understand their constitutional rights. By knowing your rights, you can safeguard your family against "mandatory" vaccination, it turns out, as well as thwart illegitimate lockdowns and other draconian impositions.
So-called "My Will" letters can be submitted to government officials explaining that a person knows his or her rights and does not consent to illegal mandates. This includes forced Wuhan coronavirus (COVID-19) testing as a condition of participation in society.
"More and more people are being coerced into undergoing testing for COVID-19 so we have included some information to show you how inaccurate that testing is," KYRA explains.
"The first is a Freedom of Information response to one of our members from the Department of Health and Human Services which clearly states that there are no 100% accurate tests for COVID-19 in Australia."
As it turns out, the so-called PCR test for the Wuhan coronavirus (COVID-19) was also determined to be "scientifically meaningless," even though many Aussies are being forced to get it.
There are many more resources provided by KYRA that are too numerous to list here, so have a look for yourself at the group's website.
"If you are one of the many people to be affected by the new 'no jab, no pay' legislation, where your Family Tax Benefit is being withheld because you choose not to vaccinate, then you may also want to download a copy of our latest letter to the Minister for Social Services which explains your right to conscientiously object to anyone poisoning your children," the group adds.
The latest news and updates about vaccines can be found at Vaccines.news.
https://www.naturalnews.com/2020-09-02-know-your-rights-australia-teaches-resisting-mandatory-vaccinations.html