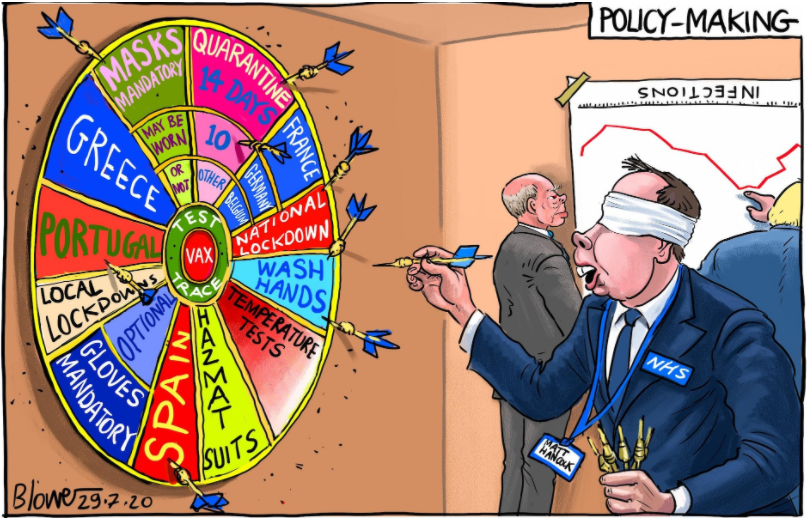 Sir Charles Walker, the Vice Chairman of the influential Conservative 1922 committee of MPs, slammed the new restrictions on social gatherings saying he would vote to "curtail" the Government's powers. The Telegraph has the story.
The changes will impose a legal limit on gatherings in private homes, parks, pubs and restaurants and will come into force in England on Monday.

Sir Charles argued that ministers needed to come to the Commons and "win the argument" on policies, admitting he was "increasingly uncomfortable" about the way the Government was running.

He said: "I am incredibly exercised about the continued use by the Government of powers that we granted it six months ago admittedly, to basically restrict people's civil liberties without any recourse back to Parliament.

"Now these powers are due to be reviewed at the end of September, or the beginning of October, and hopefully there will be another vote on them.

"And I will be voting – if given the chance to vote in this rather strange Parliament – to curtail the Government's powers in his area."
Commons Speaker Sir Lindsay Hoyle was visibly livid that Matt Hancock had failed to make the announcement in the chamber first:
It is really not good enough for the Government to make decisions of this kind in the way which show insufficient regard to the importance of major policy announcements being made first in this House. I've already sent a letter to the Secretary of State. I think the total disregard for this Chamber is not acceptable. I know the Prime Minister is a Member of Parliament as well and he will ensure that statements should be made here first.
The Government has clarified that – for now – the restrictions apply specifically to private gatherings in homes, restaurants, parks and so on (see here and here). They do not affect workplaces, schools, churches, etc. But for how long? The Prime Minister seems to be abandoning his earlier hope of getting back to normal by Christmas, with chief medical officer Chris Whitty warning that "people shouldn't see this as a very short term thing" and it is "very unlikely to be just over in two or three weeks".
The reason? Because "cases" (actually positive PCR tests – almost none of these people are unwell) have been approaching 3,000 in recent days. But even the BBC has pointed out that this spike is a result of the massive increase in testing (Toby wrote about this in the Telegraph here). There is no corresponding rise in hospital admissions and deaths. Here's today's graph: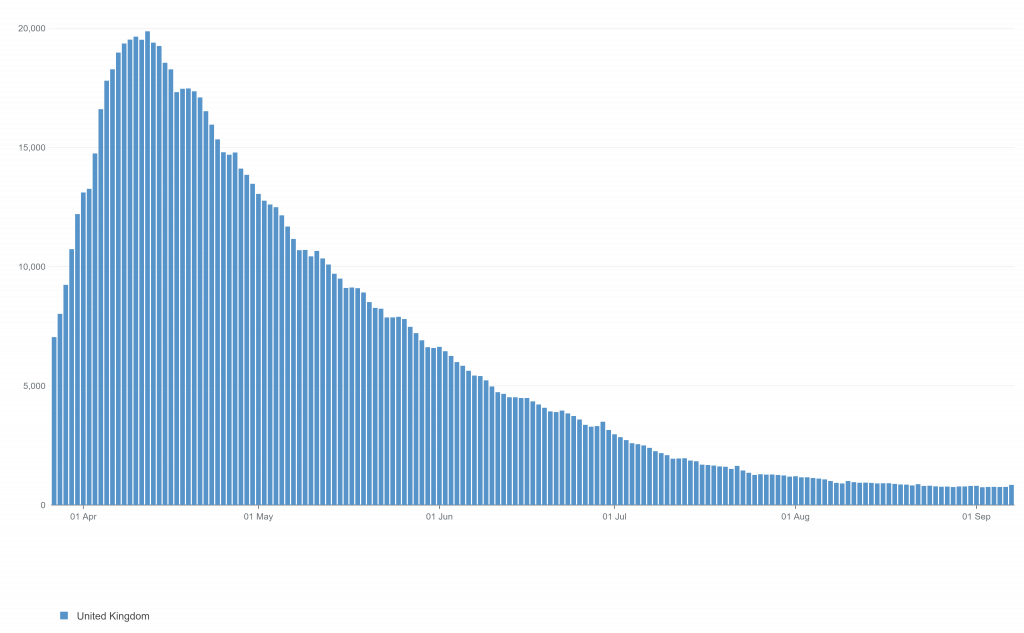 As the three eminent scientists, Paul Kirkham, Mike Yeadon and Barry Thomas wrote on Lockdown Sceptics yesterday: "Daily deaths from and with COVID-19 have almost ceased, having fallen over 99% from peak. All the numbers monitored carefully fall like this, too: the numbers being hospitalised, numbers in hospital, number in intensive care – all are falling in synchrony from the April peak… The evidence we've presented leads us to believe there is unlikely to be a second wave."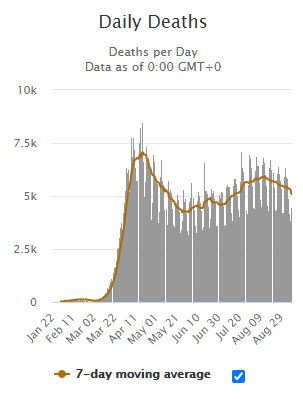 The COVID-19 epidemic is over in the UK. Any further local outbreaks are very likely to be well within health service capacity. COVID-19 was never a peculiarly deadly disease and we have anyway become much better at treating its more serious forms. Now is not the time to increase restrictions. It is time to declare the epidemic at an end and return to normality. Happily, more and more MPs appear to agree.
By Will Jones
https://lockdownsceptics.org/