The Aug. 27 letter, obtained by McClatchy, asked governors to fast-track permits and licenses for new distribution sites. "The normal time required to obtain these permits presents a significant barrier to the success of this urgent public health program," Redfield wrote. "CDC urgently requests your assistance in expediting applications for these distribution facilities," he continued, "and, if necessary, asks that you consider waiving requirements that would prevent these facilities from becoming fully operational by November 1, 2020."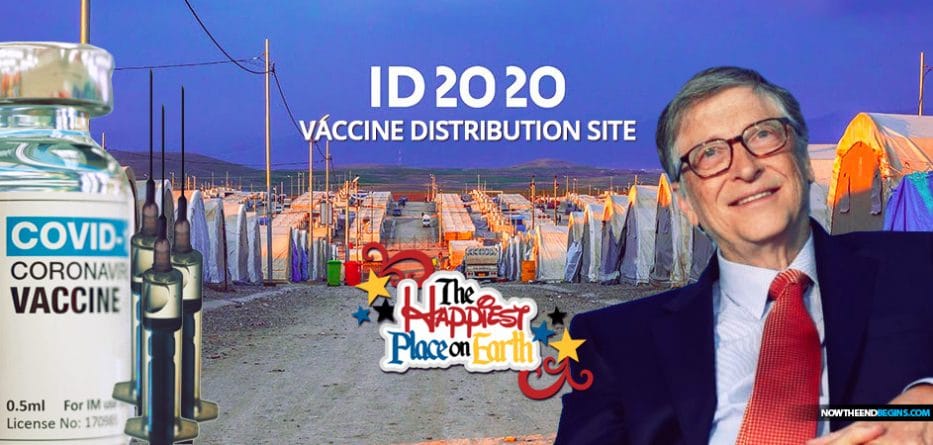 Delivery firms have received guidance from Trump administration officials to prepare freezer farms in the heartland and get ready to load vaccines onto trucks no later than Nov. 1.
Itold you months ago to be ready for the time when the vaccines begin to roll out, because there will be many, many companies and organizations pushing one and the pressure for you to begin receiving the shots will be intense. Just think how much pressure has been applied to get you to wear a mask everywhere you go, multiply that by a factor of 100, and you will be just about there. Now we have a time frame, the beginning of November. Isn't it funny how the real driver of science always seems to be politics? But I digress.
We were told in the beginning that everyone on earth will need to receive a vaccination in order to 'beat COVID', then after they let us chew on that for awhile, they told us that a single shot was suddenly not enough. (Imagine that, no vaccine yet available and already they determined that one won't do the trick.) They say we now need to receive multiple shots, and the CDC has ordered the nation's governor's to begin creating Vaccine Distribution Sites. Will the biometric digital identification be done in the same location, I wonder? So many questions, so little time, and it gets worse.
Add to that the fact that the Pentagon has said the military will 'assist in the delivery of the vaccinations', and what do you wind up with? I think you know, even if you're too afraid to say it out loud. Remember when Melinda Gates appeared on that talk show talking about the need for mandated global vaccinations while wearing an upside cross? Yep, that's it, you got it now. Everything we've told you has either happened already or is in the process of happening, if you've paid attention, you will know what to do when the time comes. And that time is almost here. Are you ready for what comes next?
'Urgent' request sent to states in push for coronavirus vaccine delivery by Nov. 1
FROM CENTRE DAILY TIMES: Dr. Robert Redfield, director of the Centers for Disease Control and Prevention, sent a letter last week to the nation's governors with an urgent request. The Trump administration wanted them to do everything in their power to eliminate hurdles for vaccine distribution sites to be fully operational by Nov. 1.
The Aug. 27 letter, obtained by McClatchy, asked governors to fast-track permits and licenses for new distribution sites. "The normal time required to obtain these permits presents a significant barrier to the success of this urgent public health program," Redfield wrote.
"CDC URGENTLY REQUESTS YOUR ASSISTANCE IN EXPEDITING APPLICATIONS FOR THESE DISTRIBUTION FACILITIES," HE CONTINUED, "AND, IF NECESSARY, ASKS THAT YOU CONSIDER WAIVING REQUIREMENTS THAT WOULD PREVENT THESE FACILITIES FROM BECOMING FULLY OPERATIONAL BY NOVEMBER 1, 2020."
"The requirements you may be asked to waive in order to expedite vaccine distribution will not compromise the safety or integrity of the products being distributed," he added.
It was the latest hurried federal request of state governments to prepare for the arrival of a vaccine for COVID-19, the pandemic disease that has killed roughly 185,000 Americans.
Last month, Dr. Nancy Messonnier, a top CDC official working on the federal coronavirus response, warned that state public health departments are "running out of time" to draft plans for the distribution of COVID-19 vaccines – and requested states submit proposals by Oct. 1.
The success of the Trump administration's messaging campaign around the launch of a vaccine could determine whether millions of doses of vaccine that are purchased and dispersed around the country are actually used – or sit unused, and possibly wasted.
Trust in the process appears to be declining.
Only 42 percent of Americans surveyed by Yahoo News and YouGov in late July said they plan to get the COVID-19 vaccine, down from 55 percent in May. Politico reported that HHS was bidding out a $250 million contract to a communications firm for a messaging campaign to "defeat despair and inspire hope" of a coronavirus vaccine. The HHS document said the vast majority of the contract would be spent before January.
Some experts are concerned that the Trump administration's approach, which has frequently been in conflict with scientists and regulators, has sown distrust in whatever vaccine emerges.
"We need a lot of outreach and encouragement for people to take this vaccine, which many consider to be having been rushed," said Toner of Johns Hopkins. "That's the message over and over again – this is 'warp speed.' Well, that's not necessarily a reassuring message when you're talking about something that's being injected into your body." READ MORE
COVID-1984 From A Two Week Lockdown To Mandatory Vaccination & Life In Prison
Unfortunately COVID-1984 continues to escalate. We were initially told that we would need to have a temporary two week lockdown to 'flatten the curve' Six months later, we are still in lockdown and now mandatory vaccination policies are being rolled out in addition to severe penalties for violating mandates which include life in prison! We have seen cases where people have been forcibly removed from there home by the police, in front of their families and have been forced into quarantine. All of this in response to a virus with a 99+% survival rate which multiple world renowned experts believe this virus originated in a laboratory funded by the US government.
https://youtu.be/oMpUpKmP6So
https://www.nowtheendbegins.com/cdc-tells-nations-governors-to-open-vaccine-distribution-sites-fully-operational-november-1-bill-gates-id2020