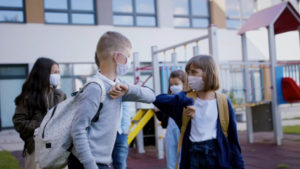 August 21, 2020 — A new study just published in The Journal of Pediatrics incorrectly concludes that children spread COVID more than adults, and are "silent spreaders." Simply looking at the study itself causes its own conclusion to fall apart horribly. Here are some of the main reasons this study is useless:
The study only used symptomatic children
The study contains no data on asymptomatic spread
It's a small study using only 49 COVID positive patients
The majority of those 49 patients were teenagers
The study used less than 30 swab samples total from children
Compares children in 1st week of symptoms to adults beyond 1st week
Such a comparison is misleading (and I would say purposefully fraudulent)
The data presented in the study DOES NOT support that children are "silent spreaders"
No cofactors were considered (child age, obesity, etc…)
The study makes suggestions that it has no data to back up
Don't take my word for this. Go read the comments from the Science Media Center from professors, pediatricians and microbiologists who are the source of my bullet points above:
"The data presented here does not support the claim that children are silent spreaders of COVID-19." – Prof Adilia Warris, Professor of Paediatric Infectious Diseases at the University of Exeter
"(This study) does not demonstrate, in any way, that children actually spread the virus to adults or other children." – Dr Simon Clarke, Associate Professor in Cellular Microbiology at the University of Reading
"In my opinion many of the statements in this paper are largely unfounded." – Dr Andrew Preston, Reader in Microbial Pathogenesis at the University of Bath
Why All This Scientific Fraud?
This is the second study published in August making false claims of children being "super-spreaders" of COVID. The first was funded by The Bill & Melinda Gates Foundation and I have previously published a report proving that study to be a fraud here.
These studies are being published now for 2 reasons:
To keep schools closed and functioning remotely, and
To create a fraudulent scientific paper trail to force a COVID vaccine on children
***
Here is the original study —https://www.jpeds.com/article/S0022-3476(20)31023-4/fulltext
Here are the professional comments from the Science Media Center – https://www.sciencemediacentre.org/expert-reaction-to-study-claiming-children-are-silent-spreaders-of-sars-cov-2/
https://thefedupdemocrat.home.blog/