Why we must think again about Covid19 vaccines being immune from prosecution.
This is Robert R. Redfield, a former Colonel in the US Army medical corps appointed by President Trump in 2018 to be head of the Director of the Centers for Disease Control and Prevention, and the current Administrator of the Agency for Toxic Substances and Disease Registry.
He is the top United States official at the CDC in charge of assessing drugs, management and potential vaccines for Covid19. Thanks to a 1994 USAMC whitewash enquiry into AIDS drug trials misconduct, far from being drummed out out the armed services, he was promoted. Anthony Fauci is fully aware of the cloud over this man's head.
The Slog investigates.
---
On June 7th 1994, Public Citizen's Health Research Group physicians Peter Lurie and Sidney Wolfe wrote to Congressman Henry Waxman as follows:
'Dear Representative Waxman,
We are writing to request that your Subcommittee hold a hearing, as soon as possible, to investigate charges of grave Impropriety committed by U.S. Department of Defense' AIDS researchers. We have obtained Internal memoranda, not previously made public, from the Department of Defense that allege a systematic pattern of data manipulation, inappropriate statistical analyses and misleading data presentation by Army researchers in an apparent attempt to promote the usefulness of the GP160 AIDS vaccine (VaxSyn; MicroGenrSys, Meriden, Connecticut), which is Intended to prevent the progression of disease in persons with HIV infection.
The Phase I and Phase II studies in which this alleged misconduct occurred were conducted by researchers at the Walter Reed Army Institute of Research (WRAIR), led by Lt. Col. Robert Redfield, M.D., Chief of the Department of Retroviral Research, and misleading results from these trials were reported in a variety of scientific fore, Including the New England Journal of Medicine in June 1991. the Journal AIDS Research and Human Retroviruses In June 1992 and the annual International AIDS Conference In Amsterdam in July 1992. In addition, overstated conclusions have been presented on two occasions at hearings before your Subcommittee.'
As to the July 1992 Amsterdam speech, In July 1992, Redfield's presentation there on the gp160 vaccine asserted that there were strong indications of effectiveness. (The air force had commissioned private company MicroGeneSys to develop the vaccine in the first place solely based on Redfield's 'analysis' of it).
The vaccine later turned out to be useless. Many researchers, however, had been skeptical of the data, and were unable to reproduce Redfield's 'analysis'.
In October 1992, two concerned senior USAAF officers tried to blow the whistle on Redfield.
An October 21, 1992 memorandum from MaJ. Craig W. Hendrix, M.D.. Director of the HIV Program in the Air Force, and Col. R. Neal Boswell, MD., Associate Chief of the Division of Medicine in the Air Force, to Col. Donald Burke, M.D., Director of the Division of Retrovirology at WRAIR and Dr. Redfield's Immediate supervisor decried 'The problem of misleading or, possibly, deceptive presentations by Dr. Redfleld, which overstate the GP160 Phase I data…' and recommended that the following action be taken:
(1) publicly correct the record in a medium suitable for widespread dissemination to our civilian scientic colleagues;
(2) censure Dr. Redfield for potential scientific misconduct which should at least include temporarly suspending his Involvement on the current immunotherapy protocols;
and (3) initiate an investigation by a fully independent outside Investigative body, such as the Office of Scientific Integrity [now the Office of Research Integrity] of the NIH, to evaluate the facts of the case and recommend appropriate actions.
So senior Department of Defense scientists had known of this misconduct since at least October 1992. Infact, Dr. Redfield has acknowledged that his analyses were faulty on at least three occasions to internal Department of Defense audiences (the earliest admission was on August 28, 1992).
---
What happened next was a whitewash. Lurie and Wolfe concluded in their Waxman letter:
'A year and a half after Drs. Hendrix and Boswell made their requests (which were endorsed by the Directors of the Clinical HIV Programs in the Army and Navy, Col. Charles Oster and Capt. Walter Kamey, respectively), none of their three demands has been met. Instead, the faulty analyses have never been publicly retracted, Dr. Redfield continues to conduct trials of GP160 and only an internal Army investigation has been conducted. That "informal Investigation," by the Army's Col. Harry Dangerfield, concluded that "Evidence does not support the allegations of scientific misconduct."'
Col Dangerfield's Investigation was then the subject of an FOI request showing that all negative comments about Redfield had been  been redacted.
The full version of the statement to Col. Dangerfield by Dr. William McCarthy, Director of Biostatistics for the Henry M. Jackson Foundation, a non-profit foundation created by an act of Congress to work with Department of Defence researchers, was consistently blanked out.
Hundreds of HIV-infected persons were enroled in expensive trials at WRAIR as well as in Massachusetts, Connecticut, New York City, Montreal and Sweden. The scientific misconduct in this case significantly altered the study results – and may have resulted in hundreds of people being given the vaccine.
The bottom line again here – regardless of the detail – is that Robert Redfield consistently promoted a useless vaccine. And he is now heading up the CDCs in the US.
Even the US Army whitewash of 1993, however, acknowledged that Redfield had an "inappropriately close" relationship with the non-governmental group "Americans for a Sound AIDS/HIV Policy" (ASAP), which promoted the gp160 vaccine. The group was founded by evangelical Christians.
The contract MicroGeneSys won on the basis of Redfield's "advice" was worth $20 million. The top Medical Officer in the US, our old friend Anthony Fauci, can be seen here in this November 1992 extract from Science Journal dug out by The Slog in the process of investigating Redfield's past. The full article avers that the AIDS research Estblishment was furious about the contract award, calling it 'a blatant attempt to circumvent peer review'.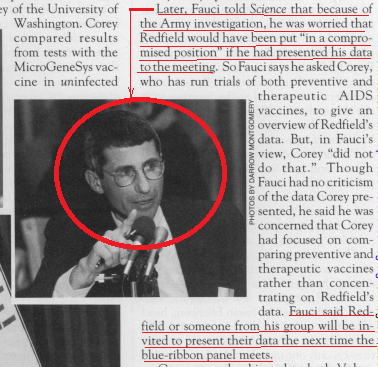 We can see quite clearly here that Fauci knew of the Army investigation into Redfield's misconduct, but he had "no criticism of the data" quoted by MicroGeneSys. He must also know that this AIDS "vaccine" turned out to be useless.
But he is still happy to have Redfield at the helm of the Centers for Disease Control today. Hmm.
The US pharmaceutical sector has been granted immunity from prosecution when it comes to any claims against it for Covid19 "vaccine" side effects or deaths. One wonders if that is entirely wise given the increasingly well established occurrence of C19 death stats inflation, the concerted media attack on HCQ, the need to re-run Peter Horby's drug 'trial' that rubbished HCQ, and the continuing revelations of the moral hazards presented by the endless power of Global Pharma to "persuade" research projects to "find" some things and not others.
At its core, the issue here is not that difficult to understand. It seems to me (and thousands of other thoughtful, frontline medical and mathematically sound commentators) that the global pharmaceutical industry is in the business of using bad science, alarmist lobbying and PR, mythical vaccine hopes and smear campaigns against infection management drugs to persuade ordinary citizens and their "leaders" that vaccination is vital to stop a 'deadly killer' virus. Whereas, in fact, the hard stats and medical experience of practitioners suggest that the virus is generally benign and responds well to intelligently administered management drugs…..in which there is little or no profit.
Donald Trump said he was going to dredge the swamps. This one should be top of his list.
John Ward    new Covid19 CDC scandal
---
The Slog is very happy to acknowledge the aid of Jon Cohen AIDS research and CA-C in the preparation of this post.