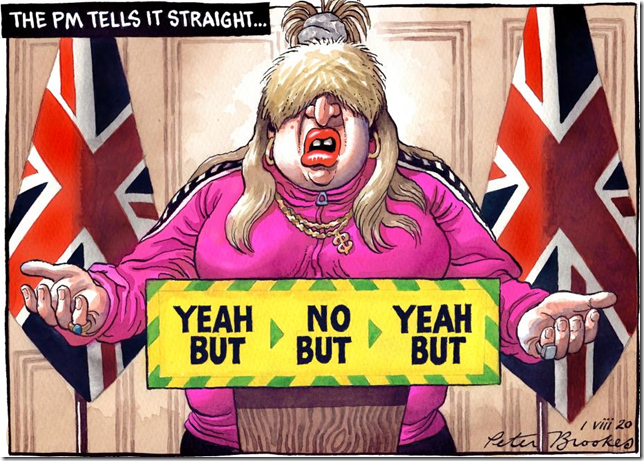 What fresh hell is this? In an interview on Radio 4's Today programme this morning, Professor Graham Medley, a member of SAGE, said England would have to consider closing pubs in order to reopen schools next month. The Telegraph has more.
When asked about the Chief Medical Officer Professor Chris Whitty's prediction that the country was "near the limits" of opening up society and "difficult trade-offs" will have to be made, the London School of Hygiene and Tropical Medicine academic told BBC Radio 4's Today programme: "I think that's quite possible.

"I think we're in a situation whereby most people think that opening schools is a priority for the health and wellbeing of children and that when we do that we are going to reconnect lots of households.

"And so actually, closing some of the other networks, some of the other activities may well be required to enable us to open schools.

"It might come down to a question of which do you trade off against each other and then that's a matter of prioritising, do we think pubs are more important than schools?"
But in the same Radio 4 interview, Professor Medley also said that the rise in infections in the past few weeks had mainly been among younger people.
"The age distribution of infections has changed, it has moved down into younger age groups and so it is likely we won't see that increase in hospital admissions related to infection in the same way we did in March."
In other words, the rise in infections – if indeed it's happing at all – is nothing to worry about since young people are no more likely to die of COVID-19 than they are of seasonal flu. So, er, why do we have to close pubs if we want to re-open schools?
A reader has passed on a comment from a relative that may throw some light on why members of SAGE are prone to giving these alarmist, grand-standing interviews.
A close relative, a retired consultant surgeon, says that he knew several government health advisers during his career and that, with one exception, they were all "barking mad". He also reckoned, from his experience, that members of government advisory committees like SAGE like to ramp up the bad news to maintain their own importance and because they thrived on publicity.
Meanwhile, Them For Us, the lobby group campaigning for schools to re-open, has helped organise a letter in the Telegraph signed by a coalition of academics and business leaders saying that schools should be classified alongside nuclear power plants to prevent them from being closed in a local lockdown. The Telegraph has more.
In a letter to the Prime Minister, the group argued that deeming schools as "critical national infrastructure" would help prevent them from being "unnecessarily" shut down where there is a regional rise in coronavirus cases.

"Widespread school lockdowns are an inappropriate response to local outbreaks and for the sake of our children and the broader economy, we ask that you now commit to keep schools open," the letter said.

"Where a significant outbreak takes place within a school the only school to be the subject of a closure should be the one affected by the outbreak."

By Toby Young / 1 August 2020

https://lockdownsceptics.org/