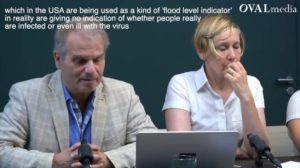 The use of PCR testing to count 'cases' is a major scandal. These tests are not designed as diagnostic tests. They cannot confirm an active infection. See expert witness testimony to this fact from the German Corona Committee evidence gathering.
The Problem of trying to determine SARS-CoV-2 infections using PCR Tests
by 
Howard Steen
 / 2 weeks ago
In Germany, a group of lawyers have formed the independent Corona Committee for the purpose of gathering factual evidence about the pandemic in order to legally challenge the authorities as to the suitability of the continuing measures. Details in english about the Corona Committee can be found here: https://en.corona-ausschuss.de The 4th evidence gathering session took place on 24.07.2020 and was streamed on Oval Media's YouTube channel. Link here: https://youtu.be/pKllldIiMpI This video is an edited abstract of the live stream coverage, focussing only on the part of the evidence concerning the controversial use of PCR tests in an effort to measure numbers of new infections. To make this abstract accessible to english language speakers, english sub-titles have been added. The 'Implications' slide at the end of this video in yellow text is my own summary of the evidence and does not come from the Corona Committe. The Committee will present its overall findings at a later date to be announced.