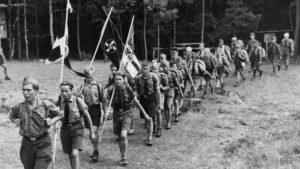 John Ward    Covid19 $64trillion Question
This is today. It is not 1933. But the global mob rule we are witnessing is as old as the hills. As old, in fact, as the ancient Greeks who warned that the Herd Instinct, when married to Herd Ignorance, would inevitably lead to the Führerprinzip.
Plato predicted this earlier than most, but latterly George Orwell offered us a more exact description. For some forty years now, the Internationalist bourgeois Left has treated Nineteen Eighty-Four as a blueprint. Bizarrely, the globalist/blocist Corporate State builders have been doing exactly the same.
So for example, the Guardian's Executive Editor instructed her journalists in 2016 to call Climate Change doubters deniers. This same collective noun is now being extended to Covid19 empiricists. But at the same time, unelected bureaucracies have promoted those like top UK civil servant Sir Mark Sedwill and US Global Pharma creature Dr Fauci to positions of enormous power and influence….using completely unregulated censorship at will to dub contrarian Covid19 commentators 'Science deniers'.
In recent years, one socio-political issue after another has been treated to the same formula of rigid 'framing'. Those with doubts about the multicultural model of society are diversity deniers. Supporters of Brexit are Little Engander globalism deniers….and racists to boot. Those noting the spread of Islamic Jihadism and Pakistani rape gangs are Islamophobes. Critics of some elements of male homosexual lifestyles are homophobes. Attacks on the radical feminist creed are the work of sexists lasciviously obsessed with male rape.
Over time, such framing has trickled down in an even more simplistic form to the mass electorate, creating a knee jerk mode of acceptance I call 'Estuary pc'….such that, in 2012 I employed a plumber who actually said, "In terdayzz mult-culchural-siety, that is a totelee hunacceptable dibollikal libe'ee".
The link back to the shot of Hitler Youth at the head of the post is extremely pertinent: for acceptance is now turning into not just unquestioning obedience, but also demands that contrarians be told to shut up 'for the Common Good'.
During the development of the official coronavirus narrative, we have all been treated to the Holier than Thou fascist who begins with "It's people like you that…". Who has not coughed in a queue for shopping and been greeted by glares from others? During the 2016 Brexit referendum, the day after Jo Cox's assassination Leave supporters were treated to threats, and screams of "murderers" – Nigel Farage (not even remotely connected to the alleged assassin) was accused of being responsible for inciting the attack.
The metamorphosis of ideology into creed is rapidly creating a self-styled mob of Spanish Inquisitors – precisely the sort of bullying that led to the furious Groupthink of Krystallnacht eighty-five years ago. Whether that mob be Momentum, The London Times, Antifa, the New York Times, Channel Four, Common Purpose, Black Lives Matter or the BBC, there is an enthusiasm for – an asumption, in fact – that the Bertold Brecht Weltanschauung of The Good Lie is not only acceptable, it is essential. The naysayers must be silenced.
So much for diversity.
---
Such does not exactly provide rich soil for the discernment of lies and promotion of more effective (as in, less tunnel-vision) policy. 84% of Brits now see Lockdown and the wearing of masks as 'necessary to control the virus', even though the masks on offer are close to useless and lockdown has been shown to achieve little beyond approaching national bankruptcy.
Nor is the climate of ignorant fear a good one in which to put forward obvious contradictions between policies in use and the "science" they are supposedly led by.
And finally, the construction of informed conjecture about the real purposes of whipped-up Covid19 fears is so far beyond the closed mind, it is dismissed at Twitter – the ancestral home of bullying – with insults like "you thick c**t".
All this darkness accepted, here and there one sees some signs that the largely silent Thinkers – estimated at around 16% of the adult population – are beginning to wonder whether this virus has rather more to do with globalist finance, multinational Pharma profits and surveillance permissions than anything remotely approaching "science".
This therefore seems to me like a good opportunity to take one overriding element of the majority approach to Covid19 – a fairly easy one to understand – and leave both the Mob and the Establishment with a question they will surely find it impossible to fend off.
---
From Day 1 of the Covid19 saga, we have been watching a tug-of-war between two sets of medical interests.
The highly regarded French newspaper France Soir has been creating a Covid19 drug-trials niche for itself by raising all kinds of methodological anomalies in relation to the Recovery trials being headed up by Peter Horby. The articles are compelling because the paper's director of publications Xavier Azalbert is that rare thing, a distinguished scientist who then switched to journalism. But although the telling findings fly over the heads of most of the population, Azalbert's overview about who the politicians listen to in the field of virology is a fascinating one that, for me, represents a genuine insight.
Neil Ferguson (the man of multi-billion Pound mistakes) is an epidemiologist, and professor of mathematical biology. He has never been a medical practitioner in his life.
Peter Horby is an epidemiologist, and Professor of Emerging Infectious Diseases and Global Health. He has never been a medical practitioner in his life.
Anthony Fauci's first degree was in classics. He went on to medical school later. The sum total of his clinical experience was a two-year hospital internship from 1966-68. He has never been a general practitioner in his life.
Chris Whitty, UK Chief Medical Officer, worked as a doctor and researcher in Africa and Asia and is a practising NHS consultant. He has never worked in general practice, and his total experience in the current century has been as a Professor, administrator and public sector office holder at Gresham College and the London School of Hygiene & Tropical Medicine (LSHTM). In 2008, the Bill and Melinda Gates Foundation awarded the LSHTM £31 million for malaria research in Africa. At the time, Whitty was the principal investigator for the ACT Consortium, which conducted the research programme. I probably don't need to remind you of the lingering ethical doubts relating to that "vaccination" programme.
Ferguson, Horby and Fauci also have a long history of being funded by Big Pharma.
In short, the front line of Anglo-Saxon advice to government are all people Low in clinical experience and High in Big Pharma funding. They are model builders, theorists and fund-attracters laden with multivariate conflicts of interest, and little or no depth in the vital process of patient obervation. Their careers, needless to say, are all littered with groundless alarmism, major mistakes in counsel and the belief that vaccination is the answer to every problem….even a virus which, many practising medics contend, is highly unlikely to ever work on a mutating coronavirus – let alone within two years to include drug trials.
This is the tug-of-war team that has a monopoly on access to government. The other team – the practical, experienced medical practitioners – are variously depicted as minority nutjobs, eccentrics, headline-chasers, small-time and narrow deniers – there's that word again – who are a constant risk to millions of human lives, and must be ignored. In fact, never mind ignored – for the good of the cause, they must be smeared, censored and refused access to the debate.
In fact, it is the Horbys and Faucis that are the tiny minority infecting genuine medical science with their corrupted ideological creeds and flakey models.
---
So now, here is the $64 trillion question that the Establishment war-tuggers and the hopelessly general political class they blind with science can't avoid: why are you listening only to atypical academic twaddle-theorists with conflicts of interest who have at best been hopelessly wrong and at worst lied about Covid death stats and ruthlessly manipulated drug test trials?
This is in no way an unfair framing of the question. Ferguson's death toll estimate was wrong, Horby's drug trial of HCQ was fiddled, the entire process of lockdown was unaffordably broad, economically unaffordable and incompetent in the area of protecting the vulnerable, there is an inquiry going on into PHE's massively overestimated UK death toll, and the Horby trials are being redone at yet more public cost. Dr Fauci has deliberately misled the American People about HCQ, and his conduct has been the subject of some excoriating criticisms by the practitioners' supporter, the American Medical Association.
As I said, for the time being – until such time as the public mood changes – keep it simple. To those who are awake, the reasons why all these dubious activities – the Bigging Up of Covid19 – have been undertaken are clear. Nevertheless, park the power, money, geopolitical and Alt State hegemony madness and focus on this one question: why are you still taking the advice of the folks who've fucked up?
Yesterday, Chris Whitty flatly stated that "Coronavirus cases are rising in the UK because ministers pushed lockdown easing measures to their limits". He openly rubbished Boris Johnson's plan to get the UK back to normal by Christmas, insisting that "relaxing rules further will absolutely, inevitably lead to a resurgence of the virus."
Whitty put his foot down: lockdown loosening measures had to be 'stopped now' and maybe even 'pulled back a bit' because they risk allowing another large-scale outbreak in the future.
This was based on a daily death toll figure of 38. Out of 76 million. In the US on the same day, the light use of lockdown produced 5 deaths. Out of 330 million. Lockdown has been at the very best a questionable policy, and a certain gdp disaster for a Britain that can ill afford one.
Whitty is not interested in even considering that his strategy (which, let's face it, not a single government anywhere knows how to emerge from) is flawed, that the dangers are wildly overstated, and that Britain must move on or collapse. And Boris Johnson's Cabinet shows no sign of even considering that Whitty is a Pharma tool and, economically, a dangerous fool.
Why?
THE SATURDAY ESSAY: Is it time for Civil Disobedience against the Covid19 cult of failed advice?