CONFIRMED: SEVERAL NEW BUILDINGS ON EPSTEINS ISLAND, PLUS A TOTALLY NEW CEREMONIAL AREA, TENNIS COURT, AND TOTALLY REFURBISHED SUNDIAL. SO MUCH HAS HAPPENED THERE IT PROVES EPSTEIN IS STILL IN CHARGE.
QUESTION: If Epstein did not remain in charge of this island, how would it have been sold so quickly and why would the new owners keep all the creepy shit plus add more??? Why did that temple get totally restored??? Wow, that island was nice before, LOOK AT IT NOW!!!
TOP IMAGE: How it looks in 2020.
Click for the big picture and explore!! There are tons of new attractions!!!!
Google is now lying about image dates in their maps, they can't handle this getting out, my dates given here are correct and even have the old Google data embedded in them from before Google tried to misrepresent this.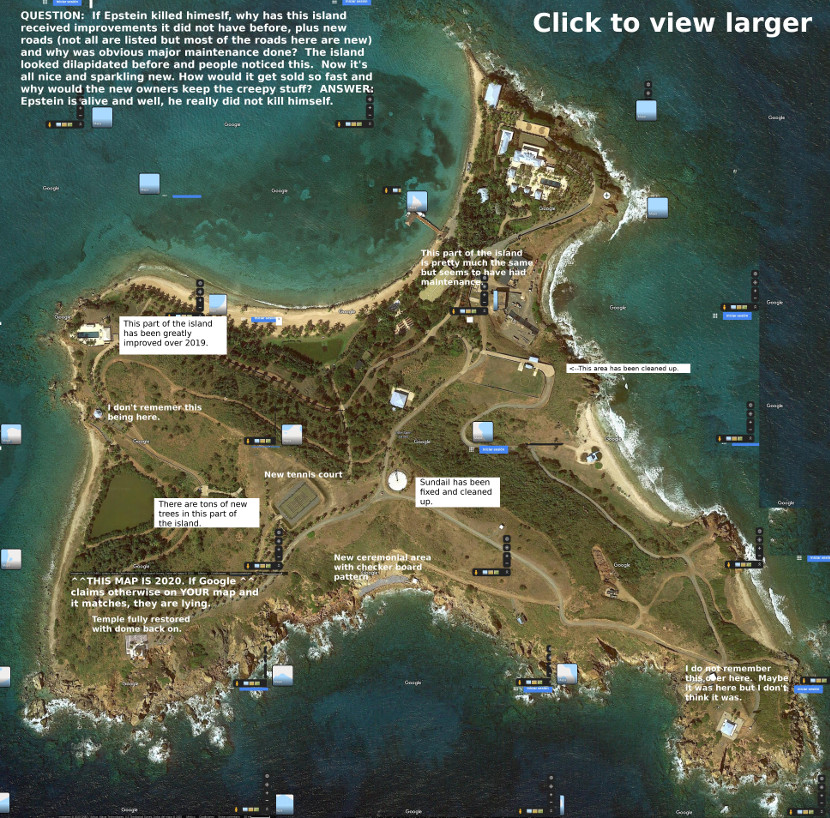 OK, now look at that top image, and how finely manicured that island is now, complete with tons of new trees and plants, and compare it to the image below from last year, right when Epstein got busted. How T.L.F. did that happen? It's like it is not even the same island!!!
Bottom image: How it looked less than a month before "Epstein killed himself". Look at this – A lot of what is in the top image really was not there a year ago, HOW DID IT GET THERE???
Click for the big picture of how it was when Epstein got busted. Gee, a lot has changed since then!!!
FACT: IF THE CHILD KILLING COMMUNISTS WERE REALLY ON THE RUN, THIS ISLAND WOULD HAVE TURNED TO GARBAGE. FROM THIS IT IS CLEARLY EVIDENT THEY ARE GOING TO SHITCAN TRUMP ONE WAY OR ANOTHER, AND CONTINUE BUSINESS AS USUAL COME HELL OR HIGH WATER.
http://82.221.129.208/.vf1.html