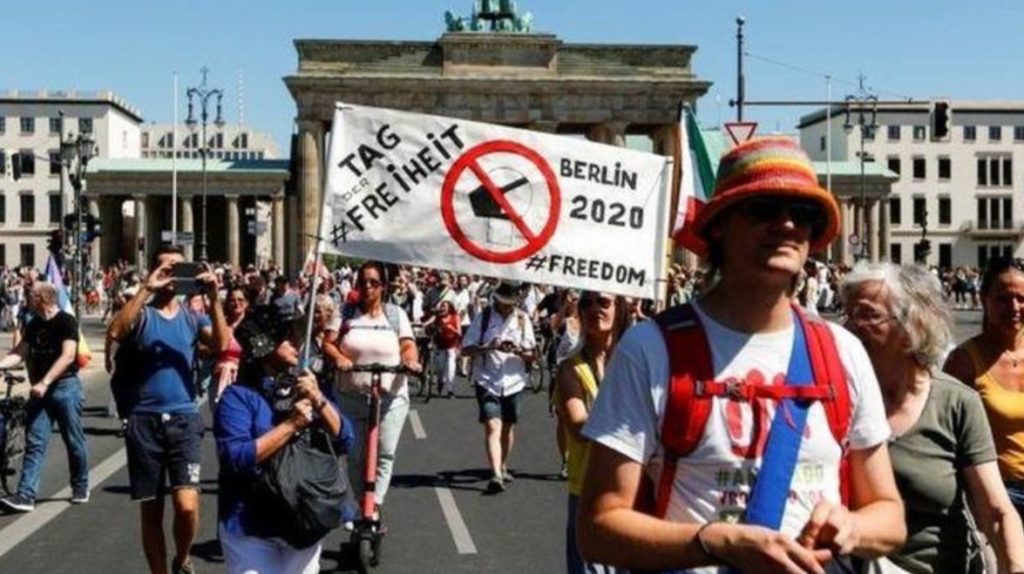 By Tyler Durden
Thousands of Germans took to the streets of Berlin on Saturday to protest the country's coronavirus measures – including wearing facemasks – which the protesters refer to as a "muzzle."
"Our demand is to go back to democracy. Away with these laws that have been imposed on us, away with the masks that make us slave," said one woman, according to the BBC.
Restrictions in Germany include the wearing of face-coverings in shops and on public transport, social distancing rules and hygiene requirements apply throughout the country. Mandatory testing has been introduced for holidaymakers returning from high-risk areas. –BBC
The protesters are a mix of 'far right' and 'ordinary people who simply object to the government's approach to the pandemic,' according to the BBC's Damian McGuinness, who added that hardly anyone was wearing a face-covering or social distancing during the demonstration.
Germany has had over 210,000 cases of COVID-19 and over 9,000 deaths linked to the disease since the beginning of the pandemic. Despite recording 900 new cases on Friday, Germany remains one of the least affected European countries.
Source: Zerohedge
https://www.activistpost.com/2020/08/protesting-germans-revolt-against-muzzle-facemasks-and-pandemic-restrictions.html