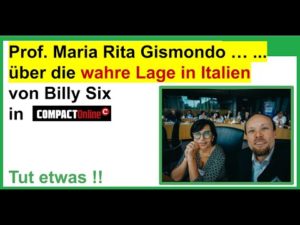 Top virologist Italy talks about "psychological pandemic"
By mr. Jeroen Pols
Rotterdam – August 22, 2020 – Dr. Maria Rita Gismondo (66) confirmed Italy's "first corona case" to authorities on February 20, 2020 at 9:30 pm. She tells her story during a symposium in Berlin. "Our ambulances had to drive back and forth through Milan with a blue flashing light."
Gismondo, chief virologist at Luigi Sacco University Hospital in Milan, was in Berlin with eight other experts at the invitation of AfD MPs last week. There they spoke with dozens of representatives from politics and society about a factual analysis of the "Brave New World" from a medical, legal and economic point of view.
The professor says she has been publicly attacked and pressured by the Italian government to stop talking about the real situation in Lombardy: Gismondo still considers the virus as a "medium flu". According to her, the virus had been circulating unnoticed through Europe for weeks. As early as November 2019, the environmental department discovered the latest type of corona virus by accident during a routine survey of Milanese river water.
The top Italian virologist describes the situation as "a psychological pandemic" and "a global panic strategy". She says that at the request of the authorities, empty ambulances from her hospital tore back and forth through the streets of Milan with flashing lights. The Bergamo truck convoy, which shocked the world at the end of March, did not carry a single body. A responsible military colonel confirmed this to her. She does not want to comment on the political strategy of the Conte regime in Rome.
www.compact-online.de/was-hat-die-elite-zu-verbergen-experten-packen-aus/?cookie-state-change=1598093122789
https://viruswaarheid.nl/informeren/professor-maria-gismondo-wij-hebben-de-pandemie-veroorzaakt/