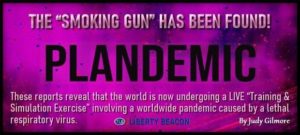 The "Smoking Gun" Has Been Found!
THE PERPETRATORS of this global pandemic/lockdown crime HAVE BEEN IDENTIFIED!
By: Judy Gilmore
Actual documents have been found on the WHO website and brought to light for our review and comprehension. Gratitude and thanks go to Journalist Ramola D of Ramola D Reports for her investigative work to locate these reports and share them with us.
These reports reveal that the world is now undergoing a LIVE "Training & Simulation Exercise" involving a worldwide pandemic caused by a lethal respiratory virus. They further reveal that the groundwork for this plan was established as far back as 2005. Incredibly, 196 countries were signed on and legally bound to participate in this drill, coordinated by the WHO and UN.
This material is time sensitive. A number of "progress indicators by Sept. 2020" are identified, including:
Progress indicator(s) by September 2020

The United Nations (including WHO) conducts at least two system-wide training and simulation exercises, including one for covering the deliberate release of a lethal respiratory pathogen.

From: A WORLD AT RISK

Global Preparedness Monitoring Board

Annual report on global preparedness for health emergencies

September 2019
The links to these WHO documents are provided below. Additionally, the link to the YouTube video produced by Ramola D explaining what she has learned from these reports is also provided.
The thing to keep in mind while reviewing these reports is "doublespeak"*.
* DOUBLESPEAK DEFINITION

"Doublespeak" is language that deliberately obscures, disguises, distorts, or reverses the meaning of words. Doublespeak may take the form of euphemisms (e.g. "downsizing" for layoffs and "servicing the target" for bombing), in which case it is primarily meant to make the truth sound more palatable. – Wikipedia
The perpetrators of these crimes use words that are the direct opposite of the meaning we would give them, or in such a way as to invoke a sense of regard for public safety and human life, when in fact, they mean nothing of the sort!
DOCUMENTS & VIDEO FOLLOW
WHO DOCUMENTS:
NewsBreak 81: CONFIRMED: COVID-19 Plandemic a Known, Live "Training & Simulation Exercise" under WHO
••••