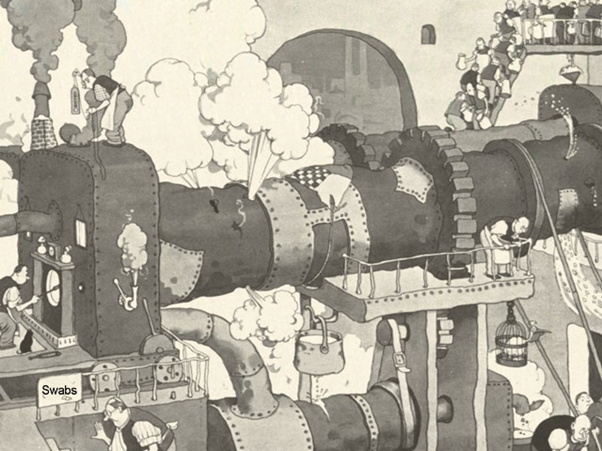 In a move that will surprise no one, Matt Hancock has announced that the Government will carry out even more tests in an attempt to better understand how prevalent the virus is. The BBC has the story.
The Office for National Statistics' Infection Survey will test 150,000 people a fortnight in England by October, up from 28,000 now.

The survey is separate from the mass testing programme of people with symptoms to diagnose cases.

For the survey, a random sample of the general population is tested.

That means it can provide estimates for the true spread of the virus.

The diagnostic testing programme, which provides daily totals, largely relies on people with symptoms coming forward.

Some people do not display symptoms when they are infected so the daily totals are an underestimate of the amount of infection that is around.
As part of the expansion of the programme, data will also be gathered in Wales, Northern Ireland and Scotland.

Health Secretary Matt Hancock said the survey was the "single most important tool" the government had for making policy decisions around coronavirus because it helped it understand how the disease was spreading.

Speaking on BBC Breakfast, Mr Hancock said expanding the ONS survey would allow the government to be "more accurate and more localised" in its response.

He added that it would help the government with its "biggest challenge", which was finding people who were asymptomatic but could still pass the virus on.
Finding people who are asymptomatic but who can nonetheless pass the virus on may well be a "challenge". Let's not forget that at a World Health Organisation (WHO) press conference on June 8th, Dr Maria Van Kerkhove, the WHO's technical lead on the pandemic, said the following:
We have a number of reports from countries who are doing very detailed contact tracing. They're following asymptomatic cases, they're following contacts and they're not finding secondary transmission onward. It's very rare and much of that is not published in the literature.

From the papers that are published there's one that came out from Singapore looking at a long-term care facility. There are some household transmission studies where you follow individuals over time and you look at the proportion of those that transmit onwards.

We are constantly looking at this data and we're trying to get more information from countries to truly answer this question. It still appears to be rare that an asymptomatic individual actually transmits onward.
The WHO immediately attempted to "clarify" Dr Van Kerkhove's comments, saying it simply didn't know whether asymptomatic people are infectious because not enough studies have been done (even though those that have been done show there's little or no secondary transmission). And here's some new evidence – a study published in the Annals of Internal Medicine on August 13th.
In this study, a team of Chinese researchers looked at 3,410 close contacts between infected and uninfected people that mainly took place in Guangzhou. That is, they looked at the contact that 391 infected people (some symptomatic, some asymptomatic) had had with 3,410 other people. They found that of these 3,410, 127 became infected. But here's the kicker: 126 of them were infected by symptomatic people and only one by an asymptomatic person. And to infect that one person, the asymptomatic group had to have close contact with 305 other people. So that's a secondary transmission rate for asymptomatic people of 1:305.
The researchers conclude:
Our results showed that patients with COVID-19 who had more severe symptoms had a higher transmission capacity, whereas transmission capacity from asymptomatic cases was limited. This supports the view of the World Health Organization that asymptomatic cases were not the major drivers of the overall epidemic dynamics.
Limited! That's one way of putting it. Hat tip to Phil Kerpen, who flagged up this study on Twitter yesterday.
Incidentally, one of the researchers' findings, duplicated numerous times in other studies, is that the secondary attack rate was highest in household settings. Does this mean that locking people down in their homes, making transmission within households much more likely, may not have been such a good idea? Who would've thunk it!
By Toby Young
https://lockdownsceptics.org/