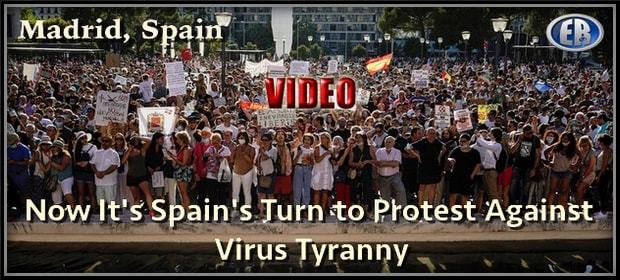 ER Editor: This story was buried away on the BBC site under "Europe" – https://www.bbc.com/news/av/world-europe-53802226/coronavirus-hundreds-gather-in-madrid-for-anti-mask-protest
By a sleight of hand, copied by RT, the BBC report refers to 'hundreds of demonstrators', implying far less than a thousand. Their very short video, as well as the RT video below, however, shows the assembled crowd numbering more than mere 'hundreds'.
********
"Freedom!" Hundreds of demonstrators gathered in Madrid against the wearing of masks…
RT FRANCE
Denouncing restrictions on their freedom after measures to prevent a rebound from the Covid-19 pandemic were tightened, Spanish citizens gathered to protest in their capital.
To the shouts of "Liberty!" hundreds of people gathered in Madrid on 16 August to protest against the mandatory wearing of masks and other restrictions imposed to combat the coronavirus pandemic. The crowd, mobilized by social networks, gathered under the giant Spanish flag that decorates Colon Square in the centre of the capital.
The demonstrators carried placards proclaiming, among other things, "The virus does not exist", "The mask kills" and "We are not afraid".
Many of the demonstrators were not wearing masks, although it is obligatory in public in Spain.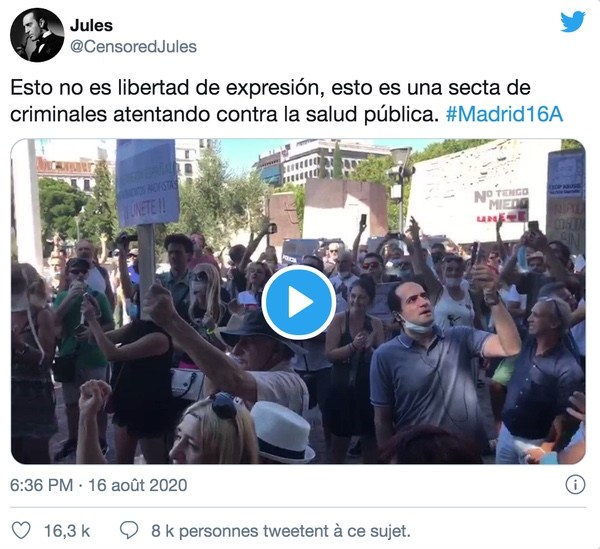 The wearing of masks was first imposed in early May on public transport and was later extended in this country where the number of deaths due to Covid-19 is approaching 29,000. Two days before the demonstration, the government announced new restrictions, including the closure of discos and a ban on smoking where it is impossible to stand within two metres of each other.
************
Published to The Liberty Beacon from EuropeReloaded.com
"Freedom!" Demonstrators Gathered in Madrid Against Wearing of Masks [VIDEO]