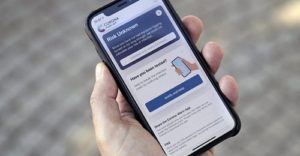 Coronavirus tracing app to be required at bars and restaurants.
It just so happens to have a technical problem in that it notifies you that you've come into contact with a positive covid19 case even though you haven't.  John Kitson.
Coronavirus tracing app will be launched yet again
Pilot schemes for the mobile tracing app will begin within days on the Isle of Wight.
NHS Test and Trace app to FINALLY be launched today… three months after it was promised (but it won't do what it was designed to)
Users of app will be asked to scan in at barcode points in pubs and restaurants   

Pilot schemes will begin on Isle of Wight – where first app was tested and failed

The public will be urged to provide a 'virtual diary' of their recent movements  

(not referring to toilet activity presumably)
One of the apps apparent flaws is that it sends out false alarms telling people they have come into close contact with a positive case. The app's developers hope to be able to rectify this glitch during the trial.
It is understood the app is unable to tell how far devices have been from each other and for how long. It means people could be given the wrong information about whether they should self isolate.
After a brief trial, which is hoped to smooth out glitches, this new version will be rolled out nationwide in time for winter.
The initial app was meant to have been ready at the end of May but it was axed by Health Secretary Matt Hancock as it did not work with iPhones.
It was unable to spot 25 per cent of nearby Android users and a staggering 96 per cent of iPhones in the Isle of Wight trial.
The former system devised by NHSX – the NHS's technology arm – was abandoned in favour of one provided by Apple and Google.
The Apple/Google approach works by carrying out the contact matching process on a user's smartphone itself, making it more secure and harder for any potential hackers to access and de-anonymise any data for nefarious means.
Their system also bars authorities from using the technology to collect any location data from users.
Although ministers initially said data collected by the NHSX app would never be breached, experts in data privacy said it was difficult to trust their claims.