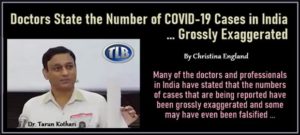 Doctors State the Number of COVID-19 Cases in India … Grossly Exaggerated


By TLB Contributing Partner: Christina England, BA, Hons
According to a recent BBC news report, cases of coronavirus in India have now exceeded two million, and the number of new cases that are being reported every day remain at worrying levels.
The report, aired on August 7, 2020, stated that there had been a total of 62,170 new cases reported in the last 24 hours alone, and that reports of new infections had been above 50,000 every day for the past week.
However, despite reports like this being extremely worrying, a growing number of doctors in India are actually reporting completely opposite information.
Many of the doctors and professionals in India with whom we have spoken have stated that the numbers of cases that are being reported in India have been grossly exaggerated and some may have even been falsified.
Dr. Saurabh Mehrotra told us he believes that:
"There are lots of reports that are said to be positive but found negative after a re check."
And Mr. Jagannath Chatterjee from the Cochrane Collaboration told us that:
"We need a reliable testing system. The RTPCR test being used is not testing for any virus. Studies say in India 80 to 90% of positive cases are asymptomatic. Of the active cases 99% are mild. Also in family settings 80 to 85% of positive persons are not infecting family members. Of those becoming serious we do not know exactly what is going on. There is no transparency. What is the logic behind the media constantly harping on figures? What is the logic behind people being forced to wear masks? Frankly we do not know."
Many other professionals from India agree.
Can a Test Determine Exactly Which Coronavirus a Patient is Suffering with?
In a recent video, Dr. Tarun Kothari made his thoughts on the COVID-19 pandemic, extremely clear. He stated that it is his belief that COVID-19 is little more than a simple flu, or a cough and cold. He stated that he believes that the figures in India have been grossly exaggerated. In fact, he is so convinced that the numbers of cases have been falsified and that this is not a pandemic, that he stated that he prepared to offer a reward of 100.000 rupees (£1050 approx.) to anyone that can prove him to be incorrect.
Kothari stated that the death rate in India currently stands at 2 – 3 percent, far lower than the death rate in Italy, which currently stands at about 10%.
He said that it his belief that the test results are being falsified. He explained that this is because if one patient is tested twice and both tests come back as positive, this is then counted as two separate people, each taking one test. If one person is tested three times and all the tests come back as positive, this is counted as three people, each taking one test, and so on.
He said that he would like to know why, if you test one person ten times, for two consecutive days, the test results will fluctuate between positives and negatives.
He explained that even if you test a non-human, such as cows, horses, dogs, or monkeys, that you will get the same fluctuated results.
He stated very firmly that animals do not get COVID-19.
He explained that even if you tested fruit, the same thing would happen and again; the test results will fluctuate, and asked, why?
Dr. Kothari, finished his very powerful video, which The Liberty Beacon needed to have translated from Hindi, with nine powerful questions, the most powerful of which is the following:
"As there are tests for four different types of COVID: ordinary simple coronavirus, SARS, MERS, and COVID 19, can the test actually determine which virus the result is for?"
We believe that he could have a valid point, as according to the US Centres for Disease Control and Prevention (CDC), there are four main sub-groupings of coronavirus known as alpha, beta, gamma, and delta. On their website, the CDC stated that there are seven coronaviruses that can infect people:
"Common human coronaviruses
229E (alpha coronavirus)

NL63 (alpha coronavirus)

OC43 (beta coronavirus)

HKU1 (beta coronavirus)
Other human coronaviruses
MERS-CoV (the beta coronavirus that causes Middle East Respiratory Syndrome, or MERS)

SARS-CoV (the beta coronavirus that causes severe acute respiratory syndrome, or SARS)

SARS-CoV-2 (the novel coronavirus that causes coronavirus disease 2019, or COVID-19)"
With this information, it makes sense that a test would only be able to determine that a person was suffering from coronavirus and not necessarily be able to determine which one.
It Appears that Dr. Kothari is Not Alone in His Beliefs
According to our research, Dr. Kothari is not the only professional in India to believe that the figures for cases of COVID-19 have been grossly exaggerated. In March 2020, Dr. Jacob M. Puliyel wrote a paper titled Coronavirus Pandemic: Is It Time to Wind Down the Rhetoric?
In his paper, Dr.Puliyel wrote that:
"Ten million people die each year in India, most of them of old age, and often with pneumonia as a terminal event.

The seasonal flu or influenza mutates every year and spreads around the planet. According to the WHO's estimates, 290,000 to 650,000 die worldwide every year as a result. The overall death rate is thus 0.1% to 0.5%."
He continued that:
"Second, the kits to test for COVID-19 are expensive and not easily available. As a result, tests are often restricted to patients at risk of, or those who already have, a life-threatening form of the infection. And while the mortality among these patients is high, it is not a true representation of the mortality with the infection overall.  South Korea undertook a more general study, testing 140,000 persons for the coronavirus. Of them, 6,000 people had the virus and the mortality was 0.6%. Similarly, given the virus's low mortality, the UK government has said COVID-19 is not to be classified as a 'high consequence infectious disease' (like Ebola). In Italy as well, most deaths have been recorded among elderly people with a coexisting disease."
He wrote that:
"In other words, the severity of the COVID-19 infection is akin to heart attacks: they mostly occur in older persons. Occasionally a young man dies of a heart attack but that is the exception, not the rule."
Despite these facts being so eloquently laid out, Dr. Puliyel explained that India had been plunged into yet another lock-down, this time, for three weeks.
Puliyel stated that, as a result:
"Nearly all economic activity has been suspended. The poor will have no work and no food. We are being asked to practice social distancing, and every other person is to be treated as a potential source of lethal contagion. We are being alienated from one another."
He further explained how these measures were put in place at Event 201, a meeting in which world leaders discussed the measures that should be put in place, should a pandemic occur. The meeting took place in October 2019, several weeks before the first case of COVID-19 was identified in China.
He stated that:
"Interestingly enough, some people anticipated how a pandemic would play out in October 2019, well before the first cases were reported in China. Researchers from the Johns Hopkins Centre, the World Economic Forum and the Bill and Melinda Gates Foundation had organised a pandemic response exercise called Event 201, and recorded and uploaded the whole thing to YouTube."
It is interesting to note that the measures that these groups were discussing in 2019 have since been put in place.
Puliyel described in detail how the participants at Event 201 had each discussed how lockdowns would be implemented, as well as how they planned to control the news and social media. They described how public unrest should be dealt with and how the stock market would crash.
He asks, if COVID-19 is not much worse than the annual flu, can we get back to normal life? He says that we need to protect our elderly and ensure that they are safe and isolated from the virus. He explained that, in his opinion, the young need to be able get out to work and provide for their elders. He concluded that:
"The rush for toilet paper in the West is a telling example of how people make irrational decisions in a panic. We need to tone down our rhetoric immediately to dispel this panic. If not, we will overwhelm our medical resources, precipitating unnecessary deaths, as well as overwhelm our limited economic resources, resulting in deaths among the poor who may not be able to access their rations. As Franklin D. Roosevelt said, 'the only thing we have to fear is fear itself.'"
These are strong words from a paediatrician who is based in Dehli.
Doctors State the Number of COVID-19 Cases in India … Grossly Exaggerated