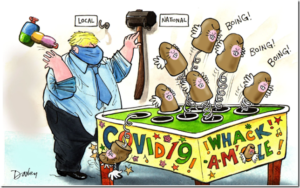 There's a story by Tim Shipman in the Sunday Times today that I'm struggling to understand. He reports that last Wednesday at 4pm the Prime Minister convened a war-gaming exercise in which they considered various responses to different "second wave" scenarios.
For an hour they mapped out options for the next few months. Simon Case, head of the COVID-19 taskforce, led a discussion of three fictional but realistic scenarios that reflected Whitehall's fears about what could happen next. "There were three whiteboards in different corners of the room," one of those present said.

In their tabletop war game, Johnson and Rishi Sunak, the Chancellor, first discussed an outbreak in northwestern England, then an outbreak in London and finally a general increase in infections nationally.

Under the first scenario, local authorities in the northwest saw a persistent rise in infections and the measures taken by councils failed to stem the tide. Johnson and Sunak agreed that the first lever pulled should be additional restrictions on household interactions. "There must be quick, decisive action," Johnson said.

That evening, the fictional scenario became reality as the prime minister was presented with Office for National Statistics data showing a 66% rise in infections in a fortnight, with increases in Blackburn, Bradford and Manchester.
Where does that 66% figure come from? The ONS infection survey data released on July 31st showed an increase in the number of people testing positive over the past two weeks of just five. In the period June 29th to July 12th, 31,542 people were given a nose and throat swab, of whom 19 tested positive. In the period July 13th to July 26th, 28,325 people were swabbed, of whom 24 tested positive. So an increase of ~0.06% to ~0.085% in the unweighted sample. In the ONS table below, when weightings have been applied, this shows up as an increase in the percentage of the infected population in England of 0.05% to 0.09%. Is that the figure Tim Shipman's referring to? If so, it's based on an increase in the number of people testing positive of precisely five.

What about the claim that infections have increased in Blackburn, Bradford and Manchester? In section three of the ONS infection survey, headed "Regional Analysis", there is the following caveat:
There is not enough evidence to say there are differences in the percentage of people testing positive for COVID-19 in different regions of England.
Indeed, the daily average for the percentage of the population estimated to be infected in the North West remained constant at 0.05% from June 15th to July 26th. In the same period in London, by contrast, it increased from 0.10% to 0.14%. So why local lockdowns in the North West but not in London?
In Shipman's article, he goes on to say:
Wednesday's war game also featured a sobering session on what might happen if such an approach was needed in London, where the number of cases is rising, though not as fast as in the northwest.
Er, no. As we've seen, the number of cases isn't rising at all in the North West and is estimated to be rising a bit in London. (Was one of the five new cases in London?) So what does Boris intend to do if the number of cases in London continues to rise? Here's where Shipman's article makes for alarming reading.
In the war game, Johnson and Sunak agreed that in the event of a London outbreak, it might be necessary to scrap the entire "green list" of countries exempt from quarantine, meaning all arrivals would have to self-isolate for 14 days. "We'd need quick guillotine decisions," one of those present said.

In March, the Prime Minister considered, and rejected, plans to lock down the capital harder than the rest of the country. But in Wednesday's war game he agreed that if infections rose significantly, overnight stays in London would be banned, Londoners could be subject to stay-at-home orders, and close-contact services such as hairdressers would close. "The challenge in London is how quickly people move around on the trains and Tube," a source said. "It would potentially spread much quicker than in other areas so you'd have to be quicker on the regional hammer in London."

Most controversially, the ministers concluded that people would be advised not to travel in and out of the capital, raising the prospect of restrictions on those inside the M25. "That would be the border point," an insider said.
God help the nine million people who live in London. A mad, hammer-wielding maniac has taken up residence in Downing Street and will "whack" the capital if a handful of more people start testing positive for the virus, regardless of the damage he'll do to public health and the economy.
In the third scenario, which Whitehall officials called the "frog boiling" scenario, the prevalence of the virus increases gradually but inexorably across the entire country, with local lockdowns failing to snuff out fires. The response here, apparently, would be to extend the "shielding" policy to encompass everyone over 65!
Johnson sanctioned work to go ahead on plans for "enhanced shielding", which would see the number of people judged clinically vulnerable and urged to stay at home increased from the current total of 2.2 million to "a much wider group".

Yesterday, more than two million vulnerable people were released from shielding in England, Scotland and Northern Ireland.

This "segmentation approach" would see many more people receive a tailored letter in September or October, "before it gets cold", spelling out their risk factors. Health issues and age would be taken into account – an approach that is likely to mean that a large number of people aged between 50 and 70 would be urged to stay out of harm's way. Personalised advice is possible because scientists have better evidence about which factors most effect whether people survive COVID-19.

"At the moment, shielding is binary, you're either on this list or off it," said one of those familiar with the thinking. "But we know there isn't a simple cut-off at age 70. People would get a personalised risk assessment. The risk rises after 50, quite gently to start with, and then accelerates after age 70."

It is likely that this would mean people being put in tiered risk levels but would be controversial because it could be depicted as quarantine by age. Most of those affected, if the shielding plans are adopted, are likely to be over 65.
Can't the over-65s just carry crucifixes and cloves of garlic to ward off the vampiric virus? I'm sure that would result in a far lower loss of life than imprisoning them in their homes.
By Toby Young / 2 August 2020
https://lockdownsceptics.org/