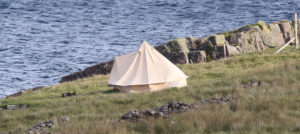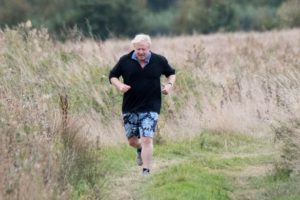 It's an unusual choice of holiday for a Prime Minister.  There's a cottage not far away ( a few yards), but he'd have the choice of anywhere in the world.   Maybe he feels safer controlling his own food supply (and drinks) after his illness in April, which was far more serious than many realised at the time, and took him months to get over.  He's back to his jogging now at least, and can shed some weight.
He had the flu vaccine very publicly three weeks before his COVID experience.  He had a COVID 'test' a few days before it struck.  The test could well have been contaminated.  Something sent him to hospital in a very poor state very soon after the 'test', with nil reason to suspect he was in any form ill health otherwise.
Cummings is also keeping a very low profile.  The strange suicide of Owen Paterson's wife, Rose, who was not without political influence in eurosceptic and racing circles might also have alerted people in government to be on their watch.  The Palace is clearly on board with the coming second wave and lockdown.  It would not be surprising if others felt less sure that Britain and her people are entirely expendable in pursuit of World Government goals, especially if that were to include themselves.