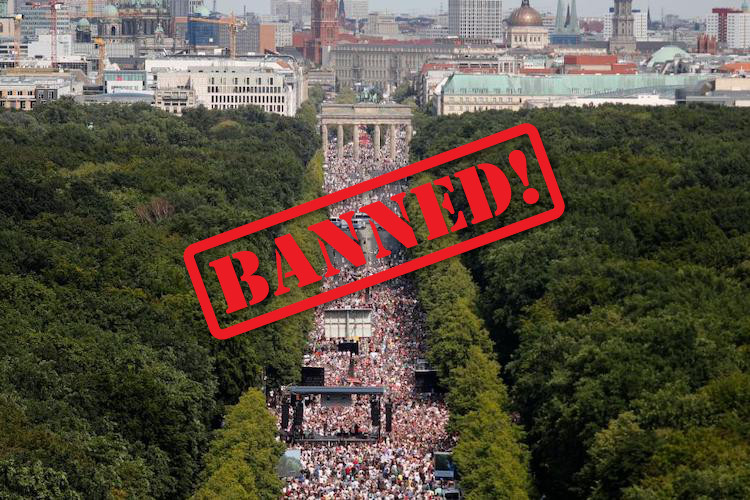 Get the latest Waking Times articles delivered to your inbox. Sign up here.
Isaac Davis, Staff Writer
Waking Times
Earlier this we reported on a major protest in Berlin against Covid-19 mandates, which many feel are infringing upon basic civil rights. Mainstream media reports had the number of participants pegged at around 20,000, while independent sources said the number was easily over one million, potentially up to 1.3 million.
Furthermore, the mainstream media news coverage of the event went out of the way to demonize and pigeon hole all of the participants as 'far-right' extremists and such, effectively demonizing them. Photos and first-hand accounts of the event show people from all walks of life, however, all coming together to end the lockdown, the Draconian mandates, and get back to work.
Several more protests have been planned, however, Berlin just decided to ban protests and events which speak out against the CV-19 measures.
"In further developments, organizers canceled plans for a large concert with Bryan Adams in Duesseldorf on Sept. 4, while in Berlin authorities banned several protests planned for the weekend against coronavirus pandemic measures.

Officials said that those protesting would likely have breached rules on social distancing designed to stop the spread of the virus. Germany has seen an upswing in new confirmed cases in recent weeks, and the government is considering whether to impose fresh restrictions again.

Authorities in the capital cited a rally against COVID-19 restrictions on Aug. 1 during which participants ignored mask-wearing and distancing rules and other conditions imposed on the protest." [Source]
Andreas Geisel, the Berlin interior senator commented on the banning of such protests, and is quoted by Reuters:
About 20,000 people, including libertarians, constitutional loyalists, far-right supporters and anti-vaccination activists, marched in Berlin on Aug. 1.
Geisel said the organisers of that protest had deliberately broken rules they had previously agreed with police, including wearing masks and maintaining social distancing.
"Such behaviour is not acceptable. The state cannot be given the runaround," he said, adding he did not want Berlin to be a stage for conspiracy theorists and right-wing extremists." [Source]
Again, a leading politician suggests that being opposed to lockdowns and severe Covid measures is not only a political issue, but one only championed by 'extremists.' Such rhetoric is incredibly dangerous in a world that is sliding faster than ever into global tyranny.
Read more articles from Isaac Davis.
https://www.wakingtimes.com/2020/08/27/after-hundreds-of-thousands-rally-against-pandemic-measures-berlin-bans-covid-protests/?utm_source=Waking+Times+Newsletter&utm_medium=email&utm_campaign=cea4f0074c-RSS_EMAIL_CAMPAIGN&utm_term=0_25f1e048c1-cea4f0074c-54826306