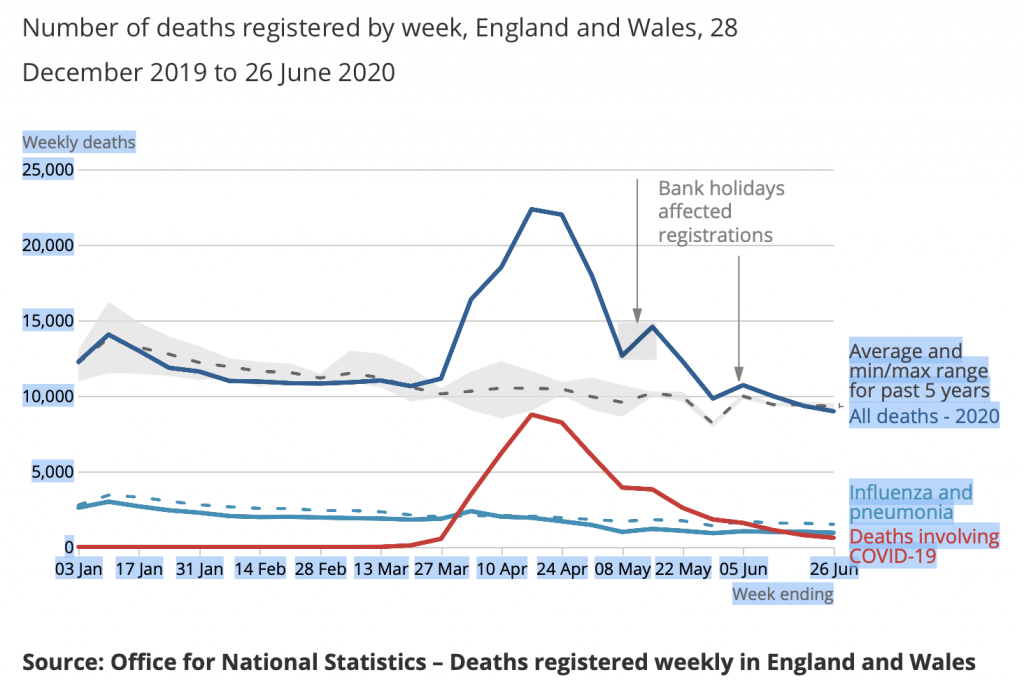 Readers will recall that last Tuesday the ONS data for Week 25 showed that the number of people dying in England and Wales had fallen below the five-year average, suggesting that some of the people who've died from coronavirus would have died later in the year anyway. The same is true for the ONS data for Week 26 (June 20th – 26th).
The number of deaths registered in England and Wales in the week ending 26 June 2020 (Week 26) was 8,979, this was 360 deaths lower than Week 25.

In Week 26, the number of deaths registered was 3.4% below the five-year average (314 deaths fewer), this is the second consecutive week that deaths have been below the five-year average; the numbers of deaths in care homes and hospitals were also fewer than the five-year average (103 and 815 deaths lower respectively), while the number of deaths in private homes was 745 higher than the five-year average.

Of the deaths registered in Week 26, 606 mentioned "novel coronavirus (COVID-19)", the lowest number of deaths involving COVID-19 in the last 13 weeks, accounting for 6.7% of all deaths in England and Wales.
Another notable feature of the latest ONS data is that the number of deaths involving novel coronavirus is falling in every English region save for the North East, with the total declining for the 10th consecutive week.
https://lockdownsceptics.org/