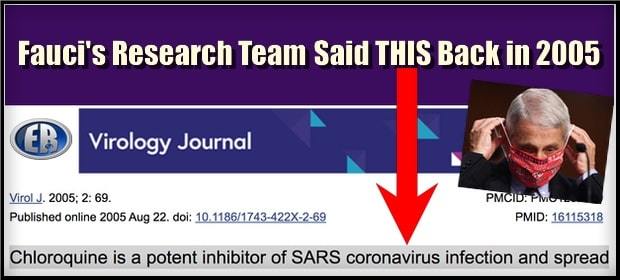 ER Editor:  Hydroxy, or the banning of it by the medical establishment, is really key to the whole plandemic.
This piece, complete with podcast, was issued by True Pundit on July 2, 2020, which was a reissue of a piece by Bryan Fischer for OneNewsNow on April 27, 2020 with additional links.
According to him (ER: Marseille Professor Didier Raoult), Neil Ferguson is an impostor; the Scientific Council – from which he (Raoult) resigned – is manipulated by conflicts of interest with Gilead Science (Donald Rumsfeld's former firm); in an emergency situation, the role of doctors is to treat, not to experiment; the results of doctors depend on their conception of their profession, which is why patients entrusted to hospitals in Paris were three times more likely to die than those entrusted to hospitals in Marseille.
DEADLY COVER UP: Fauci Approved Hydroxychloroquine 15 Years Ago to Cure Coronaviruses; "Nobody Needed to Die"
TRUE PUNDIT