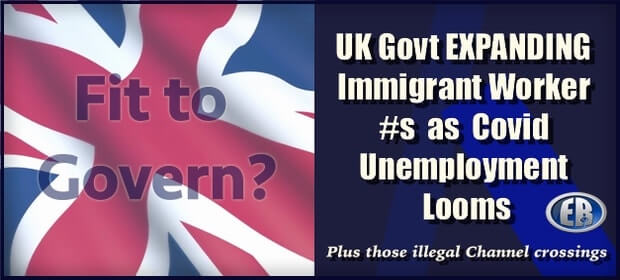 ER Editor: The date of the article below is May 9, 2020, written well after covid lockdown began in late March.
Please also see Migrant Watch UK's piece from July 8, 2020 titled Estimate of arrivals by illegal Channel crossing. Of note:
1. The number of people arriving in the UK via illegal Channel crossing is on course to reach at least 7,500 in 2020 should they continue at the rate seen since January.

2. The number of crossings in the year so far – 2,400 – is four times the 600 or so that came during the first six months of 2019 (visit our regularly-updated Channel Tracking Station).

3. If that trend continues to the end of 2020, this would mean that the total arriving during the year would be four times the total of nearly 1,900 who arrived in 2019, or nearly 7,600.
These figures concern illegals who enter Britain via Channel crossings. It does NOT include UK government policy to admit into the UK each year overseas workers in certain categories, which directly threatens British workers' jobs. And which seems to be increasing if anything. For that, see below.
********
A Threat To British Workers As Record Unemployment Looms
MIGRATION WATCH UK
A study by the official expert committee on immigration found that 160,000 British workers had been displaced by immigration between 1995 and 2010 and that there was a greater risk of this happening during a downturn. (ER: given the scale of immigration into the UK over many years, this figure seems improbably low.)
.
Displacement is when workers lose their jobs to those from overseas who will often work for lower wages.
.
Indeed the report found that for every 100 more non-UK workers, 23 Brits lost out.
Government immigration proposals risk a re-run of this on a much greater scale during the looming unemployment crisis.
What are Ministers thinking?
By giving employers 'greater scope' to recruit from around the world (often at the expense of Brits), the plan looks set to drive an increase in non-EU numbers, according to a Home Office Impact Assessment.
.
This prospect will not be welcome to around 30 million people in the UK (a clear majority) who want immigration to be more carefully controlled (see our paper on public opinion and immigration).
.
The government still say they aim is to get overall numbers down.
.
Yet this looks increasingly implausible as a host of new avenues into Britain are to be opened, including:
An expanded route for workers from all over the world (which the Home Office believes could lead to between 15,000 and 50,000 more non-EU workers – including dependants – per year). [The Home Office has pointed to significant limitations in these estimates and they should be treated with caution].
A new graduate route for students to stay on and work for two years – with many if not most going into unskilled roles (the Home Office says this could drive a net rise in student immigration numbers by 20,000-25,000 per year).
A new route to study and work and gain citizenship for up to three million people from Hong Kong.
Possible expansion of the youth mobility scheme for those aged 18-30 from the EU to work in jobs at any skill level for up to two years (dependent on negotiations). See Telegraph, Feb. 2020.
It is clear that the Covid-19 crisis will lead to a very high level of unemployment. The number of Britons claiming unemployment benefits soared to the highest level since 1996 in April.
However, the new immigration plan astonishingly raises the risk of the mass displacement of UK workers at a pivotal moment when they are already very vulnerable.
Ministers and MPs must also remember that, following the 2008 financial crisis, it took six years for the number of UK-born workers to regain its pre-crash level, while the number of workers born abroad increased by more than a million as employers sought out cheaper labour.
The government would be wise to amend their plan in order to:
(a) have in readiness powers to impose a cap on work permits. This must be capable of being done at very short notice as the courts would rule that all applications in the pipeline should be decided under the previous rules.
(b) postpone indefinitely the "new entrant" route that gives employers the simplest work-around to avoid meeting headline salary thresholds.
(c) retain the long-standing requirement that jobs first be advertised in the UK. This is a vital safeguard for jobseekers that will be especially important during a period of high unemployment. Employers must do all they can to take on workers already in the UK.
d) Maintain the general salary threshold for high-skill workers at the level of £30,000 and the qualification criterion at the present degree level.
The government states in their impact analysis that [the changes] 'will provide employers with greater scope to employ skilled migrants from overseas'.
Why on earth would Ministers contemplate this during a massive economic crisis?
Their own estimates suggest that certain types of immigration (e.g. non-EU students and workers) would rise – something they have not previously acknowledged. For example, non-EU worker numbers (along with their dependants) could go up, they say, by between 15,000-50,000 per year.
They also envisage that student numbers might go up (net) by 20,000-25,000 per year.
Of course this may be offset by their estimate that net EU work migration would fall by 50,000 to 100,000 per year over the first four years before gradually stabilising upwards (although they note inflows are likely to fall even in the absence of these policies being enacted).
Whether any rise in non-EU numbers would be completely or partially offset by a fall in EU workers is another question.
It will partially depend on how the Covid-19 crisis plays out not just in the UK but also in the EU.
However, the greater incentive for millions in much poorer and much larger countries such as Pakistan, the Philippines and Nigeria to come here may mean numbers rising faster than the government anticipates.
It is also simply wrong that jobs should no longer have to be advertised in the UK before being opened up to recruits around the globe (see p.55 of the Impact Assessment and the government's February 2020 policy statement).
The government also wants to abolish a rule that requires employers to advertise jobs here in the UK prior to attempting to fill the vacancy from overseas.
The official expert committee on migration has said very clearly that this rule 'helps prevent any short-term displacement of the UK workforce. It also helps ensure that UK workers have been given a chance to apply for vacancies'.
For this reason and many more, it is vital that this 'First Chance Rule' is not scrapped – especially now (see our piece on this topic).
The government proposals were always risky but have now been completely overtaken by economic problems resulting from the lockdown.
This is absolutely not the time to be opening up six million jobs to new or increased global recruitment (see our piece regarding this calculation).
NB See press coverage of Migration Watch UK:
The Sun: 'MPs overwhelmingly back Boris Johnson's post-Brexit points-based immigration system'
Mail Online: 'New immigration system will see 50,000 extra non-EU workers and families let into the UK each year'
19th May 2020
************
Published to The Liberty Beacon from EuropeReloaded.com