Earlier this week, Nigel Farage delivered a speech in the European Parliament on Wednesday, where he stated that no country would have agreed to sign Theresa May's Brexit deal with the EU unless they had just been "defeated in war".
Addressing the President of the European Commission, Jean-Claude Juncker, the LBC presenter and LeaveMeansLeave.eu campaign founder claimed that Theresa May had made a terrible mistake in agreeing to the Irish backstop.
The prominent Brexiteer said that the prospect of a no-deal Brexit had increased because of the attitude of Brussels "fanatics" who refused to compromise.
He said that the Prime Minister had now realised the mistake made in agreeing to the backstop, adding: "She signed up to something that no country – unless it had been defeated in war – would have signed up to."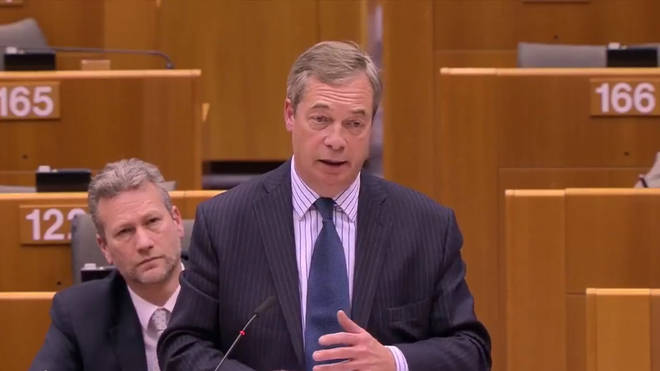 Nigel said there was an "appreciation in Britain that unelected bureaucrats in Brussels have been talking down to and humiliating the Prime Minister of our nation, and we don't like it".
Later sharing the video on twitter, Nigel wrote "The UK is dealing with fanatics who are not prepared to be reasonable. Unelected bureaucrats like @JunckerEU and @MichelBarnier have been humiliating @Theresa_May and the British public do not like it."
Across platforms including Twitter and Youtube, the video has had over four million views so far.
From a Liam Fox interview Sunday.
Leaving the EU without a deal in place becomes increasingly likely.
While big business bosses continue to warn MPs of the potentially disastrous consequences of a no deal Brexit, Tory MPs face an increasingly difficult task in convincing the public that it won't be as bad as is being made out.
The most recent example of this came on Sky News' Ridge on Sunday programme, when International Trade Secretary Liam Fox said that leaving the EU without a deal would be 'survivable'.
Survivable. Scurvy is survivable, but you don't see anyone campaigning to go through it.
Fox said: "There would be disruption to our trade but it would be survivable. We wouldn't want to put our economy into a position of unnecessary turmoil."
He added: "We would be able to deal with that scenario but it wouldn't be in our interest to go there.
"It seems to me we have got to guard against two things. One is an irrational pessimism that says that everything will be a catastrophe and irrational optimism which says everything will be okay.
"The truth lies between the two."
Fox discussed the dangers of relying on World Trade Organisation rules, which is what Britain would revert to in the case of a no deal Brexit.
"If WTO was so good people wouldn't be looking to have trade agreements or customs unions which are ways in which you can further improve on those WTO rules," he said.
"It has always seemed to me a bit strange that people would say 'well we don't need to worry about having a future trade deal with Europe, we can operate on WTO terms', while at the same time saying we should have a free trade agreement with the United States to get away from WTO rules. We have to be consistent."
Reuben Pinder –  https://www.joe.co.uk/news/no-deal-brexit-would-be-survivable-says-liam-fox-218399