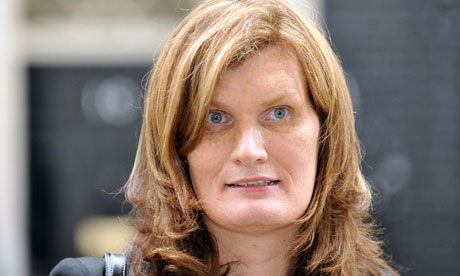 West Midlands MEP Nikki Sinclaire. Photograph: Ian Nicholson/PA
An MEP has been arrested on suspicion of conspiracy to defraud the European parliament.
West Midlands MEP Nikki Sinclaire, 43, was arrested along with three of her staff on Wednesday, according to another MEP for the West Midlands, Mike Nattrass of Ukip.
West Midlands police confirmed a 43-year-old woman was arrested at a police station in Birmingham along with three other people on suspicion of conspiracy to defraud the European parliament.
Two women aged 55 and 39 and a 19-year-old man were arrested at addresses in Solihull, Worcester and Birmingham and were taken to a police station for questioning on Wednesday.
Searches were carried out at the addresses of the four people by officers investigating an allegation made in 2010 regarding allowances and expenses, a police spokeswoman said.
All four were later released on police bail, she added.
The MEP "disputes all allegations put towards her or her staff" the tweets said. Sinclaire and her office would continue to "fully co-operate with the police on this matter".
In a statement, Ukip said Sinclaire, who formerly represented the party in the seat, ceased to be an MEP for the party in 2010. "It would be inappropriate for the party to make any comment during the process of an ongoing police inquiry," Ukip's statement said.
http://www.theguardian.com/uk/2012/feb/23/mep-arrested-nikki-sinclaire
http://www.dailymail.co.uk/news/article-1341108/UKIP-lesbian-Nikki-Sinclaire-told-sit-far-right-MEP-wanted-dead.html
Farage gets Nattrass to quit as an MEP (though Nattrass still has a role running the office not mentioned)….Sinclaire is another opponent of Farage, who says he doesn't do anything to get Britain out of the EU. It's interesting how the media protect Farage when his real persona is revealed by people from within UKIP who know him well. The system wants Sinclaire silenced, it would seem.
The Tap Blog is a collective of like-minded researchers and writers who've joined forces to distribute information and voice opinions avoided by the world's media.