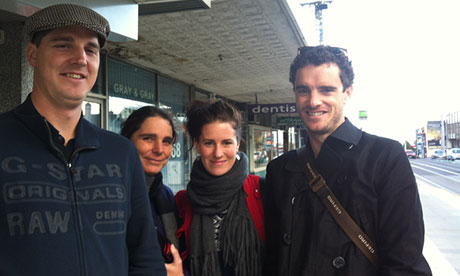 Ross Langdon (right) with his brother Craig, mother Linden and sister Amy. Photograph: Linden Langdon
The Australian family of the architect gunned down with his pregnant partner in a Kenyan shopping centre have spoken about their grief at losing three family members in just a few minutes.
Ross Langdon, a dual Australian-British national, was with his partner, Elif Yavuz, at the Westgate shopping centre in Nairobi at the weekend when it was stormed by al-Shabaab militants, who killed more than 60 people. The couple were among their first victims.
Yavuz was due to give birth in two weeks………………..
Langdon studied at the University of Tasmania and University of Sydney before setting up his own architecture firm and basing himself in London.
He had been working on the design of a HIV centre in Uganda before his death, while Dutch-born and Harvard-educated Yavuz was employed by the Clinton Foundation as a Tanzanian-based senior vaccines researcher.
Former US president Bill Clinton, his wife, former US secretary of state Hillary Clinton, and their daughter, Chelsea, released a statement saying they were shocked and saddened by Yavuz's death.
"Elif was brilliant, dedicated, and deeply admired by her colleagues, who will miss her terribly," they said.
"Elif devoted her life to helping others, particularly people in developing countries suffering from malaria and HIV/AIDS.
"On behalf of the entire Clinton Foundation, we send our heartfelt condolences and prayers to Elif's family and her many friends throughout the world."
http://www.theguardian.com/world/2013/sep/24/ross-langdon-family-mourn
TAP – The Clinton Foundation is a lynchpin of the depopulation agenda. Were these two aware or starting to become aware?
The Tap Blog is a collective of like-minded researchers and writers who've joined forces to distribute information and voice opinions avoided by the world's media.