"A young woman appeared on DayBreak TV this morning to explain how she had been the victim of serious harassment at the hands of Thames Valley Police after ending a relationship with a serving police officer. She was breathalysed multiple times even though she doesn't drink including 4 times in one month in December 2007, was pursued for careless driving and going through No Entry signs. She was not guilty of any of the offences and had no convictions but as a result of advice provided by Thames Valley Police on a CRB check when she applied to be a paramedic she was prevented from progressing in her chosen career.
Even years later the Police are still vindictively seeking to make her life hell and prevent her from moving on and obtaining a job in a public sector career.
Despite having Dominic Grieve the Attorney General as her MP she was still unable to pursue harassment charges against Thames Valley Police and entirely predictably her allegations of harassment having been rejected by the Professional Standards Department her appeal against their decision was not upheld by the IPCC which in 95% of cases protects police officers and police forces guilty of Abusing their powers.
a concerned citizen "
What Katie didn't do
Police harassment, Issue 1344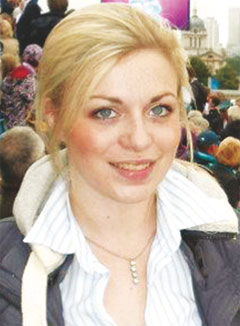 GOOD CHARACTER: Katie Bowman, who, according to her father, 'could barely leave the house without being stopped. Her life was made an utter misery.'
THAMES Valley Police holds a substantial file on forensic science graduate Katie Bowman, including a wealth of damaging "intelligence" reports used to blight her career three times. Yet Katie Bowman has never been convicted of any crime. Now 24, engaged and pregnant with her first child, she always was and remains a woman of good character.
Over a period of two and a half years, she was the subject of intense "interest" which she alleges was harassment by a group of rogue officers based in the High Wycombe area – where her police officer ex-boyfriend, Alex Ash, who was disciplined for making inappropriate contact with her, just happened to be based. During that time she was:
Breathalysed around 70 times – she says 54 times in one year from September 2007 – every time with a negative result;

Reported to the Crown Prosecution Service for a series of alleged motoring offences.

Served with fixed penalty notices for alleged motoring offences.

Served disorder penalty notices for "offences" such as wasting police time.

Cautioned for an alleged assault.

Subjected to drug and other searches.
Katie also had her car seized eight times, for which she had to pay a total of about £1,000 to have it returned.
Katie has challenged the most serious allegations, which would have resulted in a criminal record – and won every time. On the two occasions matters got as far as court, she was acquitted. The caution for assault, which stemmed from a police claim that a "long whip" (in fact a furry toy swinging on a stick from a passenger window) had brushed a cyclist, was rescinded following a police professional standards investigation.

'A gang in police uniform'
As Katie's father Brian Bowman told the Eye: "Katie could barely leave the house without being stopped. Her life was made an utter misery with all this harassment by a gang – but a gang in police uniform. Who do you go to for protection when it's the police you fear?"
She and her father complained repeatedly to bosses at Thames Valley about police conduct. But far from questioning why officers should be wasting time and taxpayers' money paying her so much attention to so little effect, senior officers allowed them instead to file and retain unsubstantiated and damaging "intelligence" reports on her.

To quote from a letter to Thames Valley Chief Constable Sara Thornton from Katie's MP Dominic Grieve QC (who also happens to be the attorney-general), "most of them [the intelligence reports] come across as entirely lacking in substance, and to border on the utterly trivial." One report notes only what Katie was wearing, others that she was playing her music too loudly. Another, reporting that she was tailgaiting police, came around the same time as her vehicle was actually struck by a police van, for which Thames Valley apologised.

'Poses a significant risk'
One report alleged that a set of blue LED decorative lights bought for £4 from Halfords and pointing down into the footwell of her car amounted to unlawfully displaying emergency blue lights, and that she was thus pretending to be a "community responder" (for which she was never arrested). She had been sitting in her car on Marlow Common with a friend when the police approached her car and asked her to switch the lights on. Two remarkably similar police statements about the encounter, which she emphatically disputes, were not made until some time later. Those claims lost her a job in 2007 as an ambulance emergency call handler and led to her dismissal from a second job as a student paramedic three years later.
As police "intelligence" can be used on an enhanced criminal records check to ensure a prospective employee is safe to work with children and vulnerable adults, Thames Valley's justification for suggesting she was "unsafe" for the job was to safeguard the ambulance trust from disrepute.

The information held on her did not relate directly to children or vulnerable adults but the force said the pattern of her behaviour "poses a significant risk" if working as a paramedic. It cites the loss of her first job (thanks to Thames Valley!) as justification for blighting her chances in the second. Katie was just a few days from completing her six months' probationary paramedic training when her damning CRB report came through.
Finally, the "intelligence" stopped her becoming a special constable in 2011 – something she wanted to do as part of her forensic studies. Now that she has finished university, she is worried this so-called "intelligence" will stop her ever finding a job. Dominic Grieve is equally concerned. In his letter to chief constable Thornton last December he expressed his "considerable disquiet". He wrote that Katie "is a person of good character, yet at present she finds herself in a position where her ability to get work on any enhanced vetting would be adversely affected by the numerous derogatory comments made about her by police".

Cleared in court
He is also concerned that the possible motive for the police's conduct is that she was being punished for getting her former boyfriend into trouble. From documents Katie has so far managed to obtain, it appears that more than ten of the 40 intelligence reports were filed by Ash's friend and colleague, PC Leon Astley.
Grieve added that having twice met Katie as well as corresponding with her, he found it "difficult to square" his image of her with that of "the wayward teenager, who may turn into a serious menace" portrayed in police intelligence reports.

One might have thought such a letter from the attorney-general, even though he was only wearing his constituency MP's hat, might have triggered an extensive inquiry – not least because we now know that at the time some of its officer were pursuing Katie, separately Thames Valley Police was failing children who had reported sexual abuse. Instead Thornton told Grieve that after an initial review (which was actually forced upon Thames Valley by court action launched by the Bowmans) in 2012, some 20 reports about Katie had been removed. She promised a re-review of the other half. Last month, however – six months on – Thornton said Thames Valley police had now decided to keep the others. This was an extraordinary finding, given that one of the retained reports refers to a charge of careless driving for tailgating police, of which Katie was cleared in court.

A family at their wits' end
Intelligence reports can only be retained for proper police purposes such as protection of life or property, preventing crime and bringing offenders to justice, so it seems incredible that the review decided to hold on to another one involving playing loud music.
Katie and her family are at their wits' end and forced to resort to legal action to clear her name, to bring the officers involved to account and to seek compensation. The Eye put the allegations of improper police conduct, harassment and keeping dodgy intelligence reports to Thames Valley, but it failed to answer. Instead it put out a bland statement saying it had carried out two reviews and removed some of the reports. "Thames Valley Police will not be commenting on the details of the intelligence reports, but we seek to comply with all aspects of the Data Protection Act and the national standards for the management of police information," it said. But would m'learned friends agree?
The Tap Blog is a collective of like-minded researchers and writers who've joined forces to distribute information and voice opinions avoided by the world's media.