Great picture.
Jillings report confirms 'extensive' abuse at north Wales children's homes
Heavily redacted version of 300-page report finally published after 20 years following freedom of information requests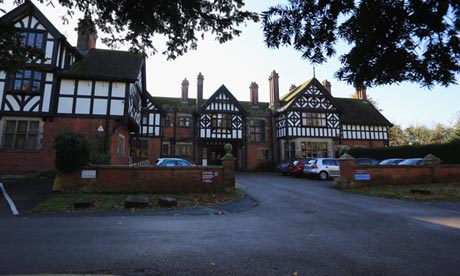 Bryn Estyn children's home in Wrexham: the report was commissioned in 1994 to investigate allegations of abuse in the 1970s and 80s. Photograph: Christopher Furlong/Getty Images
A report into physical and sexual abuse at
children
's homes that was suppressed for almost 20 years concluded there was "extensive" mistreatment of youngsters over a "substantial" number of years.
The
Jillings report
into residential care units in north
Wales
, which has finally been released, said the lives of many children had been blighted by the abuse they suffered while living at the homes.
It said the panel that investigated the abuse had considered abandoning its inquiry as it was not sure it had all the material from agencies including police and social services that it needed to see the whole picture.
The report also expressed concern that there was no independent mechanism to investigate serving or former police officers implicated in abuse.
And it said it had simply not been able to address some areas including the suggestion that public figures had been involved in abuse.
TAP – funny that. always the same.
http://www.guardian.co.uk/uk-news/2013/jul/08/jillings-report-north-wales-child-abuse
The Tap Blog is a collective of like-minded researchers and writers who've joined forces to distribute information and voice opinions avoided by the world's media.