Anonymous said…
THOUSANDS OF GUILLOTINES IN AMERICA !!! DONT BELIEVE ME
mrstepintime·

http://www.youtube.com/watch?v=lDUvwhTboSE

HETT
Obama orders GUILLOTINES project End Game – documentaion
David Vose
9:04 pm

TAP – The supposed guillotine doesn't throw a shadow on the aerial picture in parallel with the lamp next to it. It's not quite right. That said, the camp could be real enough.
wasp said…
Hi Tap, Yep HETT is spot on, I saw this the other day, but didn't have time to Post it, as I was involved with my projects

http://americanholocaustcoming.blogspot.co.uk/2012/05/more-on-military-guillotines-chinese.html

AMERICAS HOLOCAUST & THE COMING NWO
There is quite a lot of information on it, quite an open secret.

REGARDS ……. WASP

TAP – the plan seems to be to execute tens of millions of Americans using guillotines. They are being installed nationwide, in military bases, camps and on trains to provide a mobile mass killing capability. Bulk plastic coffins are already in storage able to take ten corpses per bin.

The project seems to be at the advanced stage. First will come martial law. That will be brought in in response to racial violence, which the media is working hard to foment. Once martial law is in place, the killing can begin a few months later. The operation could begin within two years.

Why the guillotines have to be provided by a leading fragrance brand seems a hard one to get your head around. Is that the Gucci logo on the operator seats? They are made in China of course, so hopefully will be riddled with problems. Nice to think they've got a sense of style. These have obviously been used in Iraq and they've had plenty of practice. If people want to fight back, now might be the time.

From beforeitsnews.com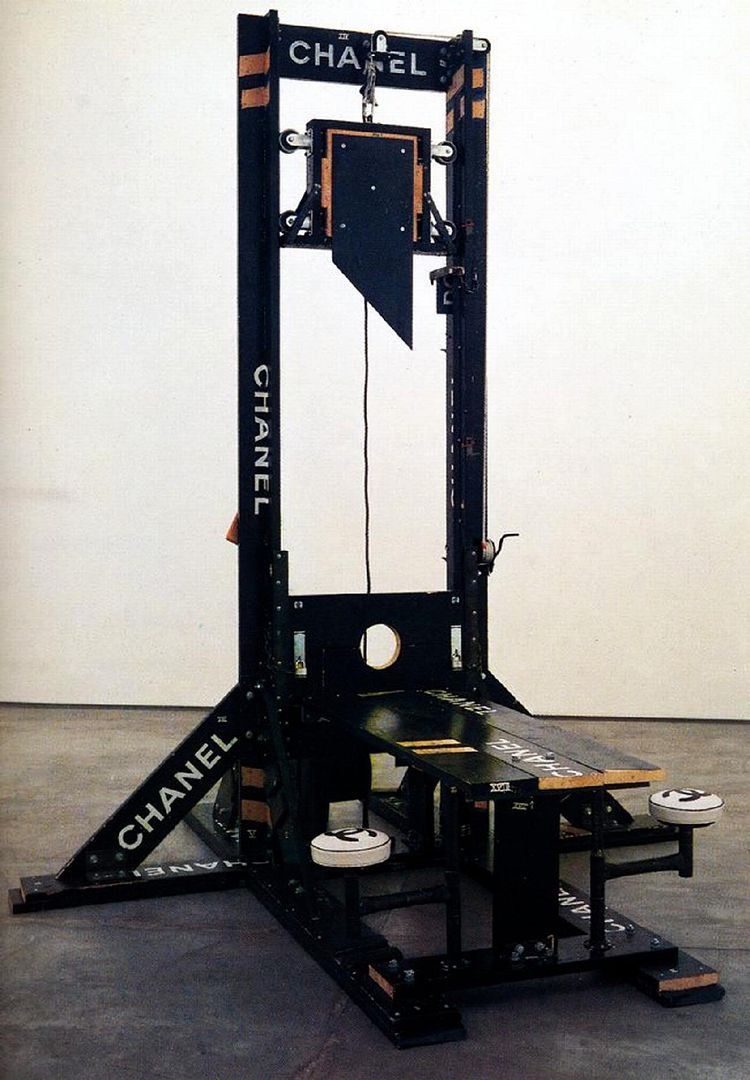 photobucket — note: illustration is a modern gu

illoti

ne

, but not the one seen in the story below…
Steve, he understands the situation but he already got in trouble from this situation back then along with another guy and they were interrogated for 3 hours for simply doing there jobs.
There was actually a group of them which saw what was going on and knew something was not right, they had far too many private contractors in uniform with the same BDU's as they had, in fact you could not tell them apart except for one colorful patch which he could not make out
They were doing a sweep operation of the base and checking the place all over when they came across an open door with some crates inside left unguarded so they went in to see what was going on.
First the guillotines:
They were guarded by private contractors – not by our military – it was in 2005 at Fort Devens
The base was in the process of closing but also rebuilding at the same time
He saw truck loads of concertina wire being hauled in and building materials too but at the same time they were shipping out the military units and closing the base, the more troops which left the more private contractors came in.
They guarded the items they would not allow the troops to see or even get near.
They had about 14 crates all comprising a number of guillotines but no idea on the number of actual units; he did see and touch one of them partially assembled. Description: STAINLESS STEEL BLADE THAT WAS VERY HEAVY DUTY AND INTERCHANGEABLE.IT WAS POWERED BY A HYDRAULIC RAM IT HAD NO CABLE OR ROPES.THE BLADE IS HOUSED IN A FRAMEWORK THAT WAS POWDER COATED BLACK.HEIGHT 7′ HIGH 3.5-4 FEET WIDE.THE WRITING ON THE UNOPENED CRATES WAS ARABIC.TUNE IN TO NIGHT WITH HAGMANN AND HAGMANN –WAIT TILL YOU HEAR THE REST OF THIS EYEWITNESS ACCOUNT-ITS OTHER WORDLY!
The Tap Blog is a collective of like-minded researchers and writers who've joined forces to distribute information and voice opinions avoided by the world's media.