JBC said…
You muppet. It's a scam. You've got it from a download site.
It writes itself to the start-up list and 'locks' your computer. You need to set up a guest account and delete it from the start up list of the infected account.
There's a similar one which claims to be the Metropolitan Police (who'll accept payment of your release fee by paypal.)
TAP – yet control of the device was taken over from outside. That could be done by anyone presumably, not just scammers.
When 'smart' televisions first came onto the market a few years ago, I along with many others questioned the true purpose of this technology and the privacy implications that came with it. After spending the last 7 years researching the global conspiracy and watching the surveillance state being rolled out by the day, it didn't take a lot of imagination to work out why our controllers might want to put cameras and microphones into each of our living rooms.
The increase in personal and home devices which have both camera and microphone technology, as well as the ability to connect to the wireless Internet, is effectively forming the ultimate surveillance network. This has long been a dream of those that are controlling us, the ability to monitor us at all times of the day, to analyze our behavior using advanced facial and voice recognition software, and to fine-tune our social programming based on the collective data that they gather. It would also allow them to track "enemies of the state" (anyone that poses a challenge to their control), and to monitor their movements and communications.
These may sound like irrational or paranoid concerns to those who have not investigated the more sinister elements of the global agenda, and although the technology is clearly in place, some will find it hard to believe that these devices are being accessed without our knowledge.
Deep down I have always known that this was the true purpose behind the technology, I have just never been able to prove it… until now!
My evidence came during a recent visit to a close friend. During the course of the evening, amongst conversation and generally catching up, my friend was streaming some music from his laptop that was left unattended in the living room. Towards the end of the evening, after noticing that the music had stopped, my friend went into the living room to investigate. After hearing him mumbling some profanities and apparently struggling to resume the music, I went into the living room to see if I could help. What I saw on his laptop screen was not at all what I was expecting.
I have included screen shots below that I managed to take at the time.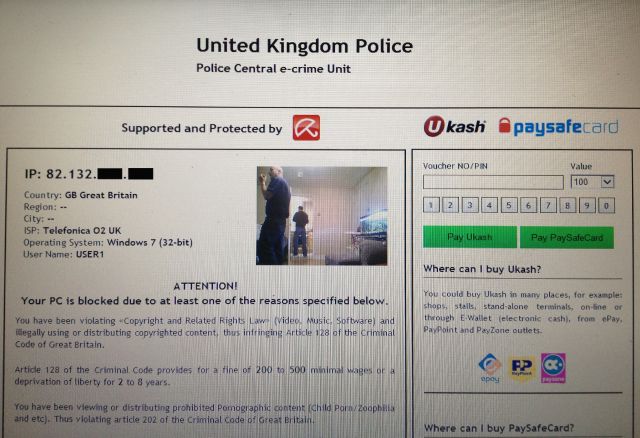 The message displayed on his screen appeared to be from the 'United Kingdom Police Central e-crime Unit'. The message was notifying my friend that his PC had been blocked due to "violation of copyright related material" and was requesting payment by way of a fine for £100. The most disturbing part of the massage was the image included in the top right hand corner of the screen; it was a photograph that had been taken by the webcam on the laptop, while none of us were anywhere near it.
I am fairly sure that this was a fraudulent message that did not originate from the United Kingdom Police, but none-the-less, this proves that third party groups are accessing people's webcams without their knowledge and capturing images. If they are able to capture still images from the device, then they are almost certainly able to capture video footage and audio recordings from the devices too.
It is no secret that the state wishes to place us all under ever-increasing levels of surveillance; they merely convince the masses that it is necessary for our own safety. The truth is; the only people we need to be protected from are our own governments, and that if we allow our liberties to be taken away in the name of security, then very soon we will end up with neither.
"Obviouslywe're under constant surveillance, a camera on every phone, a camera in every home. Wake up People." – Bobby Ray
http://www.theblackmosaic.com/removal-of-freedom/
The Tap Blog is a collective of like-minded researchers and writers who've joined forces to distribute information and voice opinions avoided by the world's media.