Iconic Picture of Police Mace Attack Against Brazilian Woman Goes Viral
– Lauren McCauley, staff writer
In the United States the right to petition is guaranteed by the First Amendment to the federal constitution, which specifically prohibits Congress from abridging "the right of the people…to petition the Government for a redress ofgrievances."
Although often overlooked in favor of other more famous freedoms, and sometimes taken for granted,[link] many other civil liberties are enforceable against the government only by exercising this basic right.[link] The right to petition is fundamental in aConstitutional Republic, such as the United States, as a means of protecting public participation in government.]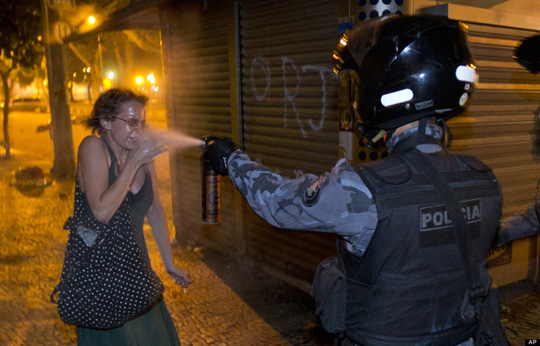 . (Photos: Victor Caivano) This might be Brazil, but certain rights are universally God-given and if it takes an over-armed killer with a can of mace to see how much authority respects those rights, then that authority should be removed by the right of the people to govern themselves..
Not exactly a 'clear and present danger'…
A captured instance of brazen police brutality against a civilian has, once again, captured the attention of the global community. The shocking photograph of a lone woman being pepper sprayed at close range by Brazilian police has gone viral, drawing criticism and attention to the ongoing mass demonstrations in Brazil—at which the attack took place—and the chronic undercurrent of police violence that so often follows peaceful citizen uprisings.

Ceyda Sungur is gassed in Gezi Park in Istanbul, Turkey on June 4, 2013. (Screenshot via Osman Orsal /YouTube, "long after the protest was over"

he second image is of the infamous incident at the University of California at Davis when a peaceful Occupy protest was met with an overly aggressive show of casual, arrogant police force. This culminated in Officer John Pike directly and deliberately spraying burning yellow chemicals into the faces of the protesters.
Mr Pike should be in jail.
The Tap Blog is a collective of like-minded researchers and writers who've joined forces to distribute information and voice opinions avoided by the world's media.