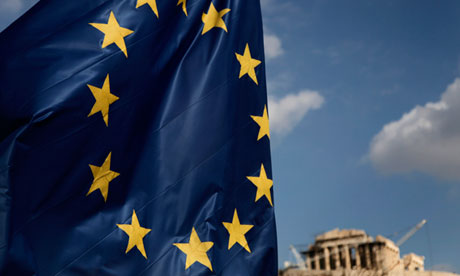 Tory Eurosceptics are headed for another clash with Cameron over the EU.
Photograph: Petros Giannakouris/AP
David Cameron
is to risk a fresh row with Tory Eurosceptics by signing up to nearly a third of a series of European policing and criminal justice measures that have been heavily criticised by backbenchers campaigning to curb the EU.
The prime minister, who said earlier this week that membership of the EU gives the UK a seat at the world's "top table", is expected to opt in to 30-40 of the measures following warnings of a threat to security if Britain fails to sign up.
Anti-G8 Protest Headquarters Raided Same Day Explosive Device "Found" In London Home
by Sheree Geo
According to the Guardian:
A Metropolitan police spokesman said the force obtained a search warrant for the Beak Street property "relating to intelligence that individuals at the address were in possession of weapons and were intent on causing criminal damage and engaging in violent disorder".
That being said, a better idea – especially at events where world leaders are going to be meeting and it would be better just to find a way to prevent the protests altogether than to deal with "free speech zones", pepper spray, riot gear, and possible injuries or death to a government's police officers – would be to raid their protest offices a week beforehand, charge them with terrorism (or a connection to a terrorist group or recent terrorist act, such as the Woolwich "beheading", if you will), and at the very least, detain them until after the protests are over.
"We were upstairs when the police moved in. It was very violent. I have been in quite a few squats when cops come and I have never seen anything like that."

– "Jay", one of their friendly neighbors
(It's a heck of a lot easier to attack protesters when you break into their domain instead of waiting for them to come to you, with their gas masks and cameras at the ready to catch you brutally beating them, so they can put it on youtube.)
Another possibility is that they will try to use
"bombs they've discovered" around London
throughout the next few days to carry out an operation similar to the one described above. It provides a good "reason" for a total police state to be in place for the G8 next week. It would help the British government very much for the general public to believe that the very idea of protesters at the G8 is silly (at the least) or dangerous/terroristic (at worst) by the time it rolls around.
Like we've said before, the Woolwich incident is probably just the beginning. There have been several signs of an
anti-terrorism
AND
anti-riot-building force
in London throughout the recent weeks and it's difficult to believe these are all for nothing, or for a singular incident. Especially considering the fact that the Woolwich incident didn't incite any riots or involve any incendiary devices, which means preparations are being made for a different false flag operation altogether.
The Tap Blog is a collective of like-minded researchers and writers who've joined forces to distribute information and voice opinions avoided by the world's media.