Many believe the whistleblowers like Manning, Assange and Snowden are false events. They don't reveal anything not already known, and merely advertise to the world the power of the New World Order to control everything.
They are also used to deter others from joining the whistleblower ranks.
The NWO wants to bring in open world government and control and not work from behind the scenes as it has done for centuries. Millions are now aware of their false events, and that the political system is a sham. What better way to get people to understand how they control the show than let loose a series of improbable whistleblowers, and manage their own opposition – things like Anonymous, Wikileaks and so on.
If they weren't doing such things, it would be very surprising. They control the media. None of the above would ever see the light of day unless the NWO controllers had decided they would do so. Edward Snowden seems a totally improbable event.


Will he ever re-appear? Did he ever exist?
Edward Snowden extradition attempts 'could take years'
EXTRACT –
Hong Kong legal experts say US could face lengthy diplomatic and legal process to try NSA whistleblower in American court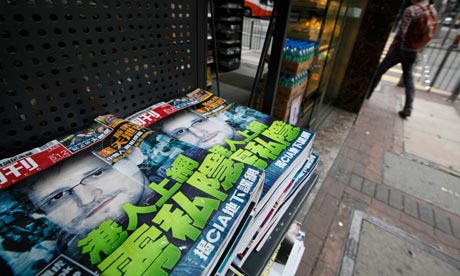 Edward Snowden's face on the cover of news magazines in Hong Kong. Photograph: Kin Cheung/AP
Any attempt by the US to extradite the
NSA
whistleblower
Edward Snowden
from
Hong Kong
for espionage could take years and be blocked by
China
, legal experts have said.
The warning comes after it emerged on Friday that the
US has charged Snowden with theft of government property
, unauthorised communication of national defence information and wilful communication of classified communications intelligence to an unauthorised person. The latter two charges are part of the US Espionage Act.
The Tap Blog is a collective of like-minded researchers and writers who've joined forces to distribute information and voice opinions avoided by the world's media.