David Turnbull asks –
Why did clarke intentionally mislead the commons?……because he's a traitorous paid-up bilderberg/eu stooge!!
EXTRACT
Ken Clarke 'misled' parliament over secret courts bill
Campaigners say Commons was given wrong information about impact on right to release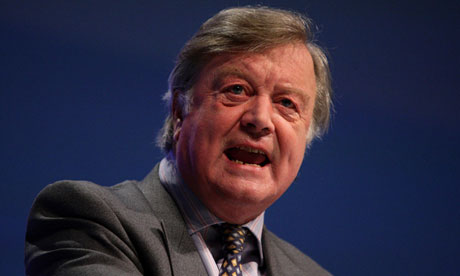 Ken Clarke is accused of sending mixed messages over cases involving habeas corpus. Photograph: Dave Thompson/PA
Conservative cabinet minister Ken Clarke has been accused of misleading parliament as confusion mounts over the government's plans to introduce secret courts ahead of this week's crucial vote in the House of Lords.
Campaigners claim the minister without portfolio gave the Commons wrong information about whether the ancient writ of habeas corpus will be undermined by the
justice and security bill
.
Habeas corpus, first used in Britain in 1305, is invoked to demand that a prisoner be released from unlawful detention and is regarded as one of the fundamental safeguards of liberty. Were secret court sessions, known as "closed material procedures" (CMPs), to be allowed in such cases, campaigners fear that those challenging their imprisonment could lose their case without knowing why, because evidence used against them, but deemed to be sensitive in terms of security, would be kept secret.
The Tap Blog is a collective of like-minded researchers and writers who've joined forces to distribute information and voice opinions avoided by the world's media.