Road Hog sends –
BBC website – A UK Independence Party (UKIP) candidate in East Sussex has been suspended by the party over reports she posted anti-Semitic comments online.
Anna-Marie Crampton was due to stand for election in Crowborough in next Thursday's county council elections.
Comments made in her name on a website in February claim the Jews deliberately caused World War II and sacrificed their own people in the gas chambers.
She has denied writing the remarks, and said her account had been hacked.
'Incredibly offensive'
UKIP leader Nigel Farage said: "I've learnt about this, I've looked at it, and from this moment she does not have the endorsement of our party."
Anna-Marie Crampton posted on Twitter that she was not anti-Semitic and that she had been "trolled"
TAP POST –
Is there no room for the curious in UKIP either?
No political party does 'conspiracy' for obvious reasons. The media controls the debate and you have to be playing the media game to in the game. But what happens when many people in the electorate don't trust the media any longer, and start to believe alternative explanations of history and current events? Like 'false flag' terror, arranged wars and the monetary shenanigans, like what the Rothschilds have been up to, for nigh on two hundred years?
The Jesuits assassinated Lincoln, when he tried to break free from Rothschild control. Kennedy met the same fate. No political leader is allowed to step aside from control by the bankers, and whoever controls them. The pyramid sits astride us all, deadening any notions of free will, and self-sufficiency.
UKIP is now facing a quandary. One of its candidates has expressed her views, roughly along the lines of Tap Blog readers' views (bar the 6 million bit, which many see as a propaganda statistic), and the party has to decide whether to cast her out or not. The trouble is, if they do, they will alienate millions of voters who share the candidate's views.
Of course the media signs the candidate's views off as 'extremist' and 'unacceptable'. It will be an interesting tussle to follow.
Anna-Marie Crampton, Ukip Candidate, In Storm Over 'Anti-Semitic Comments' Posted Online
The Huffington Post UK
| By
Tom Moseley
Posted:

25/04/2013 13:20 BST

| Updated:

25/04/2013 14:14 BST
Ukip is facing calls to sack one of its candidates who apparently denied the Holocaust and promoted wild conspiracy theories online.
A Facebook profile in the name of Anna-Marie Crampton, who is standing for the Eurosceptic party in the local elections in East Sussex next week, posted that the Second World War had been "engineered by the Zionist jews", adding: "Only the Zionists could sacrifice their own in the gas chambers."
On Twitter, there were references to the 'false flag' conspiracy theory about the Boston Marathon bombings and links to UFO sites.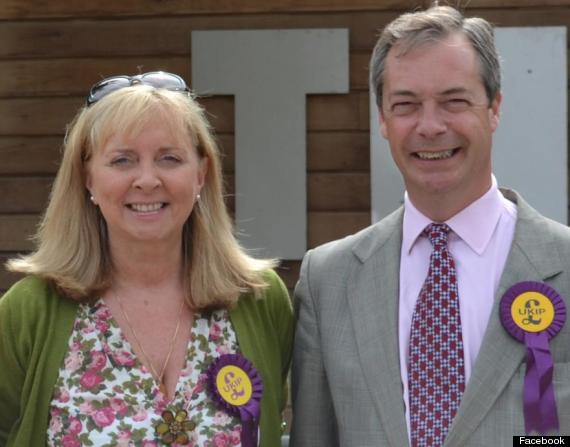 Anna-Marie Crampton pictured with Ukip leader Nigel Farage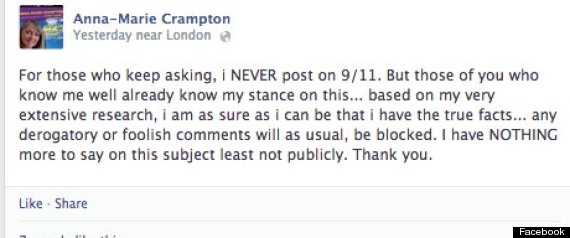 The Jewish
Comments,
revealed by Brighton's Argus newspaper
, were posted by Crampton's Facebook account – which includes photos of her with Ukip leader Nigel Farage – on an online forum entitled 'Was Pope Benedict fired by the Knights of Malta?'
The entry in Crampton's name said: "Of coure he was" and went on to say "The Rothschilds are Zionists… there is a difference between Jews and Zionists. These Psychopaths hide behind and use the Jews. It was thanks to them that 6 million Jews were murdered in the War (along with 26 million Russians!)"
Ukip told The Argus it would not comment until it had contacted Crampton.
And Sam Westrop, director of interfaith organisation Stand For Peace, told the paper: "UKIP, to its credit, has expelled extremist and bigoted members in the past.
TAP – Brave woman. Stick with her, UKIP, is my advice. Such people will go UKIP and never go back to other parties if you do. Farage will no doubt put a little distance between himself and the UFO brigade – which includes people like me! But he must have done his sums. Conspiracy and pedophile hatred is now mainstream. He might have to make a few red lines in the sand, and ridicule what the British public is not yet ready to hear, but he can't be seen to be anti-conspiracy 100%. Let's see what comes next – if only a very long silence. The other parties won't want to draw attention to any of this, so my guess she'll be left in place, as a bigger embarrassment to the Conservatives and Labour than she will ever be to UKIP. They might pass her off as an eccentric, and move on.
UPDATE – As usual I'm wrong! She's been withdrawn.
http://www.huffingtonpost.co.uk/2013/04/25/ukip-candidates-antisemitic-comments-posted-online_n_3153505.html?view=print
The Tap Blog is a collective of like-minded researchers and writers who've joined forces to distribute information and voice opinions avoided by the world's media.