You think they don't know?
http://google-law.blogspot.co.uk/2013/02/m15-and-police-conspire-to-more-than.html?spref=tw
M15 and Police Conspire to more than just Protect Elite Paedophiles they Organise Abuse
Thursday, 7 February 2013
M15 and Police Conspire to more than just Protect Elite Paedophiles they Organise Abuse
Listen below to Ken Livingstone, former Mayor of London, talking to David Mellor on the role of M15 in the Kincora Children's Home Paedophile scandal and the Peadophile Ring .
Ken Livingstone said:-
"I was raising in parliament against Mrs Thatcher the Kincora Boys Home
where boys were being abused and MI5 was filming it because they were
hoping to be able to blackmail senior politicians in Northern Ireland.
They were hoping to catch one of Ian Paisley's MP's – and they never did
– and give themselves some leverage. The truth is there's been an awful
lot of covering up of paedophiles and paedophile rings for decades and
decades."
PARLIAMENT COVERED UP CHILD ABUSE FOR DECADES
These few sentences prove that Politicians of all parties have known for decades about the involvement of M15 and the Police in the sexual abuse of innocent British children. It demonstrates how M15 and the Police were not just involved in the Cover-up but were actively using the sexual abuse of children as a tool to control Politicians and Judges.
This power over Politicians and Judges has given them the ability to create a Police State where the Organised criminal endeavours of a sophisticated Rouge Police Organisation can be conducted with impunity and protected from exposure.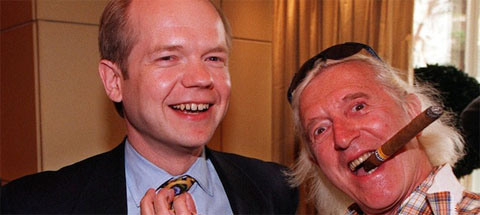 Jimmy and Willy will fix you up
ROUGE POLICE CRIMINAL ORGANISATION
The Rouge Police Organisation runs major Drugs Trafficking, the Porn industry and together with some clandestine groups connected to the Gladdio Scandal they also run illegal arms trafficking and child sex trafficking.
In fact the Rouge Police are a highly Sophisticated Criminal Organisation, who can arrange that only the little people, who do have authorisation to take a cut from their lucrative criminal enterprises, can be prosecuted. And of course they can arrange for the prosecution of anyone who might expose their Criminal Organisation. Conversely they can protect anyone who is useful to them for example Paedophile Sir Cyril Smith and Paedophile Sir Jimmy Savile. read more http://theneedleblog.wordpress.com/2013/02/07/cyril-smith-known-to-the-police-since-1965/
http://www.telegraph.co.uk/news/uknews/crime/9852237/Two-arrested-in-Elm-House-paedophile-ring-investigation.html
Two arrested in Elm House paedophile ring investigation
The Tap Blog is a collective of like-minded researchers and writers who've joined forces to distribute information and voice opinions avoided by the world's media.