the face of a hunted witch
………….

.Without Watson, indeed, it's unlikely that

Newsnight

would have led last Friday with claims by a Bryn Estyn abuse victim that one of his abusers was a senior Tory politician, who for legal reasons wasn't named. These claims have now finally been subject to a much-needed scrutiny by the

Guardian

, which identified the man in question as former Conservative treasurer Lord McAlpine, albeit in the context of (quite convincingly, in my view) demolishing the case against him.
The

Guardian

suggests that McAlpine was probably the victim of mistaken identity, the true abuser being a member of his family who is now deceased. Indeed, the paper notes that McAlpine was "exonerated by the 1997 Waterhouse inquiry of any involvement in the abuse of children in the north Wales homes." That inquiry is now itself the subject of a new inquiry announced by Theresa May earlier this week, but the truth of the matter may have been in the public domain all along. In October 1997, Nick Davies wrote a comprehensive report for the Guardian into claims of cover-up in relation to the Waterhouse inquiry, noting in particular the alleged involvement of a senior Conservative. Davies calls the abuser "Mr B" and the victim, who has since waived anonymity as Steve Messham, as "Leon".
According to Davies, Mr B was "a rich and powerful man who had used ["Leon"] for sex on three occasions. Mr B's surname "happened to match that of one of Mrs Thatcher's most prominent supporters." However, Davies notes, the witness "said that he thought Mr B was dead, whereas Mrs Thatcher's supporter is still alive and prominent."
This morning's

Guardian

offers further strong circumstantial evidence that the claims about Lord McAlpine are false. McAlpine himself has now made apublic statement.
While Tom Watson had not mentioned the Bryn Estyn scandal directly, neither has he dispelled any suggestions that the Newsnight allegations and his "powerful paedophile network linked to No 10" were connected. Rather, he has continued to join the dots. In a blog post on November 3, he told of how since his intervention in the Commons he had been contacted by many members of the public with claims and "suspicions" that "go way beyond the claims made on Newsnight". Some had "named powerful people – some of them household names – who abused children with impunity." They include "a former cabinet minister who regularly abused young boys". Some of his correspondents, he wrote, "have raised mysterious early deaths, disappeared children, suspicious fires, intimidation and threats. It's bewildering"
.
witches after a hunt. cameron's powerful friends won't be going this way, no matter how many evil Satanic acts they are guilty of.
MEANWHILE – anyone bringing the beast of political scandal nearer to fruition, is remorselessly attacked and undermined. Media cowards pile in to slate them picking up grateful cheques stained with the blood of the victims.
Cameron knows the reality. Why does he do nothing to help the victims? Never mind wearing his poppy to commemorate soldiers killed in all his wars. What about the children being tortured, raped and murdered by his very own political class.
Tom Watson. Philip Schofield. Steve Messham. You can be proud of yourselves. You have tried to stop these evil bastards. And you've exposed Cameron, which he is very angry about. Death threats and worse are running around the system. The problem for the paedophile-supporting politicians is the more they succeed in snuffing out the scandal in the media, the more they expose themselves as deniers of this filthy reality, and look like paedophile sympathisers. Cameron is heavily tainted, and will not be able to sustain endless run-ins like yesterdays with Philip Schofield. Schofield may well be martyred, and his glittering career hit the rocks, to put off any others who think about having a go at helping the victims. Martyring whistleblowers will only prove Cameron and his paedophile colleagues more guilty. If the whistleblowers are exposing nothing much anyway, they wouldn't lay a glove on Schofield or Watson or the victims brave enough to speak out. They are guilty, though, and they know it. Everything they do and say reeks of their terror at being found out.
The man who broke the Savile Royal and political paedophile story is being hit hard.
Friday, 09 November 2012 12:08
Toad Hall sends –

Ofcom considers probe into Schofield's TV clash with

Cameron over list of alleged paedophiles after receiving

100 complaints
http://www.dailymail.co.uk/news/article-2230412/Phillip-Schofields-TV-clash-Cameron-list-alleged-paedophiles-probed-Ofcom.html#ixzz2BmCTCDWu?utm_source=&utm_medium=&utm_campaign=
David Cameron just doesn't get it – the police and judiciary are part of UK abuse problem
TAP – He no doubt gets it very well. He just won't admit that he knows. As with Blair and Dunblane, D Notices all round. Children die. Perpetrators slide into the darkness, and reappear later when the coast is clear.
Full public inquiry and special commission must happen now
Peter Sterry
21st Century Wire
As the rippling waves emanating from the cesspool that is Sir Jimmy Savile's legacy break on the shores of the British establishment, it is becoming increasingly clear how the establishment is attempting once again to protect its own.


In response both to Tom Watson's questioning in the House of Commons – and the fabulous impromptu
exposure by Philip Schofield
(an event surely set to become legendary in television history) British Prime Minister David Cameron's singular response is that anyone with any evidence should
go to the Police
, regardless of how powerful the accused may be. Is Cameron aware that multiple victims in the North Wales inquiry names the same high ranking Tory politician, and in at least one case, the police deemed their testimony as "fantasy"? For a Prime Minister, it is a breathtakingly, though probably deliberately naive approach. It feels like a government's greasy denial that paedophiles are operating in positions of power. North Wales abuse victim
Steve Messham testified that his life was threatened by his abuser
, which is a common intimidation tactic seen in many abuse cases. Death threats change the playing field considerably.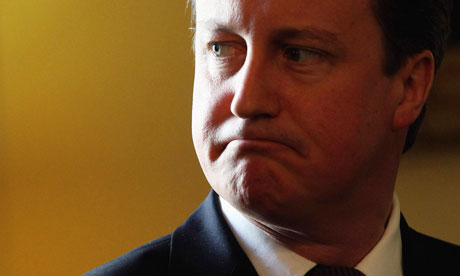 Cameron: confused, or just waiting to pass the buck on?
So where exactly is David Cameron suggesting survivors take their evidence ? The serving police officers referred to by some of those abuse at the hellish Bryn Estin in North Wales? Or is the Prime Minister proposing just walking in to your local cop shop ( if you can still find one of course, given the aggressive programme of police station closure now being implemented by Cameron's government) and saying "Hey! I was raped by ********* twenty years ago"?
Sensitive matters such as child rape require sensitive solutions. Cameron's response is not only inadequate, it is simultaneously ignorant, insulting and ludicrous. Lest anyone has missed it, serving police officers and members of the judiciary are among those named by Bryn Estyn victims. It is increasingly clear that the original inquiry was a cover-up, and let us not forget the Masonic connection.
The Waterhouse Tribunal set the tone for its approach to freemasonry right from day one.
In the very first session the barrister for one of the groups of former residents of care homes made an application about masonry. The barrister, Nick Booth, asked that "the Tribunal should keep a register of the masonic membership amongst its staff, the members, its representatives and witnesses who appear before it". He explained: "The duty of loyalty to a brother mason and his duty of impartiality if he is involved in the administration of justice is not a new one and it's one that's very much in the public eye, particularly at the moment."
"The Tribunal will be aware of the House of Commons Home Affairs Select Committee which is investigating the issue," he added. "Sir, I stress, if I have not stressed it before, that I am not making any suggestion of disreputable conduct, merely to put the matter beyond the reach of any possible public comment which might undermine the public confidence in the Inquiry."
Sir Ronald Waterhouse, who chaired the Tribunal, felt that the application was a slur on the integrity of the Tribunal's staff.
The chairman of the Tribunal, Sir Ronald Waterhouse, and the two other members of the Tribunal, retired for a brief adjournment.
"It will not surprise you that the application is refused," said Sir Ronald on their return. "As far as the staff are concerned," Sir Ronald said, "in so far as the application carries any reflection upon the integrity of the staff of the Tribunal it's repudiated, wholly unwarranted; there is no evidence whatsoever to support any suggestion that they have not acted with complete integrity… "
"The members of the Tribunal are in this position: the Tribunal was set up by Parliament and the members of it were appointed by the Secretary of State for Wales and the [criticism of the composition] should be addressed through the proper channels."
He said that the Tribunal's own Counsel, Gerard Elias QC, was appointed by the Attorney General. "Any criticism … should be addressed through the usual Parliamentary channels," he suggested.
Gerard Elias said nothing during Booth's application and he remained silent after Sir Ronald had made the Tribunal's ruling.
Gerard Elias QC. Leading counsel to Tribunal kept silent on discussion about a register of freemasons. He himself is a freemason…
Yet both Sir Ronald and Gerard Elias knew something that journalists reporting on the Tribunal would have wanted to know.
Gerard Elias is a mason. He's a member of perhaps the most powerful masonic lodge in Wales, Dinas Llandaf. The lodge, which meets in Cardiff, is made up mainly of legal professionals and members of the Conservative party, although there are members from other political groups. This in and of itself is not a problem, but there is a problem if fellow members have an oath of loyalty to each other which supersedes their oath to uphold law and conduct due diligence in any proper investigation into organised crime.
British 'Justice' done in the dark
Imagine a mafia trial where the prosecution and the defense had members of the mafia embedded in key positions. What would be the chances of full disclosure?
We have to ask ourselves, is it possible to have an investigation free from private allegiances stemming from Masonic interference? The British people will demand both a full public enquiry into the extent of child abuse , rape and murder in Britain both past and present, and a new independent Police investigation with a remit to arrest and prosecute, headed by officers prepared to DECLARE PUBLICLY that they are members of any secret society.
David Cameron can do this now, and retain some personal integrity, or wait until his hand is forced, and retain none.


UPDATE – Lord McAlpine was the wrong Lord McAlpine! Steve Messham now has retracted his allegations against Lord Alistair McAlpine saying that the McAlpine who raped him was a different one. To my mind, that seems very odd, as he's had all his life – maybe forty years to work out who was raping him. He finally goes on TV to make the allegation , which is not broadcast, and then it's withdrawn within a week. Aangirfan publishes the full story. I am trying to get my head around it.
Sabine O'Neill writes –
the Police protects potential and actual victims
the Courts deliver Justice
the CPS ensures that perpetrators are brought to Justice.
In short: anything that is meant to be true, is false, and anything that is meant to be false, turns out to be true. But it's a tough learning curve to come to these realisations!
That's what the Emperor's Clothes was about and that's what we are waking up to, in a kind of shock therapy. The PM can't escape this rude awakening either, it seems – thanks to the marvels of the internet!
People who live in glass houses shouldn't throw stones. BBC fires a shot across the government's bows.

Government has a paedophilia problem, just as surely as the
BBC.
change the Libel Law in the UK
an end to D-Notices – with reference to Operation Ore naming 7,272 paedophiles in 1999
no locking away of papers for hundred years or so
politicians to be checked each year against the Criminal Records Bureau (CRB checked)
no terms of reference for enquiries (limiting the scope)
stop the Devil from finding work for idle hands
stop allowing the elite to think they are special. Take away their privileges…
There are more paedophiles in the Establishment and the Governing Elite than there are among ordinary people.
The Tap Blog is a collective of like-minded researchers and writers who've joined forces to distribute information and voice opinions avoided by the world's media.